Developing an Opera about Jane Jacobs and Robert Moses by Joshua Frankel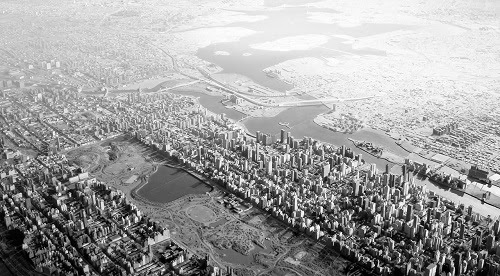 On April 10 the Greenwich Village Society for Historic Preservation will be hosting a screening and discussion centered around the opera about Robert Moses and Jane Jacobs that I am developing with composer Judd Greenstein and librettist Tracy K. Smith. Please join us!
Jane Jacobs was the leader of epic struggles against Robert Moses, first stopping his destruction of Washington Square Park, and then his efforts to build the Lower Manhattan Expressway across SoHo. Join composer Judd Greenstein and director Joshua Frankel in a conversation about the process of expressing this story as an opera and the translation of the ideas that run through it into music, text, visuals and stage movement. The conversation will be led by Karrie Jacobs, a frequent contributor to Architect, former architecture critic at New York Magazine, and founding executive editor of Bennetton's Colors Magazine.
Greenstein and Frankel also will screen two short animated films: their previous collaboration, Plan Of The City, as well as Mannahatta, which premiered at the BAM Next Wave Festival this past fall and represents their first thematic exploration for the opera. More information about this opera can be found at http://mosesjacobsopera.com.
To register, please call (212) 475-9585 ext. 35 or email at rsvp@gvshp.org
INFO
Thursday, April 10
6:30 – 8:00 P.M.
Free; reservations required
Village Community School, 272-278 West 10th Street
between Greenwich and Washington Streets
Related Posts :
Time:
7 aprile 2014
Category:
Article
Views:
3702
Likes:
2
Tags:
Jane Jacobs , Mannahatta , Plan Of The City , Robert Moses
Comments:
Info:
Title:
Developing an Opera about Jane Jacobs and Robert Moses by Joshua Frankel
Time:
7 aprile 2014
Category:
Article
Views:
3702
Likes:
2
Tags:
Jane Jacobs , Mannahatta , Plan Of The City , Robert Moses