JUERGEN MAYER H.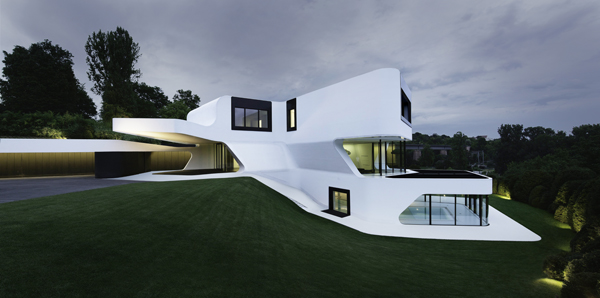 Special interview for CityVision magazine.
FL 01. Frequently your projects give rise to something fun and recreational. Can you talk about?
JM: Architecture should work as an activator to move people from a passive mode of expectation to an involved level of participation and attention.
FL 02. What are the origins of your architecture philosophy and what do you used to play when you were young? Which sports did you practiced?
JM: After beginning my studies in Germany I went to the US for some years. At the Cooper Union I was impressed by the pedagogical concept and wanted to extend my studies at Stuttgart Universities in that academic context. Later on I went to Princeton University to add a critical discourse to my educational experience.
When I was young I used to do gymnastics!
FL 03. Have any other professions or types of work interested you?
JM: I first thought about studying medicine or art, but in the end I decided to study architecture, after seeing a photograph of Erich Mendelsohn´s Kaufhaus Schocken in Stuttgart, which got destroyed in the 1960´s I think.
FL 04. What are the main determinants in the design process for you?
JM: One major investment in our work is looking at expanding the material of architecture, say beyond just building material. The influence of new media and new materials definitely expands our understanding of "space" as a plattform for communication and sociocultural interactivity. We look closely at the site, critically rethink the programm and try to extract something that is special to the specific site. In case of Danfoss Universe for example the ground and outdoor quality was guiding the design process for the buildings as ground modulations.
FL 05. What do you think about architects who take themselves too seriously? What about Italians? Too much theory and less practice?
JM: It seems as if during the last years in italy a new generation of contemporary architects appeared. They will change the italian architecture scene in the coming future. Meanwhile many new and big architecture projects are coming up in Italy now: in Milan the redevelopment of the old fair in the city center or the recent opened museum for contemporary art by Zaha Haid in Rome, this will have an impact and show to the general public that there is a future in architecture and urban life.
FL 06. It 's  a cliché that Italy has the 40% of the world's artistic heritage and this thanks to a fantastic  "culture of conservation." Do you think that all this conservation is putting us "vacuum-packed"?
JM: Because of 40% of the world's artistic heritage Italy's main interest has to be the culture of conservation. But in the last decades, it seemed as if there was no room for modern architecture at all, as if Italy had lost the connection to the international architecture discurse. But as I already mentioned, the last years give hope for a change in Italy, the society seems to be more open with contemporary architecture now. Maybe this is also a result of more international traveling and working abroad of the younger italians.
FL 07. You have been our president of the jury for the competition Rome City Vision. Do you think this kind of "independent" initiative can really help city and citizens to change their way of seeing Rome? In your opinion why in Rome, unlike than other European capitals, it's really hard finding a compromise between what is historical and what is contemporary?
JM: Rome is one of the most fascinating cities in the world, but this makes it more delicate to introduce new architecture here. People in Italy have to understand that contemporary  architecture is an enrichment of for their old cities and  conservation alone can lead to a culture at dead end. The need is a dialogue of present, past and future.
FL 08. Do you think that architecture tends to be trendy today?
JM: Architecture always was of it's time, but hundreds of years ago time and style were changing slowly. Today we are living in a different age definded as global, multicultural and multimedial. Similar to fashion architecture is always the mirror of current discurses and visions of our culture.
FL 09. What's your sexiest project of the moment?
JM: Currently we are working on several "sexy" projects: A new court-house in Hasselt, Belgium, the redevelopment of the plaza de la Encarnacion in Seville, Spain and a new apartment house in Berlin Mitte, Germany. Every project has a different scale and an own sensitivity – you cannot limit "sexy" to only one aspect, it's more complex, it's complicated.
interview by Francesco Lipari
Related Posts :
Time:
16 febbraio 2011
Category:
Article
Views:
2924
Likes:
0
Tags:
-
Comments:
Info:
Title:
JUERGEN MAYER H.
Time:
16 febbraio 2011
Category:
Article
Views:
2924
Likes:
0
Tags:
-