Info:
Title:
New York CityVision Competition Launch!
Time:
27 febbraio 2012
Category:
Article
Views:
1850
Likes:
0
Tags:
Architectural design competition , cityvision mag , eva franch , future , future shock , orson welles , past , present , rex , ROLAND SNOOKS , shoei shigematcu , Shohei Shigematsu , space , time
New York CityVision Competition Launch!
CityVision magazine is pleased to share with you the new architecture competition: New York Cityvision. 
New York CityVision is the fourth international ideas competition launched by CityVision. The competition wants you to imagine New York in its future if the manipulation of the urban context and its architectural objects, joined with its inhabitants, will be influenced by SPACE and TIME.
The New York ideas will be judged by an international jury which will have as president Joshua Prince-Ramus, founder of the office REX and again Eva Franch i Gilabert, Roland Snooks, Shohei Shigematsu, Alessandro Orsini and Mitchell Joachim, all of whom are distingueshed by the large experimentation willingness in their work. Inside this issue you will have the opportunity to virtually meet some of them, their ideas and their philosophies and to have a look to their work's images.
SUBMISSION DEADLINE        june 11th, 2012
More details here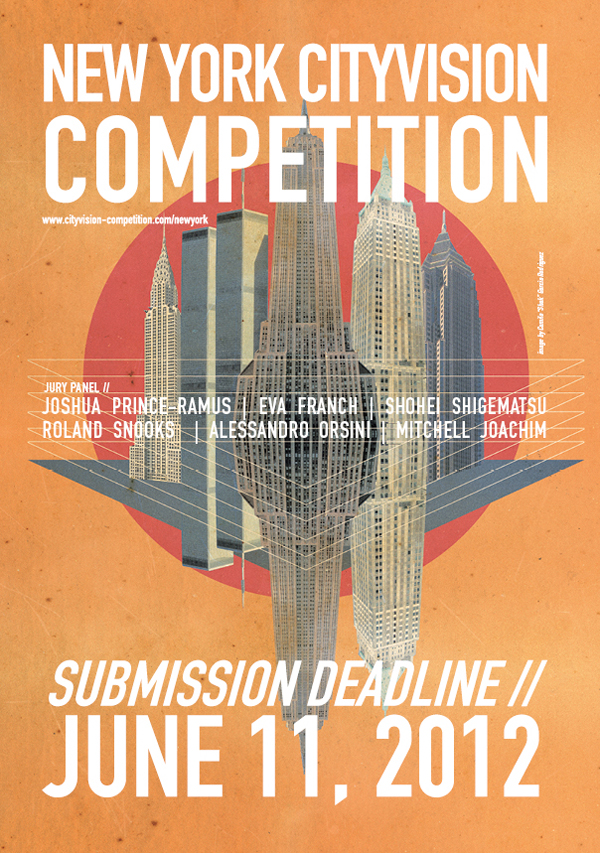 Info:
Title:
New York CityVision Competition Launch!
Time:
27 febbraio 2012
Category:
Article
Views:
1850
Likes:
0
Tags:
Architectural design competition , cityvision mag , eva franch , future , future shock , orson welles , past , present , rex , ROLAND SNOOKS , shoei shigematcu , Shohei Shigematsu , space , time