Rio cityvision competition Presentation Tour
The presentation tour of Rio de Janeiro CityVision Competition will be an introduction to the concept behind our annual contest and the 2013 research made by cityvision: Sick&Wonder.
Presentations will take place in March and April 2013 in selected cities.
Il tour di presentazione del concorso Rio de Janeiro CityVision Competition prevede il racconto del concept e, in breve, della linea editoriale condotta attraverso il tema annuale 2013, Sick&Wonder.
Le presentazioni avverranno durante il mese di marzo e aprile 2013 in diverse città.
SIRACUSA
lunedì 25 Marzo 2013 - ore 15
curator and speaker: Sebastian Di Guardo
Location: Facoltà di Architettura, Siracusa
titolo: Rio CityVision Competition
FIRENZE
giovedì 28 marzo 2013 - ore 17,45
curatore: Lash-up
speaker: Enrico Pieraccioli e Claudio Granato
location: Circolo ARCI di Ponte a Greve
further info: rivista e rio competition


lunedì 8 aprile – ore 16 
speaker: Enrico Pieraccioli e Claudio Granato, Giovanni Bartolozzi, Valerio Barberis
location: Facoltà di Architettura, S. Teresa Firenze, Aula 4
venerdì 19 aprile – ore 11,30
speaker: Pieraccioli – Granato
location: IED FIRENZE – via Maurizio Bufalini, 6 rosso, 50122 – Firenze
TORINO
giovedì 5 Aprile 2013 – ore 19
curator and speaker: sceg
Location: Teatro Vittoria via Gramsci 4
Further info:
giovedì 11 Aprile 2013 – ore 19
curator and speaker: bam!
Location: La Drogheria, piazza Vittorio Veneto 18, Torino
Further info: CityVision RIO flash mob
ISTANBUL
April 8 2013 – 5pm
curator and speaker: arkitera
Location: TAŞKIŞLA
WARSAW
April 15th 2013 – time 6pm
curator and speaker: Ewa Zwierzchowska
(Team Marek Ejsztet, Michal Kulesza, Piotr Matuszek, Tomasz Tyminski)
Location: Warsaw University of Technology, Faculty of Architecture, Koszykowa 55, Warsaw
PESCARA
April 28th 2013 – time 5pm
curator and speaker: Paolo Emilio Bellisario
Location: Feltrinelli via Trento – Pescara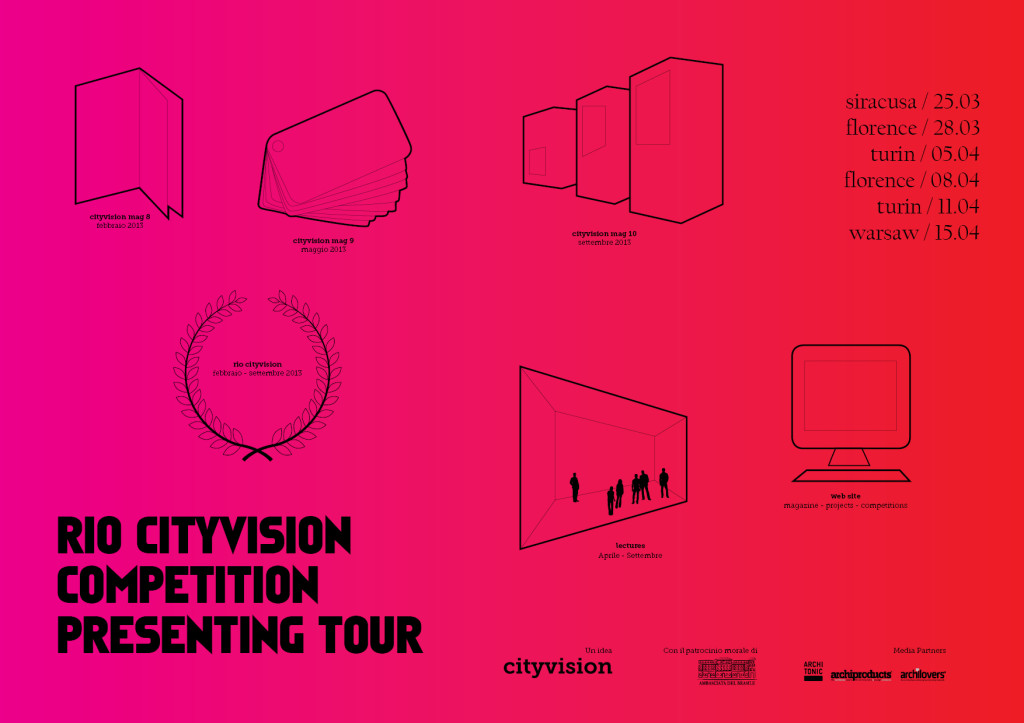 Information
info@cityvisionweb.com
Organization
cityvision
With the moral patronage of
Ambasciata del Brasile
Media Partners
Archilovers, Archiproducts, Architonic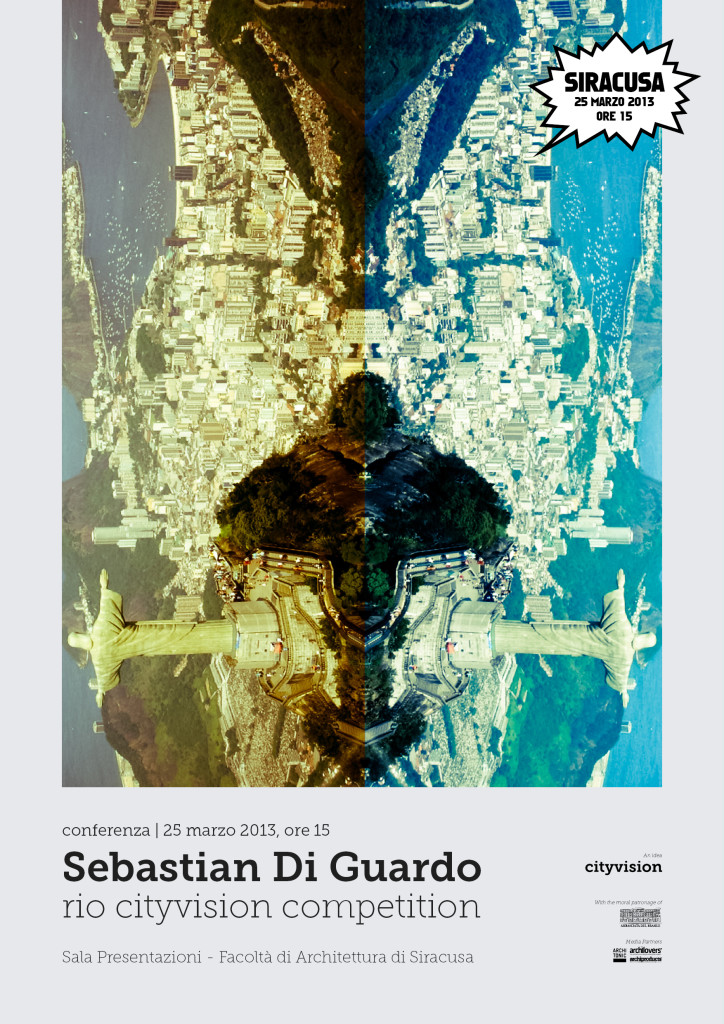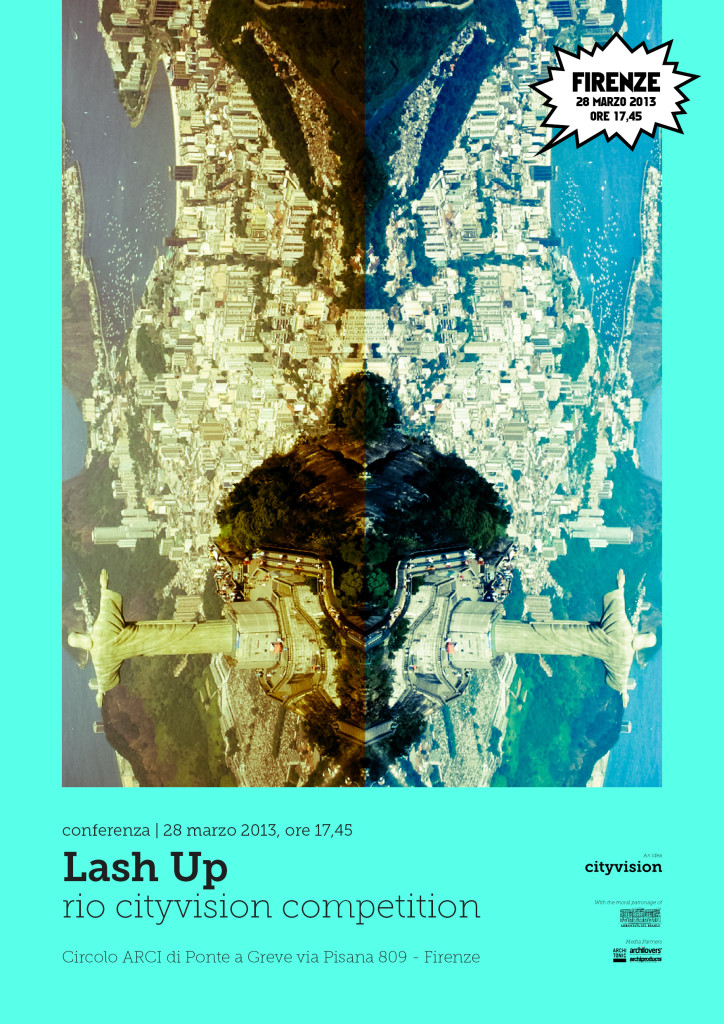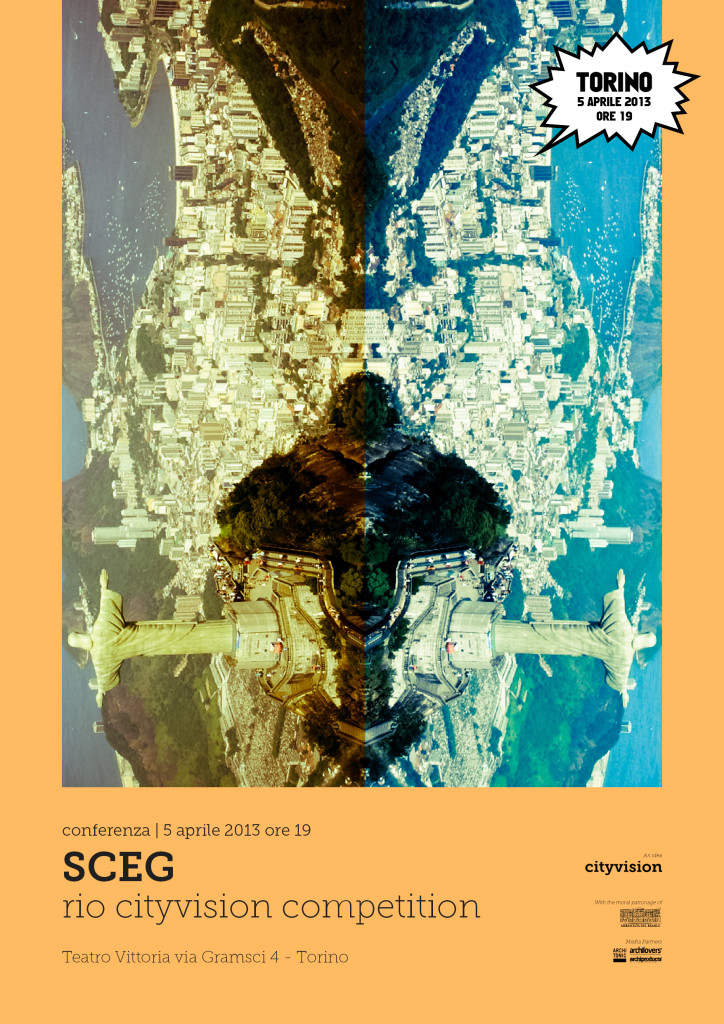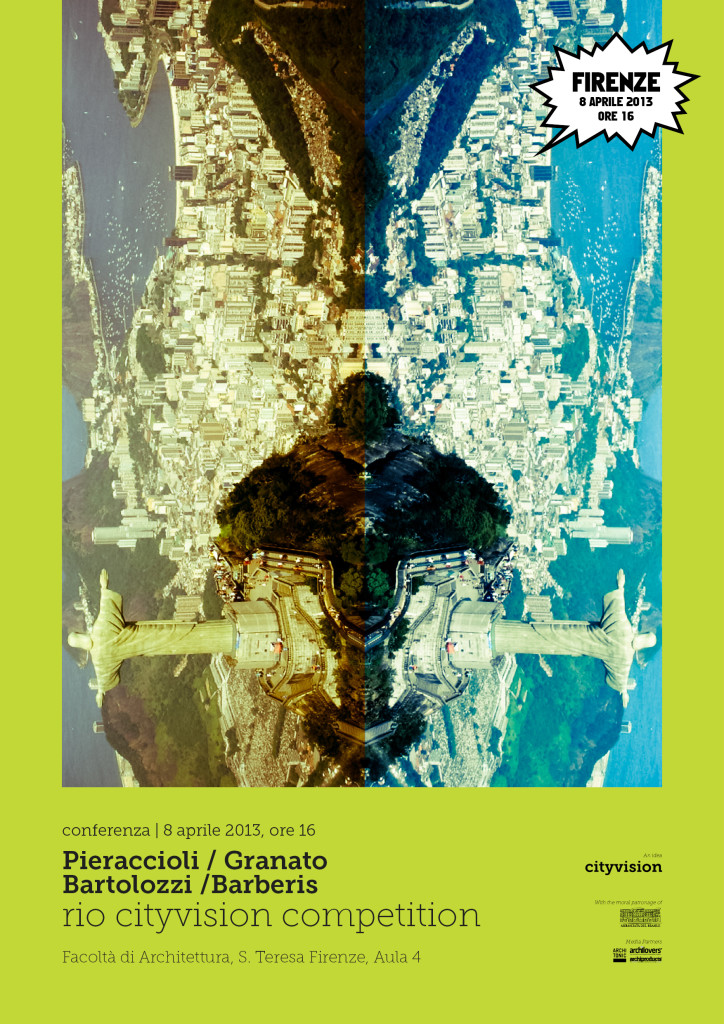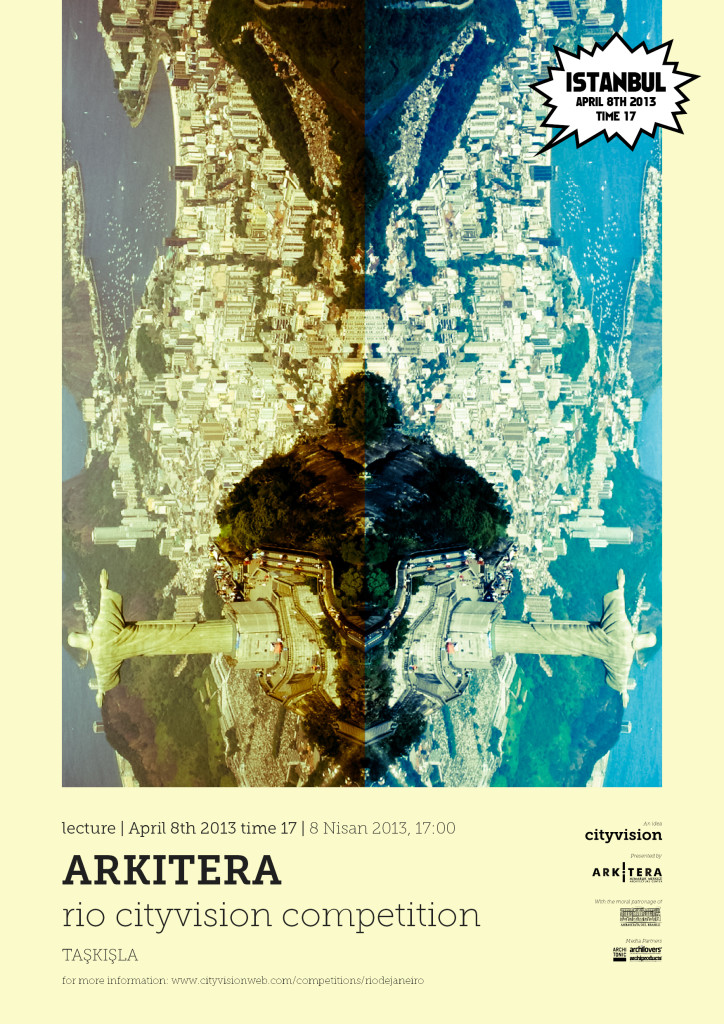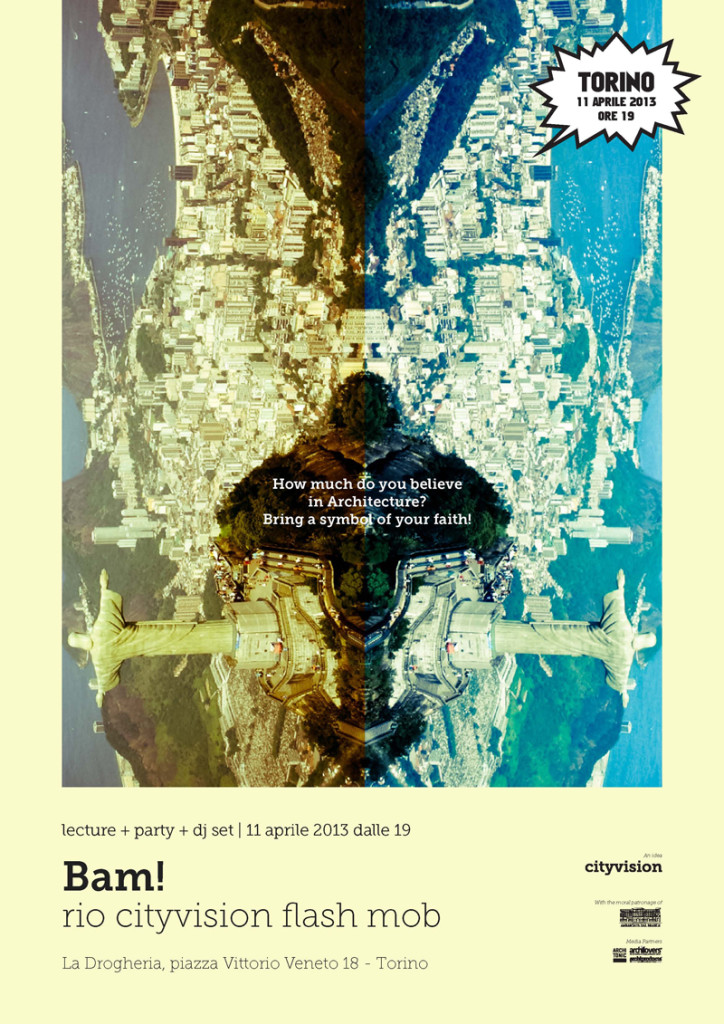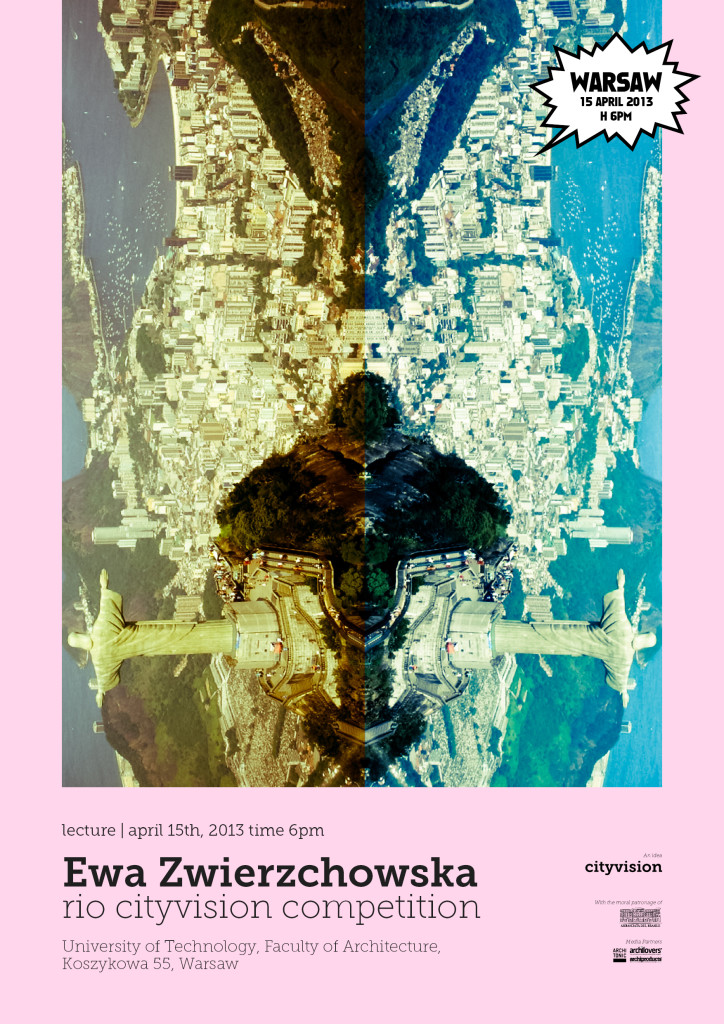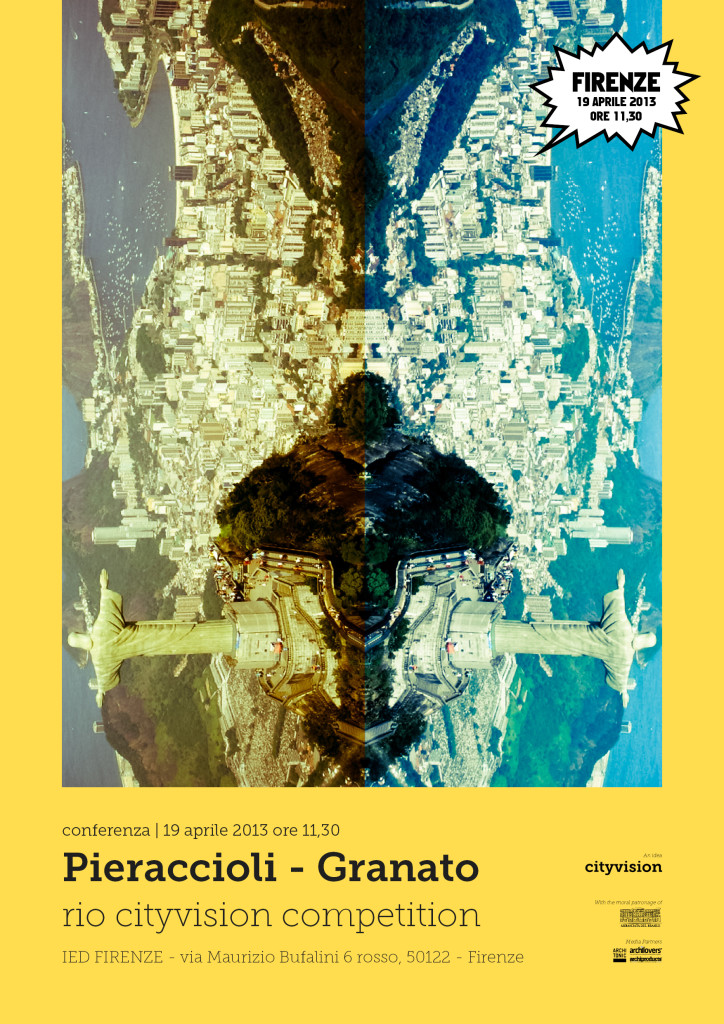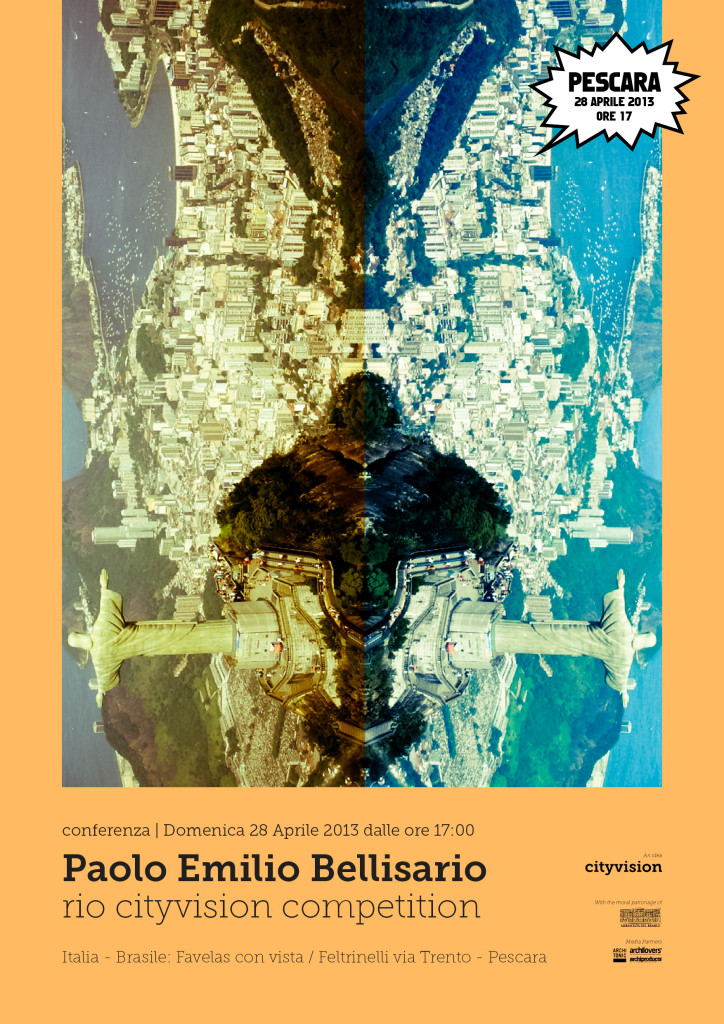 Related Posts :
Time:
20 marzo 2013
Category:
News
Views:
4337
Likes:
2
Tags:
-
Comments:
Info:
Title:
Rio cityvision competition Presentation Tour
Time:
20 marzo 2013
Category:
News
Views:
4337
Likes:
2
Tags:
-