Terzo Giardino – Studio ++ Ciaravella, Daina, Fiore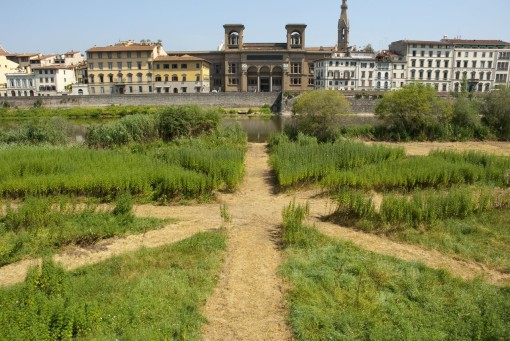 Un nuovo giardino per Firenze: Il Terzo Giardino
Un intervento d'arte pubblica lungo le rive dell'Arno del centro storico di Firenze, propone fino a settembre un'esperienza nuova per la città: è il Terzo Giardino, del collettivo di artisti Studio ++ (Ciaravella, Daina, Fiore).
Il giardino insiste su un'area abbandonata di circa 6000 mq, ed è stato realizzato per sottrazione, tracciando dei percorsi nella folta vegetazione spontanea che si è accumulata durante l'anno. Le linee regolari dell'intervento, che richiamano l'ordine formale dei Giardini dei Semplici italiani, consentono di attraversare un'area generalmente inaccessibile dall'altezza della Biblioteca Nazionale fino a sotto il ponte alle Grazie dove si apre un'insolita prospettiva su Ponte Vecchio.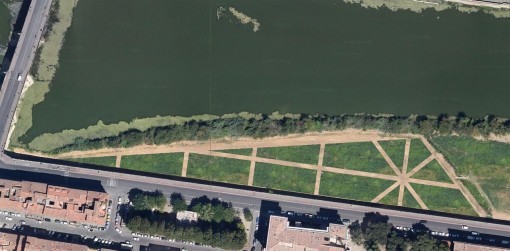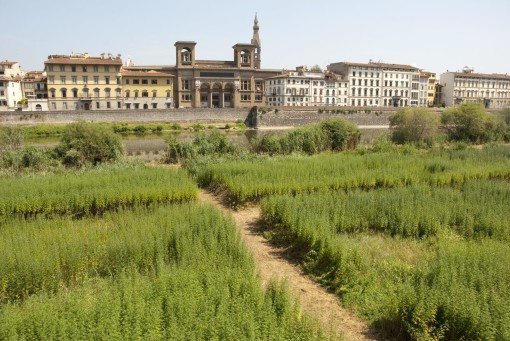 Il Terzo Giardino nasce con l'intenzione di far conoscere la bellezza che si nasconde nel terzo, nel sottovalutato, nell'apparentemente amorfo ed usa per questo la capacità della natura abbandonata di creare armonia. Una concezione di bellezza che si rapporta alla città di Firenze e alla sua monumentalità urbana, proponendone due variazioni: una prospettiva dal basso (in senso altimetrico e di percezione simbolica) e una dimensione invertita del paesaggio fiorentino (in cui le cupole, torri e i ponti fanno da sfondo agli elementi naturali).
La connessione dell'opera con le idee di Gilles Clément sul Terzo Paesaggio, esposta nel titolo stesso, dichiara una valenza etica e sociale di questo confronto, in cui la natura e il paesaggio si fanno metafora dei fenomeni sociali e culturali.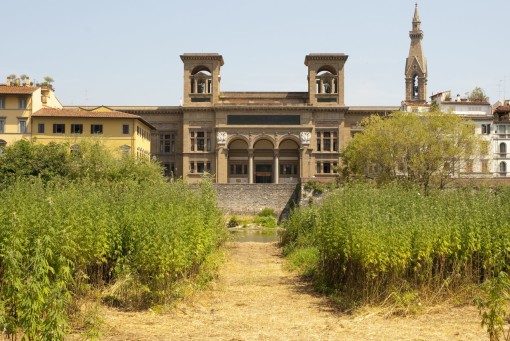 Mettendo assieme il genio dell'uomo con il genio della natura, la perfezione misurata e l'armonia del caos, il Terzo Giardino richiama l'attenzione sulla vitalità nascosta che brulica dietro al patrimonio culturale italiano, apre ad una discussione possibile tra i linguaggi del contemporaneo con l'eredità storica e propone prospettive diverse verso cui guardare per trovare nuovi modelli di bellezza.
Le dimensioni dell'intervento, di fatto, rendono il Terzo Giardino un nuovo spazio pubblico per la città in cui riconquistare un rapporto senza mediazioni con il fiume.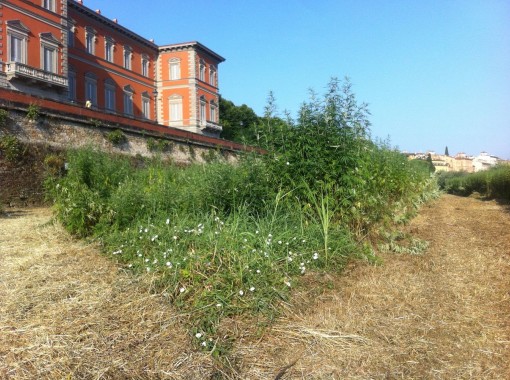 L'opera è infatti inserita nel contesto più ampio del Progetto Riva che propone una riflessione sull'uso delle sponde del fiume attraverso l'arte, l'architettura ed i nuovi linguaggi espressivi.
Il Terzo Giardino lascia all'esperienza dei singoli, un'esperienza intima della dimensione pubblica, il ruolo di riflettere sulle complessità ed i nodi irrisolti di Firenze dando al progetto, all'intervento, al farela responsabilità di comunicare prima che alla parola.
ENGLISH VERSION
———————————————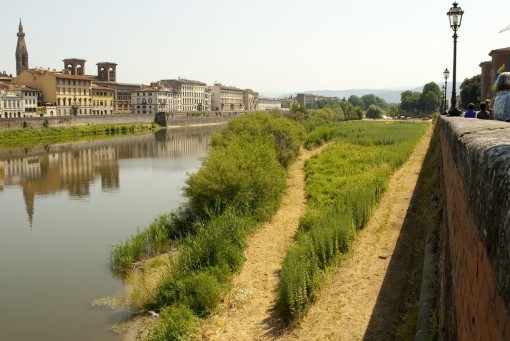 A new garden for Florence: the Terzo Giardino
A public art work along the banks of the Arno in Florence's historic center, offers until September a new experience for the city: it is the Terzo Giardino, by the artist's collective Studio + + (Ciaravella, Daina, Fiore).
The garden insists on an ​​about 6000 sqm abandoned area and has been built by subtraction, tracing paths in the dense vegetation accumulated during the year. The work's smooth lines, which refers to italian Giardino dei Semplici's formal order, enabling to cross a generally inaccessible area from the National Library to below the Ponte alle Grazie where it opens an unusual perspective toward Ponte Vecchio .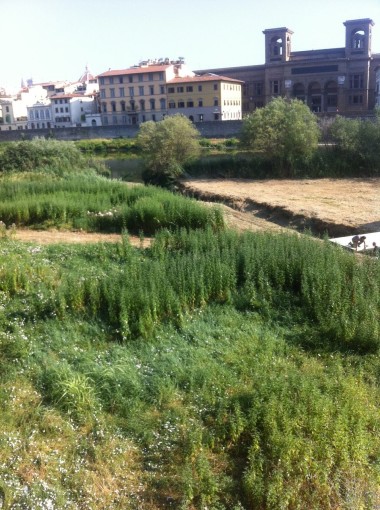 The Terzo Giardino was created with the intention to show the beauty that is hidden in the third, in the understated, in the apparently amorphous and uses abandoned nature's ability to create harmony for this aim. A conception of beauty that is related to the city of Florence and its urban monumentality, proposing two variations: a perspective from down (in the elevation sense and in its symbolic perception ones) and an inverted vision of Florentine landscape (where the domes, towers and bridges form the backdrop to the natural elements).
The work connection with Gilles Clément's Third Landscape ideas, exposed in the work's title itself, talks about an ethical and social values ​​of this confrontation, in which the nature and the landscape are social and cultural phenomena's metaphor.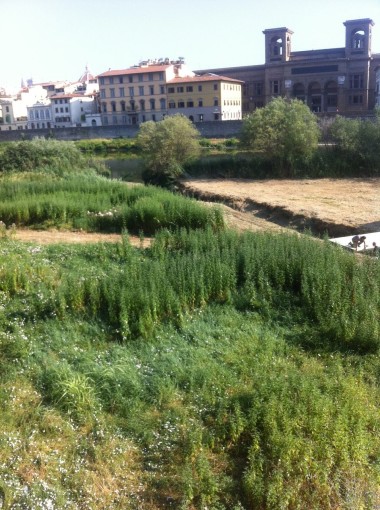 Putting together the genius of the man with the genius of the nature, the measured perfection and chaos harmony, the Terzo Giardino draws attention to the crawling vitality hidden behind the Italian cultural heritage, opens to a possible discussion among the languages ​​of the contemporary with the historical legacy and offers different perspectives about possible new models of beauty to look toward.
The size of the intervention, make the Terzo Giardino a new public space for the city in which to regain an unmediated relationship with the river.
The work is in fact included in the broader context of the Project Riva, that offers a reflection on the use of river's the banks through art, architecture and new forms of expression.
The Terzo Giardino leaves to the experience of the individual, an intimate experience of the public realm, the role to reflect on the complexity and unresolved issues of Florence thinking the project, the intervention and the action the responsible for communicating before the words.
Info:
Titolo opera: Terzo Giardino
autore: Studio ++ (Ciaravella, Daina, Fiore)
dimensioni: 6000 mq
periodo: luglio-settembre 2013
luogo: riva d'Arno, lungarno Serristori, Firenze
note: il progetto è parte del progetto RIVA a cura di Valentina Gensini
Related Posts :
Time:
22 luglio 2013
Category:
Article
Views:
4926
Likes:
0
Tags:
Ciaravella , Daina , Fiore , studio
Comments:
Info:
Title:
Terzo Giardino – Studio ++ Ciaravella, Daina, Fiore
Time:
22 luglio 2013
Category:
Article
Views:
4926
Likes:
0
Tags:
Ciaravella , Daina , Fiore , studio