Info:
Title:
UNDER THE HARD SAILS
Time:
29 maggio 2012
Category:
Article
Views:
6105
Likes:
0
Tags:
appalti , boris prosperini , boss , camorra , clementino , costruttori , francesco di salvo , gaetano fusco , italia , masochism , masochismo , milioni , Naples , Napoli , scampia , vele
UNDER THE HARD SAILS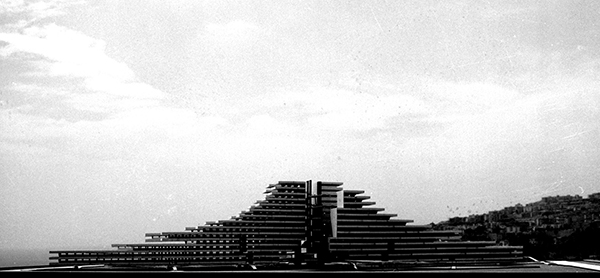 an article by Boris Prosperini 
The city distorts in its long and dangerous thoughts, the city often falls violently and remains hostage of an "irrational logic". Nothing is as it seems in the streets, but the intriguing appearances, this time, are not deceiving. Nowadays there is a confused relationship between the people and their own city, this relationship lacks a correct dialogue and it is upstart as a principle. The utility of the "Involved Architecture" precipitates quickly without leaving any signs and transforms itself into pure theory, which is absolutely not practical..? To have the pleasure for the decadent is not rare, but to make one's way inside the thought of a project with decision and pain to reach pleasure, becomes now the normality.. Can the "Vele of Scampia", which is located in what used to be a north-orbital area of Naples, really represent a "masochistic deed" of the city? An idea of urbanization that was thought proper, can become a conspiracy unintentionally well-managed? Franz Di Salvo is the Project Manager of this idea of living innovation in Naples, which dates back to the beginning of the 1960's, but this hasn't hidden the huge "dimensioning gaps", let alone the "torrid compositional seriality", which have deeply marked an area of the city which was interesting as a landscaping point of view and facing the Imperious Vulcano. We are looking at an opera that, although willing to embrace, harms itself, regurgitating a difficult social reality which is lacking any kind of prospective, and terribly reflects on its undefined shadow. A shadow which is visibly heavy and that eagerly crushes its own citizens who are the sacrificial victims of a perverted and unfair game; it is an undecipherable architectonical act, which tries to collocate itself in the city, but that is "pleasantly" condemned since its own birth. Perhaps in Viking land the intent would have given very different results, but the application of this design choice, in the Italic context, undermines all boundaries widely known .. Where all seems lost and sadly defined, a light appears in the core of these "Bermudas Sails", made up of small realities which, by the use of creativity, colours and independence, have been looking to bring a new breath of fresh air and different perspectives, fighting against the institutional forsakenness and social dissolution. This is the perfect stage of war between "driven social pessimism" and "creative liberating optimism".
La città si distorce nei suoi lunghi pensieri pericolosi; la città spesso cade violentemente ed è fatta ostaggio di una "irrazionale logica". Nulla è come sembra per la strada, ma l'intrigante Apparenza, questa volta, non inganna. Oggi tra la città e il suo popolo vi è una relazione evidentemente confusa e priva di un giusto dialogo, arrivista per partito preso. L'utilità della "Architettura Partecipata" precipita velocemente senza lasciare il segno e si trasforma in pura teoria, per assoluto non praticabile..? Avere il piacere della decadenza è noto, ma attraversare il pensiero di un progetto con decisione e dolore per giungere al piacere, e quindi allo scopo prefissato, diviene normalità. Le "Vele di Scampia" , estrema periferia nord di Napoli, possono davvero rappresentare "un gesto masochista della città"? Un'idea di urbanizzazione che si credeva corretta può trasformarsi in un complotto involontariamente ben riuscito? Franz Di Salvo è il progettista di questa idea di innovazione abitativa a Napoli, che risale ai primi anni sessanta , ma ciò non ha nascosto le enormi lacune di dimensionamento, per non parlare della "torrida serialità compositiva", che hanno profondamente segnato una zona paesaggisticamente affascinante, con vista sull'imperioso Vulcano. Siamo innanzi ad un'opera che nella volontà di abbracciare danneggia se stessa, rigurgitando una realtà sociale difficile e priva di prospettive, che si riflettono maledettamente sulla sua indefinita ombra. Un'ombra visibilmente pesante che schiaccia con veemenza i suoi abitanti, vittime sacrificali di un gioco perverso e ingiusto; un' indecifrabile segno architettonico che cerca di collocarsi nella città, ma che è "piacevolmente" condannato fin dalla sua genesi. Forse in terra vichinga l'intento avrebbe dato ben differente esito, ma l'applicazione di tale scelta progettuale, nel contesto italico, compromette ampiamente ogni confine conosciuto… Dove tutto sembra oramai perduto e tristemente definito, appare una luce all'interno delle "Vele Bermudiane", formata da piccole realtà che con creatività, colore e indipendenza culturale cercano da tempo di portare un nuovo respiro e prospettive differenti, lottando contro "l'abbandono istituzionale" e la dissolutezza sociale. Il palcoscenico perfetto della guerra tra "pessimismo sociale indotto" e "ottimismo creativo liberatorio". 
Info:
Title:
UNDER THE HARD SAILS
Time:
29 maggio 2012
Category:
Article
Views:
6105
Likes:
0
Tags:
appalti , boris prosperini , boss , camorra , clementino , costruttori , francesco di salvo , gaetano fusco , italia , masochism , masochismo , milioni , Naples , Napoli , scampia , vele