Info:
Title:
Untitled
Time:
27 maggio 2012
Category:
Article
Views:
1362
Likes:
1
Tags:
agliardi , masochism , niccolò , Niccolò Agliardi
Untitled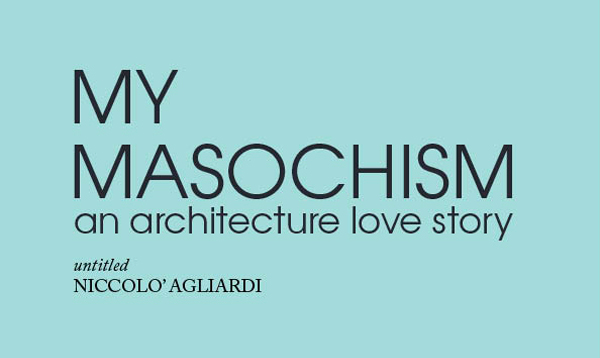 By Niccolò Agliardi
I'm not subjected to humiliation by my own songs and I don't think I procure any. Yet I know that nothing moves us more than our own tears, so I turn my back and don't listen to myself again, except when absolutely necessary. I accept the hypothesis that a song is more frequently the daughter of a pain but if I escape to the charm of my pain disciplined by metrics and rhymes. Maybe I can just because the original entropy, modifies the stimulus method. The emotion-in-picture, the chaos in assonance. The moral masochist responds to a superego that is perceived as a torturer and a judge inquisitor. And every state of depression related to it, seems to be the pairing of conscious guilt and significant reduction of self-esteem. But this is no story for a songwriter. Where there is a shadow of loneliness, a little farther you will find him perched. And if you see him bent, folded, hunchbacked, it's only because the thoughts above the belt weigh and hurt. He takes advantage of that evil, but he doesn't enjoy it. Evil exploits him but he doesn't allow it to uglify him. Narcissism saves him, and the hyperbole of his indulgence to himself. The pride of writing hit songs that are more beautiful than himself saves him: so does an applause that is truly felt and the expectation of walking on an illuminated stage. I dwell in an elected row and I'm proud. I thank the pain for all of this, then I'll pack it up and blow on it. It hurts less and I'll say farewell till next time.
Non subisco umiliazioni dalle mie stesse canzoni e non credo di procurarne. Eppure sono consapevole che nulla ci commuove più del nostro stesso pianto, per questo mi volto le spalle e non riascolto me stesso, se non quando è strettamente necessario. Accolgo l'ipotesi che una canzone sia più frequentemente figlia di un dolore a caso ma sfuggo al fascino del mio dolore disciplinato da metriche e rime. Forse ci riesco proprio perché dall'entropia originaria, modifico lo stimolo in metodo. L'emozione in fotogramma, il caos in assonanza. Il masochista morale risponde ad un superego che è percepito come carnefice e giudice inquisitore. Ed ogni stato depressivo a ciò riferito, pare essere l'accoppiata tra senso di colpa cosciente e notevole riduzione della propria autostima. Ma questa non è storia per un cantautore. Dove c'è un'ombra di solitudine, poco più in là lo trovi appollaiato. E se lo vedi ricurvo, piegato, gobbo, è solo perché i pensieri sopra la cintura pesano e gli fanno male. E di quel male ne approfitta, ma non ne gode. Il male lo sfrutta, ma non si fa abbruttire. Lo salva il narcisismo, e le sue iperboli di indulgenza verso sé stesso. Lo salva l'orgoglio di scrivere canzoni più belle di lui; lo salva un applauso partecipe e la prospettiva di un nuovo metro quadro illuminato da calpestare. Dimoro nell'eletta schiera e me ne vanto. Ringrazio il dolore per tutto ciò, poi lo impacchetto e ci soffio sopra. Fa meno male e gli do appuntamento alla prossima volta.
Info:
Title:
Untitled
Time:
27 maggio 2012
Category:
Article
Views:
1362
Likes:
1
Tags:
agliardi , masochism , niccolò , Niccolò Agliardi