DRINK ME. EAT ME.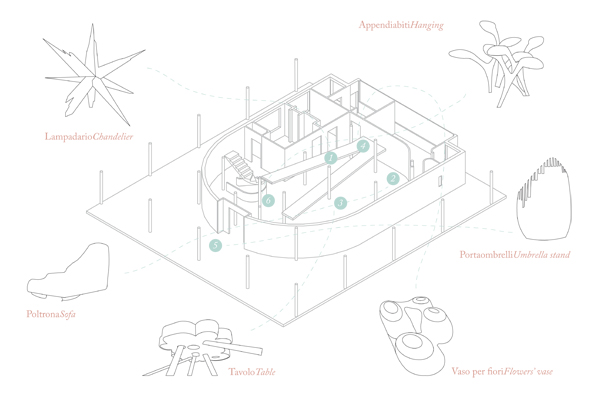 text and images by Maria Azzurra Rossi
Are there still people in this world who have never seen or read "Alice in Wonderland"? Perhaps not everyone knows that there's a film version of the story that is almost 100 years old, but many of us have probably imagined a trip to that wonderful world at least once in our lives.
I will tell you a secret: that world really exists. It's the union of a dream, of reality and of architectural projects that have a destiny yet to be defined.
Before diving into the poetry of imagination it's best to follow Alice's ritual and innocence: drink a magic potion, eat a cookie and expect to grow, grow, grow.
The blonde girl found herself in a house too small for her legs, and we in another one, where unique pieces of contemporary architecture have become a valuable part of our daily lives and our natural habitat.
""""" The door is ajar. Rays of light shine in brightly, illuminating the entire room. What are these strange reflections created in the living room?
The crystals of the chandelier, their surfaces and shapes remind me of a distant utopia. It's time to close the door, to forget my fears and enter the dream.
Nobody is home, though there are clues that someone has just left. I can get comfortable then. I see a coat rack that is right for me; I place all my belongings on its arms and sit on the pink petals of the sofa. It smells like spring.
There are many colors al around me. I experience so many feelings. The strange things that live in the kitchen make me wonder whether this house might be owned by… a pastry!
My curiosity is getting the best of me. I cannot keep sitting here, waiting. I have to get up, oh-oh-oops; I almost fell to the ground.
The legs of the table seem to be tentacles that own the space. They are trying to stop me from getting to those white drawers. I will open them all;
I'll discover their secrets.
I turn; I can feel the gaze of someone behind me. An invasion of personal space, the mirror is looking at me with inquisitive eyes.
I should not do it, I won't. It's better to look out the window, browse through a photography book or enjoy the scent of fresh flowers. """""
This is my dream. This is your reality.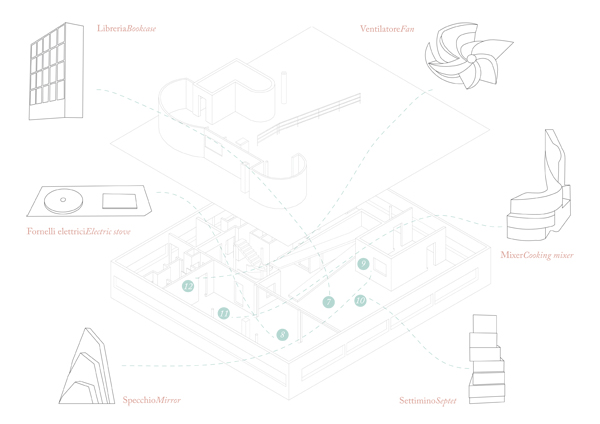 Related Posts :
Time:
10 giugno 2011
Category:
Article
Views:
2062
Likes:
0
Tags:
3xnielsen , amanda levete , atelier baukuh , big , perrault , renzo piano , sanaa , ville savoye
Comments:
Info:
Title:
DRINK ME. EAT ME.
Time:
10 giugno 2011
Category:
Article
Views:
2062
Likes:
0
Tags:
3xnielsen , amanda levete , atelier baukuh , big , perrault , renzo piano , sanaa , ville savoye