Latest
MAGAZINE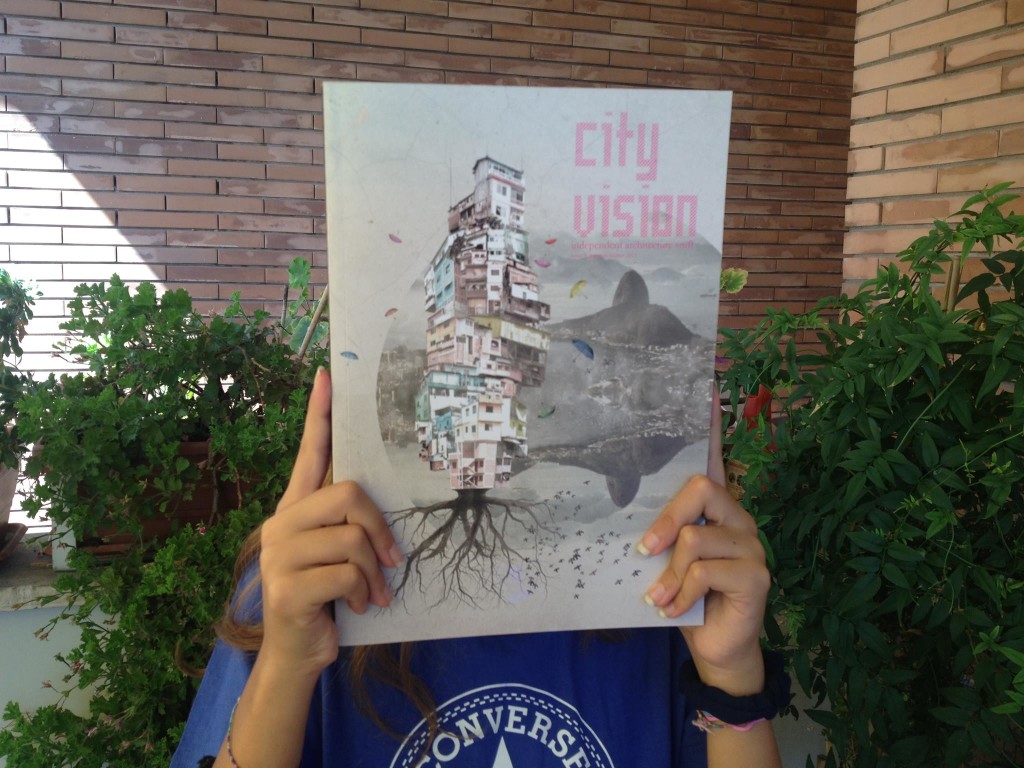 A new issue full of contents, widely devoted to the Sick & Wonder annual theme …
About the
MAGAZINE

.

City Vision Mag stands on the outline of publishing as the first free press magazine based in Rome entirely involving contemporary architecture which studies in depth the trends and the topics, the facts and the most recent tendency in the specific and exclusive field of the architecture culture and of the design in Rome and in the world.
"City Vision Mag is addressed to young public, vast, curious and attentive, careful to the contemporary city culture"

Free Press magazine
The distribution takes place in the museums, galleries, stores or the field and cool places, as well as during the most important events of the architectural field.
"Designing with poetry, building with little, through the force of ideas and emotions. The matter, whatever it is, is lapsed and is vulnerable, the emotions no! They are and remain indestructible." na3
CIRCULATION AND DISTRIBUTION
Print 6000 hard copies / 10.000 we readers (issuu)
web 190.000 monthly unique visitors / 600.000 monthly page impressions
Distribution
CityVision is free on one of these distribution points or purchase it here →
ROME
Bookshops
Libreria Kappa, via Gramsci 33
Libreria Kappa, piazza Fontanella Borghese 6
Libreria Kappa, via Flaminia 63
Bookshop Auditorium Parco della Musica, viale Pietro de Coubertin
AltroQuando, via del Governo Vecchio 80,82,83
Museums
Maxxi Museo nazionale delle arti del XXI secolo, via Guido Reni 6
MACRO, via Reggio Emilia angolo via Nizza
Casa dell'Architettura, pzza Manfredo Fanti 47
Galleries
Ibrida, via Reggio Emilia 32
Uno su Nove galleria, via degli Specchi 50
RGB Gallery, piazza di Santa Maria Liberatrice 46
Fondazione Volume, via Santa Maria dell'Anima 15
Come Se Gallery, via dei Bruzi
Factory_Roma, via Portuense 223-225
Faculty, Academies and Cultural Institutes
Facoltà di Architettura "Ludovico Quaroni" via Flaminia 70 + via E.Gianturco 2
Facoltà di Architettura "Fontanella Borghese" Largo della Fontanella di Borghese
Facoltà di Architettura Valle Giulia, via Antonio Gramsci
Facoltà di Architettura Roma Tre, via Madonna de' Monti 40 + Largo Giovanni Marzi 10
Accademia delle Belle Arti, via di Ripetta 222
Dipartimento Architettura, piazza Carracci 1
IED Design, Via Casilina, 51
Istituto Quasar, via Nizza 152
Istituto Svizzero, via Ludovisi 48
Stores and Bars
40 Gradi, via Virgilio 1d
Passaguai Vin Cafè, via Pomponio Leto 1
Casa Clementina, via Clementina
Coffee Pot, via della Lega Lombarda 52a
Cuadros, via del Governo Vecchio
2me, via degli Orsini 26
Bar del Fico, piazza del Fico
Super, via Leonina 42
Pifebo, via dei Serpenti 141 + via dei Volsci 101/b
Rock Cycle, via dei Volsci 44b
Freni e Frizioni, via del Politeama 4
Il Baretto, piazzale Giuseppe Garibaldi
Circolo degli Artisti, via Casilina vecchia
Necci, via Fanfulla da Lodi 68
Contesta Rock Hair, via del Pigneto 75
Ultrasuoni Records, via degli Zingari 61/a
Bar Marani, via dei Volsci 57
Caffè Letterario, via Ostiense 95
Treebar, via Flaminia vecchia 226
Beaverton, via dei Serpenti 96
Elvis Lives, via dei Volsci 48
Libreria VOLAND, via del boschetto 129
2 periodico, via leonina 77
WUNDER KAMMER via del boschetto 130
3 scalini, via panisperna 251
MILAN
Politecnico di Milano, piazza L. da Vinci 32
Triennale Bovisa + Triennale Vision Lab, via Lambruschini 31
IED Design via A. Sciesa 4
TURIN
Fondazione Sandretto Re Rebaudengo, via Madane 16
Gurlino Arredamenti, via Carlo Alberto 38
DDR, via Berthollet 11
ToolBox, via Agostino da Montefeltro 2
SICILY
Farm Cultural Park, Cortile Bentivegna Favara (AG)
NEW YORK
Storefront for Art and Architecture, 97 Kenmare Street
MOMA PS1, 4601 21 st street Long Island City