SICK & WONDER # 1 | HEINEKEN PARTY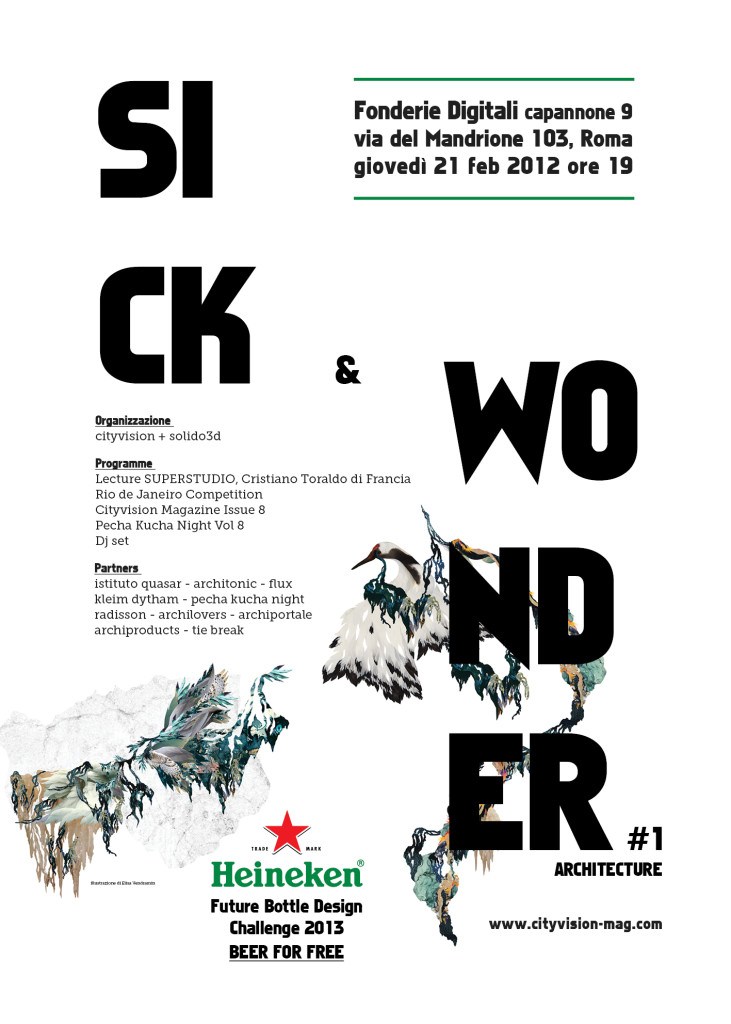 PROGRAMME
19:00 – Lecture by:
Cristiano Toraldo di Francia
(Superstudio)
20:00 – Pecha Kucha by:
Frame by Frame / Fonderia / Wasp Project
Genuino / Noocleo / Fonderie Digitali
20:00 – Heineken
The New Bottle – design contest launch
21:00 – Digital Tech Performance by:
Wasp 3D printer / Soldido 3D scanner
21:30 – Beer + food thanks to:
Heineken / Tiebreak
DjSet Night: Solko
Thursday, February 21, 2013 at 7 PM, Rome. During the eighth edition of PECHA KUCHA NIGHTtm Rome, Cityvision launch SICK & WONDER # 1 HEINEKEN PARTY, the first of three main events that this Contemporary Architecture Urban Lab is planning for the whole of 2013 during a research project that will feature international speakers, meetings and an international competition of ideas.
For the event CityVision will benefit the partnership of HEINEKEN to launch the competition Heineken Future Bottle Design Challenge 2013.
Other main partners is ISTITUTO QUASAR, that will present the 2013 master's degree through the installation of video mapping.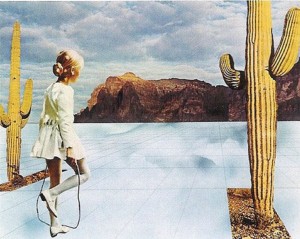 During the evening guest lecture by Cristiano Toraldo di Francia (Superstudio).
The event will be accompanied by the launch of the International Competition of ideas of architecture RIO DE JANEIRO CITYVISION COMPETITION, by the presentation of Cityvision Magazine # 8 and a site specific performance of WASP.
The event will be hosted at Fonderie Digitali, a new space curated by Solido 3D, dedicated to creativity and innovation in the heart of Mandrione, in Rome, which will be presented on the occasion.
Organization
curated by CITYVISION
Partners
HEINEKEN – ISTITUTO QUASAR  – SOLIDO3D – FLUX – KLEIM DYTHAM – PECHA KUCHA NIGHT – ARCHITONIC – ARCHILOVERS – ARCHIPORTALE – ARCHIPRODUCTS – RADISSON
ITA____________
Giovedì 21 Febbraio 2013 alle ore 19. In occasione dell'ottava edizione del PECHA KUCHA NIGHTtm Roma, Cityvision presenta SICK & WONDER # 1 + HEINEKEN PARTY (Disgusto & Meraviglia), il primo dei tre principali appuntamenti che il laboratorio urbano sull'architettura contemporanea condurrà per l'intero 2013 in un percorso di ricerca durante il quale si avvicenderanno speakers internazionali, talks ed un concorso internazionale di idee.
Per l'evento CityVision gioverà della partnership con HEINEKEN per il lancio del concorso Heineken Future Bottle Design Challenge 2013.
Altro partner della serata sarà l'ISTITUTO QUASAR, che attraverso una installazione di video mapping presenterà il nuovo programma didattico e il ciclo di master previsto per il 2013.
Durante la serata guest lecture di Cristiano Toraldo di Francia ( Superstudio).
L'evento parallelamente sarà corredato dal lancio del Concorso Internazionale d'idee d'architettura RIO DE JANEIRO CITYVISION COMPETITION, dalla presentazione di Cityvision Magazine #8 e da una performance site specific di WASP.
L'evento verrà ospitato nelle nuovissime Fonderie Digitali, spazio dedicato alla creatività e all'innovazione nel cuore del quartiere Mandrione a cura di Solido 3D, che verrà presentato per l'occasione.
Informazioni
Giovedì 21 febbraio 2013  ore 19
FONDERIE DIGITALI – Via del Mandrione 103 – Capannone 9 – Roma
www.cityvision-mag.com  |  info@cityvision-mag.com
Ingresso libero
Organizzazione
a cura di CITYVISION e Solido3d
Partners
HEINEKEN – ISTITUTO QUASAR  – SOLIDO3D – FLUX – KLEIM DYTHAM – PECHA KUCHA NIGHT – ARCHITONIC – ARCHILOVERS – ARCHIPORTALE – ARCHIPRODUCTS – RADISSON
Related Posts :
Time:
21 febbraio 2013
Category:
Project
Speakers:
Project Cristiano Toraldo di Francia
Views:
4739
Likes:
3
Tags:
-
Comments:
Info:
Title:
SICK & WONDER # 1 | HEINEKEN PARTY
Time:
21 febbraio 2013
Category:
Project
Speakers:
Project Cristiano Toraldo di Francia
Views:
4739
Likes:
3
Tags:
-