HONORABLE MENTION – ROME CITYVISION COMPETITION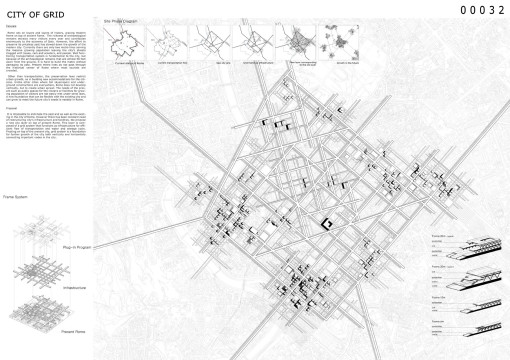 Hye jin Jeon + Cho hae Park + Ji eun Hong
Issues
Rome sits on layers and layers of history, placing modern Rome on top of ancient Rome. The richness of archaeological remains attracts many visitors every year and contributes enormously to the economy of Italy. However, the effort to preserve its priceless past has slowed down the growth of the modern city. Currently there are only two metro lines serving the massive growing population leaving the city's streets clogged with buses, cars and scooters, and people. Well functioning transportation system is fundamental to the city, but because of the archaeological remains that are almost 50 feet down from the ground, it is hard to build the metro without damaging its past. Present metro lines do not pass through the historical center of Rome where most tourists are crowded.
Other than transportation, the preservation laws restrict urban growth, as in building new accommodations for the citizens. Unlike other cities where tall skyscrapers and underground constructions are everywhere, Rome does not develop vertically, but to create urban sprawl. The needs of the present such as public spaces for the citizens or facilities for growing population of visitors are not easily met under strict laws. A new foundation that can be flexible with the existing city and can grow to meet the future city's needs is needed in Rome.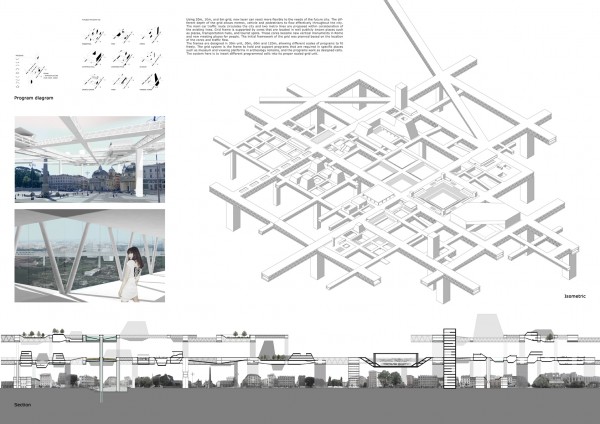 Proposal
It is impossible to eliminate the past and as well as the existing in the city of Rome. However there has been constant need of restructuring city's infrastructure and facilities. We propose a new city layer on top of present Rome. This layer is composed of a grid system that functions as infrastructure for efficient flow of transportation and water and sewage cycle. Floating on top of the present city, grid system is a foundation for further growth of the city both vertically and horizontally connecting important nodes in the city.
Using 20m, 10m, and 6m grid, new layer can react more flexibly to the needs of the future city. The different depth of the grid allows metros, vehicle and pedestrians to flow effectively throughout the city. The main car traffic route circulates the city and two metro lines are proposed within consideration of the existing lines. Grid frame is supported by cores that are located in well publicly known places such as plazas, transportation hubs, and tourist spots. These cores become new vertical monuments in Rome and new meeting places for people. The initial framework of the grid was planned based on the location of the cores and traffic flow.
The frames are designed in 30m unit, 30m, 60m and 120m, allowing different scales of programs to fit freely. The grid system is the frame to hold and support programs that are required in specific places such as museum and viewing platforms in archeology remains, and the programs work as designed cells. The system here is to insert different programmed cells into its proper scaled grid unit.
Related Posts :
Time:
21 giugno 2011
Category:
Article
Views:
2286
Likes:
0
Tags:
Cho hae Park , competition , Hye jin Jeon , Ji eun Hong , mention
Comments:
Info:
Title:
HONORABLE MENTION – ROME CITYVISION COMPETITION
Time:
21 giugno 2011
Category:
Article
Views:
2286
Likes:
0
Tags:
Cho hae Park , competition , Hye jin Jeon , Ji eun Hong , mention