PECHA KUCHA NIGHT ROME – VOLUME 4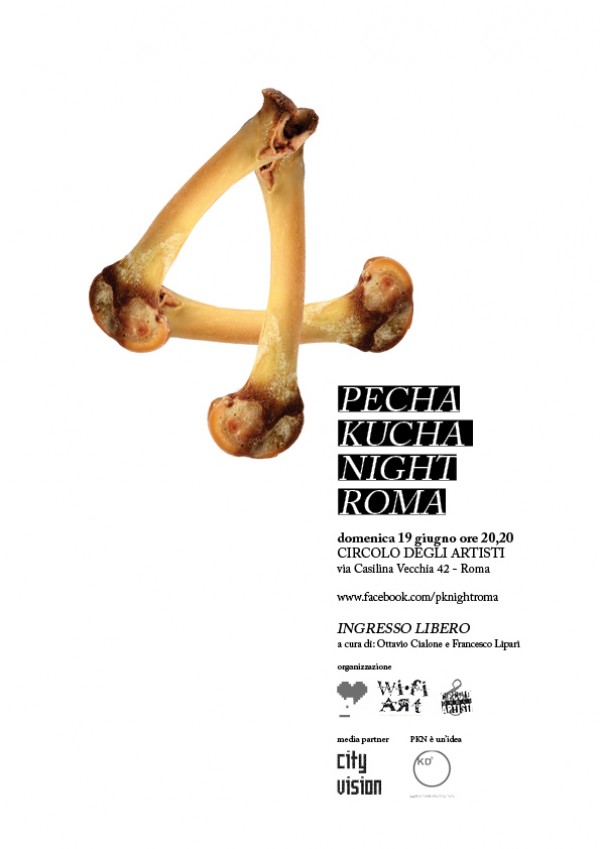 organized by Ottavio Cialone e Francesco Lipari
Sunday 19 June 2011
Circolo degli Artisti – via Casilina Vecchia 42 – Rome
h 20:20
PECHA KUCHA NIGHT ROME vol. 4 will also be presented throughout the night.
Pecha Kucha Night is an event developed in Tokyo in 2003 based on the initiative by Klein Dytham's studio, and it is currently organized in over 100 cities. Pecha-Kucha in Japanese is the onomatopoeic equivalent of "chit-chat." Pecha Kucha Night promotes works originating from various creative fields: architecture, design, graphics, photography, music… The innovative idea that characterizes Pecha Kucha Night is the way in which the projects are presented by single creative individuals and the mantra of 20X20 that they all adhere to. Each participant has at his or her disposal 20 seconds per slide and 20 slides each, to present their own work in 6 minutes and 40 seconds.
Artists were selected for the event and will present their work over the course of the night. An exposition space will also be set up for drawings and models produced by the participants. All other groups and individuals in attendance will become protagonists for future PECHA KUCHA NIGHTSTM foreseen in the upcoming months.
PARTECIPANTS
Glocal Handmade – Zo Loft (design), stARTT (architecture), Insula (architecture), Ersela Kripa + Stephen Mueller, Freddy Ventriglia (graphic design), Marta Gargiulo + Mondo Bizzarro "Street art Diary" edizioni Castelvecchia, Allaboutpaula (Valerio Ciampicacigli), Orizzontale (architects, designers), Aira (motion graphic), Boudewijn Kaijser + Riccardo Gola
INFORMATION
Event: LOVE AND KILL YOUR OWN TOWN and PECHA KUCHA NIGHT ROMA vol 4
organized by: Ottavio Cialone and Francesco Lipari with Carlo Maria Ciampoli
www.facebook.com/pknightroma
Event date: Sunday, June 19th, 2011
Location: Circolo degli Artisti – via Casilina Vecchia 42 – Rome. Time: 7pm
Free admittance
Contact: pknightroma@gmail.com
Related Posts :
Time:
17 giugno 2011
Category:
Article
Views:
2932
Likes:
0
Tags:
19 giugno , 2011 , 4 , night , volume
Comments:
Info:
Title:
PECHA KUCHA NIGHT ROME – VOLUME 4
Time:
17 giugno 2011
Category:
Article
Views:
2932
Likes:
0
Tags:
19 giugno , 2011 , 4 , night , volume