Call for Pecha Kucha Night Roma vol 14 Maker Faire Edition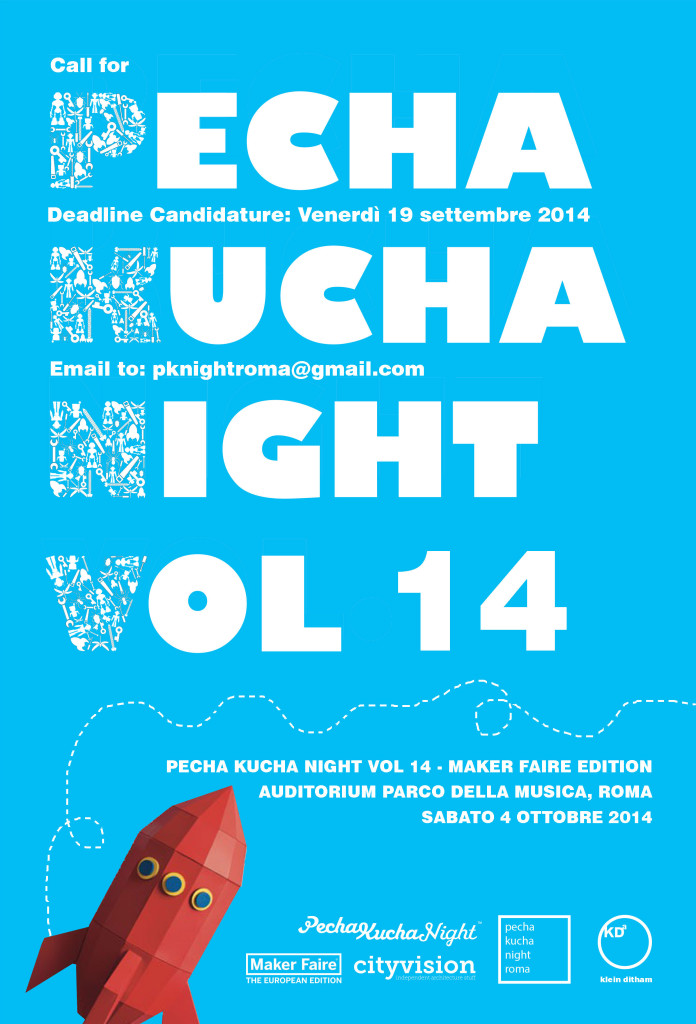 Sono aperte le candidature per la 14a edizione della Pecha Kucha Night Roma che si terrà il 4 ottobre 2014 nello splendido scenario dei giardini pensili dell'Auditorium Parco della Musica di Roma in occasione della seconda edizione della Maker Faire Europe.
Chiunque abbia voglia di raccontare la sua storia, il suo lavoro o le sue passioni potrà farlo attraverso il famoso format delle 20 slide in 6 minuti e 40 secondi.
Candidature aperte fino al 19 settembre 2014 entro le ore 12 inviando una mail con portfolio e breve sinossi della presentazione a pknightroma@gmail.com
Informazioni utili
Deadline candidature Pecha Kucha Night Roma 2014 / Venerdi 19 Settembre 2014 ore 12
Serata Pecha Kucha Night 2014 / Sabato 4 Ottobre 2014
Web site
www.pechakucha.org/cities/rome
www.cityvisionweb.com
www.makerfairerome.com 
Email
pknightroma@gmail.com
ENGLISH TEXT
Applications for the 14th edition of Pecha Kucha Night Rome are now open. The next PKNR will be held on October 4, 2014 within the beautiful space of the hanging gardens at the Auditorium Parco della Musica in Rome during the second edition of Maker Faire Europe.
Anyone willing to tell his story, work or passion may apply and having the occasion to present his/her work through the popular format of 20 slides in 6 minutes and 40 seconds.
Applications open until September 19, 2014 by sending an email including portfolio and a short synopsis of the presentation to pknightroma@gmail.com
Information
Deadline Nominations Pecha Kucha Night Rome 2014 / Friday, September 19, 2014
Evening Pecha Kucha Night 2014 / Saturday, October 4, 2014
Website
www.pechakucha.org/cities/rome
www.cityvisionweb.com
www.makerfairerome.com
Email
pknightroma@gmail.com
Related Posts :
Time:
2 settembre 2014
Category:
News
Views:
3680
Likes:
1
Tags:
auditorium , pecha kucha roma , pknr14
Comments:
Info:
Title:
Call for Pecha Kucha Night Roma vol 14 Maker Faire Edition
Time:
2 settembre 2014
Category:
News
Views:
3680
Likes:
1
Tags:
auditorium , pecha kucha roma , pknr14