Info:
Title:
////// ##### [[[[[]]]] >>>>>>>
Time:
10 marzo 2011
Category:
Article
Views:
1922
Likes:
0
Tags:
francesco gatti , videogames
////// ##### [[[[[]]]] >>>>>>>
text by Francesco Gatti
Here I am, supposed to write 2000 characters about videogames and architecture…mmm…today in fact I feel like I want physical contact instead, maybe hot and wet. I don't know if I could deal with the theme of videogames in my current state. We are kept glued to our screens by separating our wonderful bodies from each other and enticing our pathetic brains.
I can try to fulfill the character requirement with nice symbols //////// ##### [[[[[]]]]] >>>>>>>> but maybe it's better to attempt the speculative mission that solaces us, maybe I can find the body I long for by means of this article. At first glance, between videogames and architecture, I would give more weight to videogames; architecture is already a dinosaur in danger of extinction. The actual areas where bodies may come into contact are no longer in use; leave them to the builders and designers.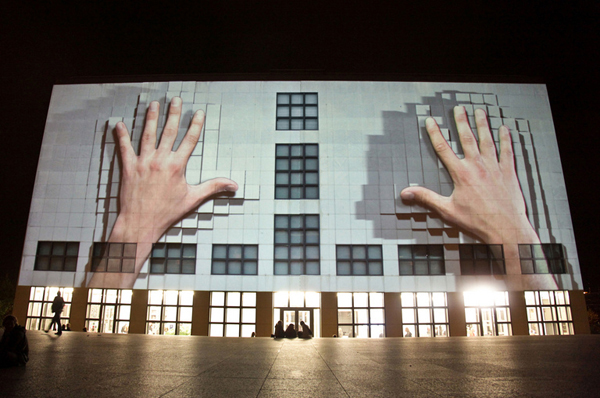 However, virtual spaces (fortunately for my grandpa and unfortunately for my son) are on the rise. I therefore recommend to all aspiring architects to change profession and enroll in a school for computer programmers or hackers. While analyzing videogames, they are still "young", I noticed their main limitation: they are still bound by space as defined in reality and the rules of real life.
This can be seen in people's continued obsession with playing games that take place in the most reasonable of 3D spaces, conveyed as we are used to seeing them on the planet earth. An early example of virtual space is the interface from Apple's first desktop or later that of Windows: they simply tried to copy the real world. Today, these interfaces are slowly evolving. You can notice this change on the iPad, where you start to invent new rules for the functional brain. It is almost impossible to find that in that real world.
Whoever has tried LSD understands that the possibility of interaction with rules and systems are infinite. Imagination and the unconscious is a mine that can be fully explored in virtual space and in the general digital world. Briefly, will the Matrix affect architecture or will it be architecture?
The second you said.
Info:
Title:
////// ##### [[[[[]]]] >>>>>>>
Time:
10 marzo 2011
Category:
Article
Views:
1922
Likes:
0
Tags:
francesco gatti , videogames