RGB WALLPAPER – CARNOVSKY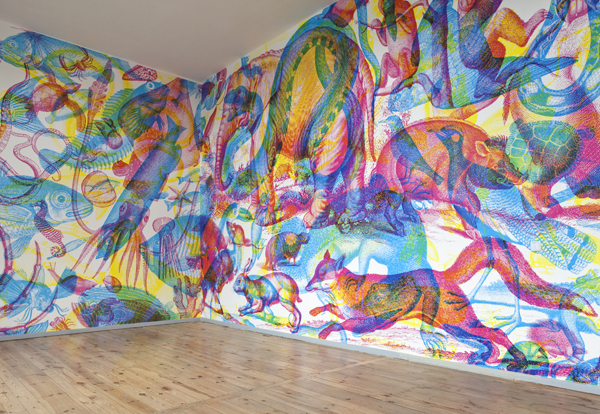 text by Maria Azzurra Rossi
Observing the world around us doesn't evoke positive feelings. Many times you think that something has changed, but it has not. As a result, our imaginations lead us to unexplored worlds, up in the clouds, lost in the universe or stranded in the depths of the ocean. The power of nature and its forms are overwhelming. Artistic expression is the most immediate means towards conveying this repressed feeling.
Carnovsky articulated such thoughts while playing with animals and merging them into one single, muddled, multicolored pattern, whose play on scales created a shocking effect: giant snakes juxtaposed with a small fox. Disorientation is caused by an overlap of primary colors, but this is where lights and the artwork's chromatic stimulus come into play. The light element becomes a lens for viewing, not just one world, but 3 different ones.
You turn on the red light and an iguana, a crocodile and a fish ball appear, green light turns on and you have a polyp, a rabbit and an elephant. Finally, when the blue light turns on, all the insects appear as well. The Milan collective, other than designing wallpaper, uses the same research for the RGB pictures and miniposters which won the Berlin exhibition at the Johanssen Gallery. In any case, isn't it better to have glasses with three colored filters than the outdated and popular 3D ones?
Related Posts :
Time:
11 marzo 2011
Category:
Article
Views:
1645
Likes:
0
Tags:
carnovsky , rgb , wallpaper
Comments:
Info:
Title:
RGB WALLPAPER – CARNOVSKY
Time:
11 marzo 2011
Category:
Article
Views:
1645
Likes:
0
Tags:
carnovsky , rgb , wallpaper