LUMEN URBAN SHOW – WUNDERKAMMERN – ROME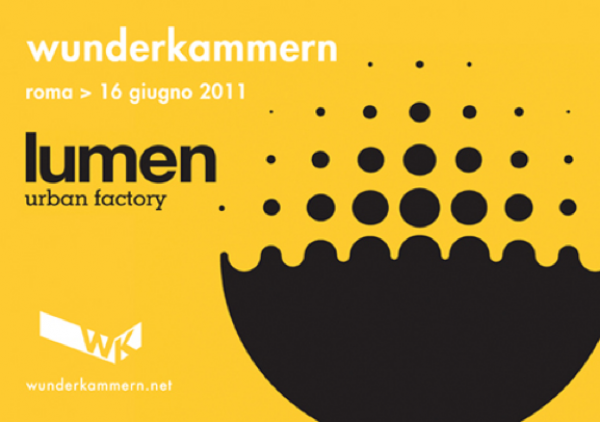 CityVision is partnering the group exhibition Lumen Urban Show and the WK Art Distinction prize that will take place at the Wunderkammern gallery in Rome from June 16th to September 10th.
Lumen Urban Factory is an art event that started in Salerno in 2010 and this year took place from May 13th to May 29th 2011 at Parco dell'Irno, ex area Salid. Wunderkammern is a contemporary art gallery born in 1998 in Spello and moved to Rome ten years later.
Artists involved in this art event are:
Aryz, Blue & Joy, El Euro, Iabo, Agostino Iacurci, James Kalinda, Joys, Franco Losvizzero, M-city, Jonathan Pannacciò, Reser, Scarful, Sea Creative, Sparki, Thoms, Truly Design, Useless Idea, Elio Varuna, Verbo, Zentwo, Zosen.
LUMEN Urban Show
Vernissage: 16th June 2011 h 19:00
Location: Wunderkammern, via Gabrio Serbelloni 124, Roma
Opening hours: Tuesday, Wednesday, Thursday from 17:00 to 20:00
summer closing time: Agosto
Finissage: WK Art Distinction, 10th September 2011 h 19:00
info: +39 3498112973 – +39 3280910829
Related Posts :
Time:
1 giugno 2011
Category:
Article
Views:
2487
Likes:
1
Tags:
16 giugno , art distinction , gallery , june , lumen , show , urban factory , wk , wunderkammern
Comments:
Info:
Title:
LUMEN URBAN SHOW – WUNDERKAMMERN – ROME
Time:
1 giugno 2011
Category:
Article
Views:
2487
Likes:
1
Tags:
16 giugno , art distinction , gallery , june , lumen , show , urban factory , wk , wunderkammern