Info:
Title:
MEDUSAS – VENICE CITYVISION COMPETITION – SPECIAL MENTION
Time:
10 novembre 2011
Category:
Article
Views:
1688
Likes:
0
Tags:
-
MEDUSAS – VENICE CITYVISION COMPETITION – SPECIAL MENTION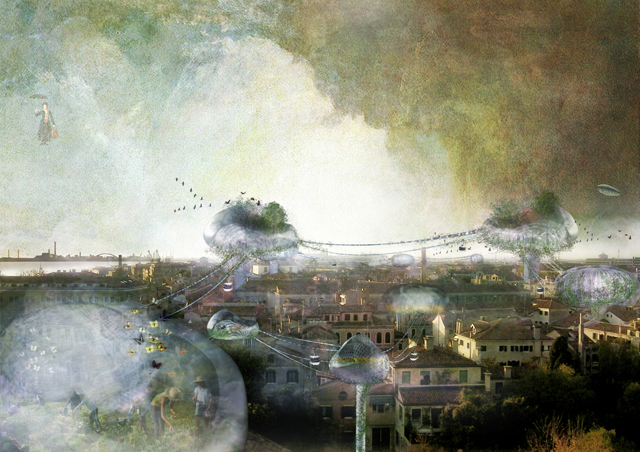 G. CUCUT – A. MERCI
As a parasite that sloughs its rigid, inappropriate nature and uses a structural system in order to hover in space, in architecture a new building model will conceive a real landscape that will be habitable independently from the level below.
What is more, it can rediscover Nature as a reign of unparalleled technologies, such as the extraordinary ability to produce materials, products, eco-compatible performance.
The "medusas" can vibrate and float in the space and create a horizontal landscape without cathedrals. A reversible space possible to pass through. So, it can be said that it is an architecture that completely renews its models of reference, facing the challenge of a liquid modernity. The project provides a model of urbanization formed by an agricultural scenery, where it is possible to find research laboratories, houses and leisure facilities. They are intertwined with each other and they are able to follow a seasonal turn-over of functions and new dimensions.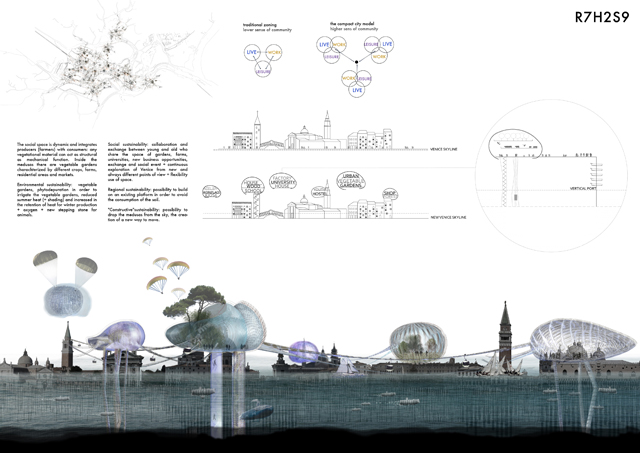 Info:
Title:
MEDUSAS – VENICE CITYVISION COMPETITION – SPECIAL MENTION
Time:
10 novembre 2011
Category:
Article
Views:
1688
Likes:
0
Tags:
-