Worlds of Cityvision | The New York Exhibition | Oct 1 – 10, 2014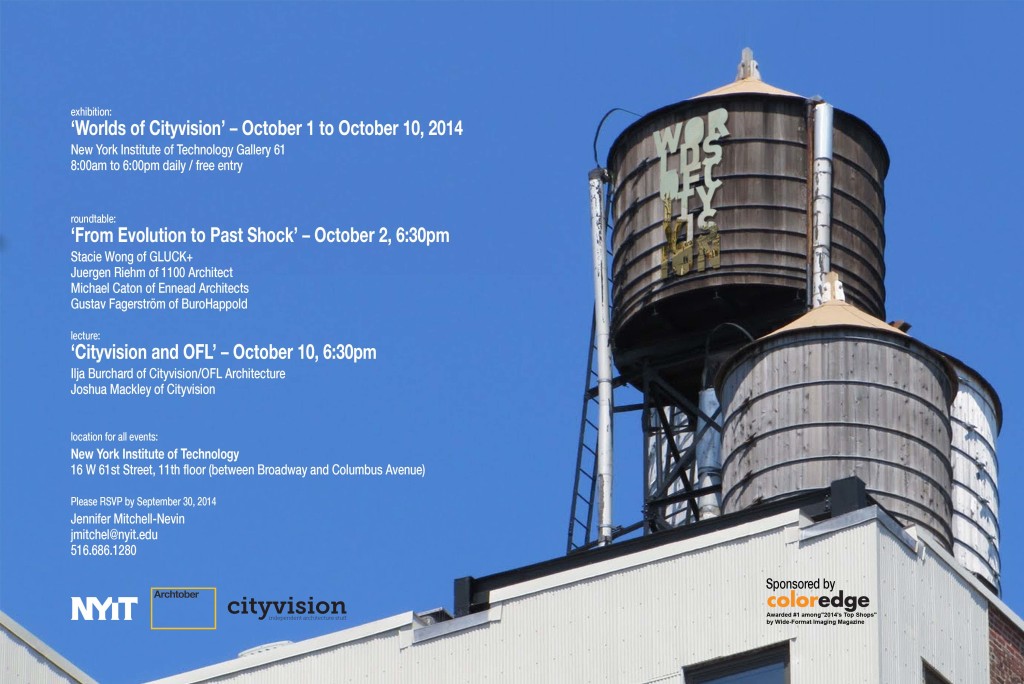 New York, New York
September, 2014
For immediate release
From October 1 through October 10, Gallery 61 at the New York Institute of Technology will be hosting the exhibition 'Worlds of Cityvision', featuring work of the innovative urban design laboratory Cityvision, founded in Rome in 2010 with a New York location opened in 2013. Following its successful opening at the WUHO Gallery in Hollywood, this exhibition will display the exciting results of five international urban design competitions hosted by Cityvision, with projects submitted by the world's leading designers and architects. Focused on the cities of Rome, Venice, Rio de Janiero, New York, and Beijing, these projects explore the infinite possibilities within the complex relationship between people and their urban environment.
In conjunction with the exhibition, NYIT Gallery 61 will also host two special events:
'From Evolution to Past Shock' – October 2, 6:30pm
Featuring a selection of New York's leading architects, this roundtable discussion will explore the critical themes of Cityvision's competitions in New York and Beijing, as well as the solutions expressed in the competition-winning projects. The guests who will join in this important conversation are:

Stacie Wong of GLUCK+
Juergen Riehm of 1100 Architect
Michael Caton of Ennead Architects
Gustav Fagerström of BuroHappold
'Cityvision and OFL' – October 10, 6:30pm
This lecture will examine the relationship between Cityvision's laboratory for ideas and the work generated by its practice division OFL Architecture, which has had its award-winning designs featured in the Museum of Modern Art and Architizer.
'Worlds of Cityvision'
Gallery 61, New York Institute of Technology
16 W 61st Street (between Broadway and Columbus Avenue)
October 1 through October 10
8am to 6pm daily, free entry
CONTACTS/CREDITS:
Cityvision Rome
Via del Mandrione 103 hub 7 – 00181 Roma +39 06.7886703
Cityvision New York City
115 Montague Street/6C
New York, NY, 11201
info@cityvisionweb.com | www.cityvisionweb.com
PEOPLE:
exhibition curators / Joshua Mackley, Ilja Burchard, Francesco Lipari and Vanessa Todaro
NYIT and NYIT Gallery 61 / Mathew Ford and Jennifer Mitchell-Nevin
project manager / Stephanie El Hourany, Sebastian di Guardo, Boris Prosperini
Related Posts :
Time:
16 settembre 2014
Category:
Project
Speakers:
-
Views:
5812
Likes:
7
Tags:
burchard , mackley , new york , New York City , nyit , nyit ny
Comments:
Info:
Title:
Worlds of Cityvision | The New York Exhibition | Oct 1 – 10, 2014
Time:
16 settembre 2014
Category:
Project
Speakers:
-
Views:
5812
Likes:
7
Tags:
burchard , mackley , new york , New York City , nyit , nyit ny