Info:
Title:
[DIS]oreder city -
Code:
559fd
Contest:
Beijing / 2014
By:
Mariachiara Mondini - Blerta Copa
Views:
1721
Likes:
0
Votes:
Greg Lynn
4
Ai Weiwei
12
Sou Fujimoto
3
Eric de Broches des Combes
8
6.8
[DIS]oreder city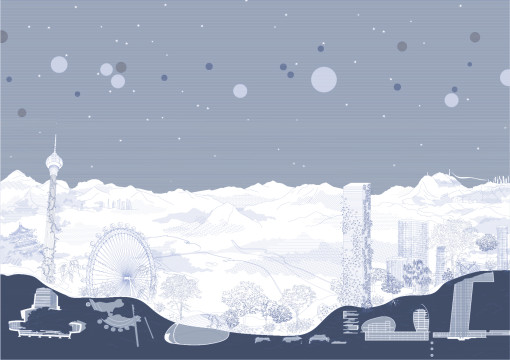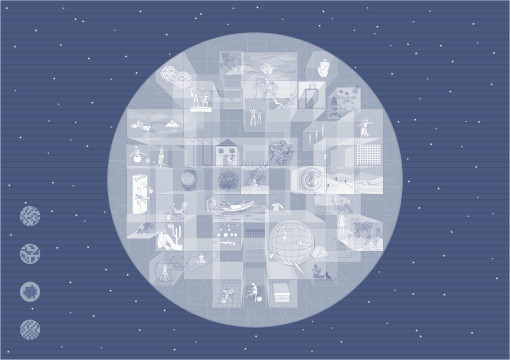 "Mr. X feels terribly unsatisfied" Myriads of spheres suspended at a distance of 2.7 km from the Earth's crust, observe the planet. An earth abandoned by the man that is reclaiming itself, since the residents of Beijing have started the human migration to the troposphere. The spheres are conceived on the basis of an individual module of 6×6 m, able to change itself according to the wishing of its inhabitants, and they have a maximum diameter of 106.86 m. Within each of them a community grows, develops and transform continuously. A community where there are no hierarchies, because each relationship is based on the reciprocal exchange. Where there is no money, because people´s needs are satisfied by the sphere, which collects energy from the external environment and it produces everything the human being needs to live. Where there is work, but is the work in which each person decides to dedicate himself to get in contact with the other through the exchange process. The prosperity of each sphere is given by the heterogeneity of works done in the inside (so by the differences that exist among its inhabitants), the complexity of the relationships created, the degree of hybridization reached between its heterogeneous parts. There is no predetermined composition of the individual cells inside the sphere, each one has the ability to move within it, creating new contacts, new exchanges and new union with other cells, constantly changing every time. The usual hierarchical relationship between space and time is reversed: the "space of time" is replaced by the temporalisation of space. Architecture abandons his search for completeness, for finitude, his durability and immobility. An architecture that becomes increasingly similar to human being, in which the constant movement of relations establishes the impossibility of determining an end, consecrating its incompleteness. Apparent disorder is the result of an order that quickly changes, and disequilibrium is the result of a dynamic balance. A necessary "disorder", because the strength of the cell lies precisely in its anarchist ability that can cause tensions. Each sphere can contain a maximum of 249 people (critical group that guarantees the proper functioning of the egalitarian social structure). The 250° possible inhabitant of the sphere ceases to exist, through the intervention of the same, before to birth. Each sphere allows individuals who inhabit it, a sensory contact with the earth, but not with the inhabitants of other spheres. The spheres themselves come into contact between them and share the creations, the emotions and the thoughts of its inhabitants, influencing each other and consequently affecting individuals´ life within it.
Info:
Title:
[DIS]oreder city
Time:
29 settembre 2014
Category:
Beijing
Views:
1721
Likes:
0
Tags:
-