Info:
Title:
GREEN VENICE -
Code:
Z7T1Q9
Contest:
Venice / 2011
By:
C. Morin / G. Riou
Views:
2376
Likes:
1
Votes:
BJARKE INGELS
5
NERI OXMAN
6
ELENA MANFERDINI
3
MARIA LUDOVICA TRAMONTIN
5
BOSTJAN VUGA
1
4.0
GREEN VENICE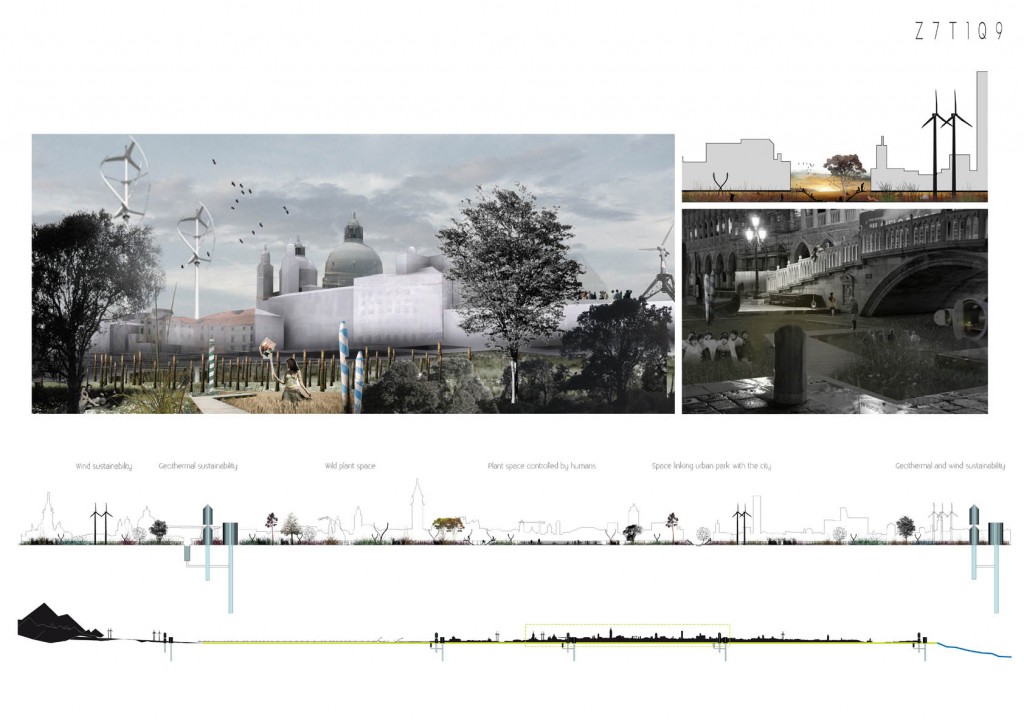 Context: The global warning is coming to an end and the Earth is going through a short ice age. The sea level is dropping; the sun is slowly loosing its heat. The Venice Lagoon undertakes a period of sedimentation and clings to the mainland. Then, arises a new Venice, the Venice of the depths, the Venice of the foundations, or that of constructive genius. Venice divested herself of her waters, of her matrix, and is now revealing a new perspective: we discover a field of millions of oakpiles, underneath the city, supporting it. Venice' foundations unfold before our eyes, offering a new virgin land, waiting to be explored.
Proposal: This new land is colonized by an earthly nature that seems to be willing to salvage, transpose and protect an alive and fertile ecosystem. An unpredictable, wild prairie will carpet Venice' undergrounds. The Venetian will attempt to preserve this new meadow by creating a green and landscaped area for their city. The "bricole", symbols of Venice maritime past, will guide the Venetian in this unknown wilderness.
Ecology :Thanks to the apparition of natural groundwaters, Venice will be able to live of geothermia, a natural source of heat that was already used by the Romans during Antiquity. Windmills will provide electricity.
Info:
Title:
GREEN VENICE
Time:
6 giugno 2011
Category:
Venice
Views:
2376
Likes:
1
Tags:
C. Morin , G. Riou