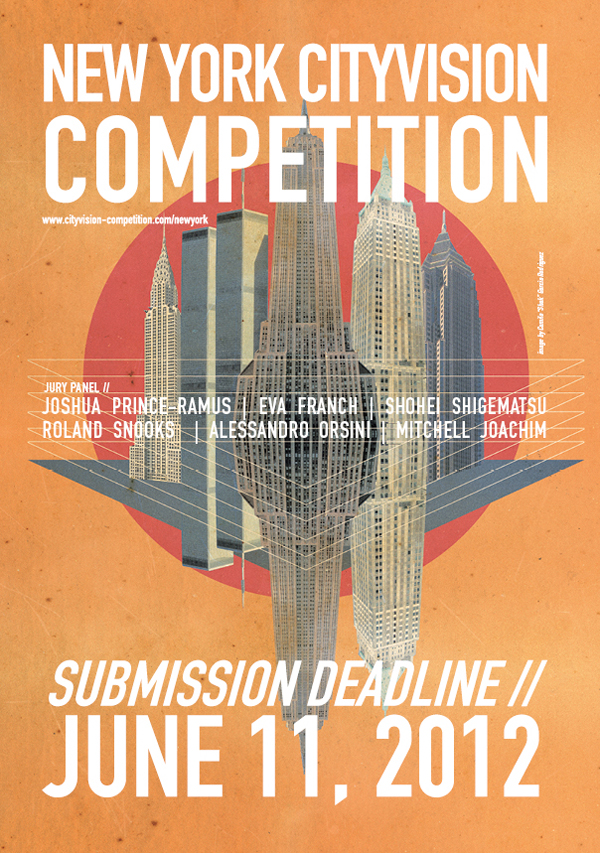 New York -
Info
New York CityVision is the fourth international ideas competition launched by CityVision.
The competition wants you to imagine New York in its future if the manipulation of the urban context and its architectural objects, joined with its inhabitants, will be influenced by SPACE and TIME.
The New York ideas will be judged by an international jury which will have as president Joshua Prince-Ramus, founder of REX architects and again Eva Franch i Gilabert, Roland Snooks, Shohei Shigematsu, Alessandro Orsini and Mitchell Joachim, all of whom are distingueshed by the large experimentation willingness in their work.
New York CityVision Competition will be launched during the event, I Have Seen The Future, at Macro museum in Rome on friday February 17th.
On February 17th we'll update the competition website, with the competition's official brief.
Stay tuned!
Bando ITA
Bando ENG
See the Results
Brief
1.1 NEW YORK CITYIVISION competition: Nature and purpose of the competition
If the future is gone, what past is expecting us?
Try to imagine New York in its future if the manipulation of the urban context and its architectural objects, joined with its inhabitants, will be influenced by SPACE and TIME.
In the formulation of your project proposal, you can follow one of these two themes, or combine them:
1. FROM PAST TO FUTURE
What went wrong?
Imagine the city of New York from manipulation and time deviation of a critical phase of its past and rewrite a new and correct future with consequent changes to the natural ecosystem, social and architectural history of the city
2. FROM FUTURE TO PAST
An anacronistic future?
Imagine New York City starting with the already compromised future – accepting the failure of our futuristic aspirations – and describe your idea of ??a city of tomorrow that will have to come to terms with the relentless advance of technology and the parallel regression of the social life of its inhabitants, but that has a great opportunity to really change the system by replacing all that is outsourcing into insourcing.
More suggestions and special reports can be read and extracted from the PAST SHOCK project that you can find inside the editorial of this issue and through the website pastshock.tumblr.com
1.2 Procedure of participation
The architectural competition in a single phase.
Participation in the competition is open to architects, engineers, designers, students and creatives world-wide. Individual or group entries are permitted. The indication of a group leader is required.
1.3 Language
The official competition language is English.
CityVision will also provide a competition brief in Italian but the final proposal must be submitted only in English.
1.4 Registration
Architects, engineers, designers, students and creatives are invited to take part in this competition. Temporary groups are allowed especially if they are multi skilled. Being multi skilled is an important characteristic because it can help to understand and to better represent a global vision of the project.
Participants can register at
www.cityvision-competition.com/newyork/registration
- until April 9th, 2012 with a fee of 50€ (early registration deadline)
- until  June 4th, 2012 with a fee of 70€ (late registration deadline)
1.5 Question
Questions should be sent via email to the following email address: info@cityvision-competition.com on and before 12.00 hours (Greenwich Time), May 21st, 2012 inclusive.
Answers to f.a.q. are already on the website page Q&A and CityVision will update them question by question.
1.6 Awards
1st place € 2.000
2nd place € 1.000
FARM SPECIAL PRIZE € 1.000
and 6 Honorable Mentions.
The prizes for the winners will be paid via Paypal.
There is an entry limit of one proposal per individual/team and there is no limit to the number of participants per group.
After your registration CITYVISION will provide by email, within 48 hours, a registration number which must be included on all entry panels.
1.7 Submission of boards
This is a digital competition and hard copy proposals will not be accepted. All entries are to be submitted via e-mail on and before the JUNE 11th, 2012 (hours 12:00 Greenwich Time) to the following email address: submission@cityvision-competition.com.
The attachment, packed in a ZIP file, should include 2 boards of the project in A2 horizontal format, a written report and partecipation data in A4 format.
BOARD 1: One A2 horizontal format (300 and 72dpi) with the main image of the entry useful in showing in its beauty the planning idea; saved as follows: (xxxxx_01.jpg).
BOARD 2: One A2 horizontal format (300 and 72dpi) which describes the project in detail with proposed sections, elevations, plans with the metric scale indicated, schemes and useful images for better understanding the project; saved as follows: (xxxxx_02.jpg).
WRITTEN REPORT: One A4 vertical format 1 page of usefull text (Times New Roman 12pt) to explain the planning proposal; saved as follows: (xxxxx_description. doc). Texts saved in Jpg or Pdf won't be valid.
PARTICIPANTS DATA: One .doc file (Times New Roman 12pt) A4 vertical format, containing participants names with profession, address, email, phone number; saved as follows: (xxxxx_info. doc). Files saved in Jpg or Pdf are not allowed.
Entry ID numbers must be positioned in the upper right corner with required dimensions 1cm x 5cm.
Entries are encouraged to inclued all necessary information to clearly explain the proposal. Board resolution will be one copy at 300 dpi and a second copy at 72dpi, RGB color mode in JPEG format. The entry ID number must be included on the top right hand side of all layouts, which is issued by CITYVISION at registration. No other form of identification permitted.
The file names should quote the entry ID number followed by an underscore and number of the board as follows: xxxxx_01.jpeg and xxxxx_02.jpeg. The same system is to be used for the written report (xxxxx_ description. doc) and the participants data (xxxxx_info. doc).
All files should be packed in a ZIP file labeled with your Registration Number, as follows: xxxxx.zip.
The choice of the graphic representation is completely open to the entry team. Refusal of any entry may occur if the mentioned guidelines and methods are not met.
1.8 Methods of evaluation of proposal
1. Visionary potential: on the basis of which the jury will concentrate on originality, sustainability, and the innovative character of the proposal.
2. Architectural quality: formal composition, integration with the urban environment, design sensibility.
1.9 Results of the competition and publication
On June 2012 CityVision will publish the official results on the competition website
www.cityvision-competition.com/newyork and on CityVision magazine 7 out on September 2012
1.10 Schedule
FEBRUARY 17th 2012 – Announcement of the competition
APRIL 9th 2012 – Early registration deadline
MAY 21st 2012 – Question submission deadline
JUNE 4th 2012 – Late registration deadline
JUNE 11th 2012 – Submission deadline
JUNE/JULY 2012 – Announcement of results
SEPTEMBER 2012 - Winning ceremony and project exhibition
1.11 Rules and regulation of the competition
To take part in this competition, all applicants must accept the rules. Every infringement of the rules will be noted and subject to the evaluation by the panel of judges. The participants in particular (however, without any limitation) irrevocably accept the royalty-free publication, in particular of their respective names.
This is an anonymous competition and the Registration Number is the only means of identification.
The files containing the personal information are confidential and known only to the Organizer Responsible and will not be revealed to the Panel until the final winners have been selected.
1. The official language of the competition is English.
2. The enrolment fee is not refoundable.
3. Applicants who try to contact members of the jury will be disqualified.
4. Participation requires that all the above rules are adhered to.
1.12 Applicants and their property rights
USE and PROPERTY:
All enrolments in the competition will remain in the care of the Organizer, who has the right to use the material for educational purposes, with the source credits, without obligation of remuneration to the applicant.
DISAGREEMENTS:
Any disagreements that rise between the organizer, Operating Body of the panel, including disagreements with one of the above conditions will be resolved by arbitration
IN CLOSING:
This competition is subject to the terms of this program. The program of the competition is the definitive declaration of the terms and conditions of this competition. The conditions are mandatory for the Organizer and the panel of judges. By presenting a proposal, the participant declares that he / she is aware of and accepts the terms and conditions of the competition.
Jury
The projects presented will be submitted to the judgment of the jury that will endeavour to examine all the entries and to elect the winners.
The Judging Panel is composed of 5 members and a presiding president.
JOSHUA PRINCE-RAMUS (REX Architects) - Jury president - New York, USA - www.rex-ny.com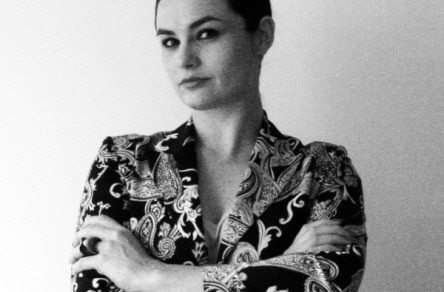 EVA FRANCH I GILABERT (Storefront for Art and Architecture) - New York, USA - www.storefrontnews.org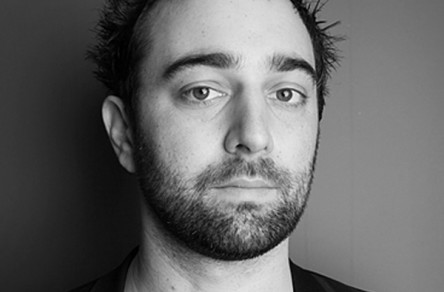 ROLAND SNOOKS (Kokkugia) - New York, USA - www.kokkugia.com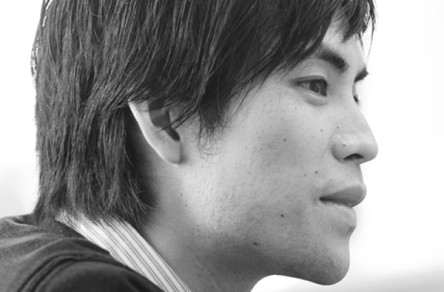 SHOHEI SHIGEMATSU (OMA, NY) - New York, USA – www.oma.eu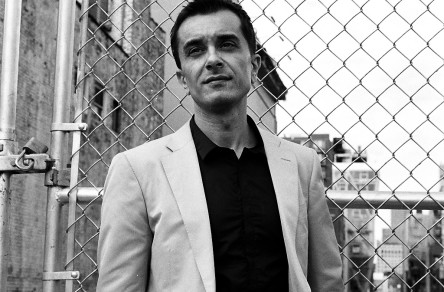 ALESSANDRO ORSINI (Architensions) - New York, USA - www.architensions.com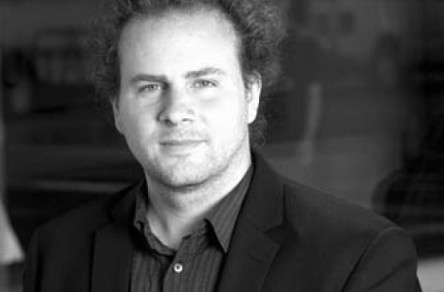 MITCHELL JOACHIM (Terreform One) - New York, USA – www.terreform.org
FAQ
For any doubt write us an email: info@cityvision-competition.com and we will answer as soon as possible and post it on this section.
/////////////////////////////////////////////////////////////////////////////////////
QUESTION 12
if we must to save two files with different resolutions (72 & 300dpi) for the same image. how can we name it?
Just name them in this way
xxxxx_01_300.jpeg
xxxxx_02_300.jpeg
xxxxx_01_72.jpeg
xxxxx_02_72.jpeg
/////////////////////////////////////////////////////////////////////////////////////
QUESTION 11
Is the competition more about Manhattan? Is it ok to integrate the outer boroughs as well?
The competition is focused on the whole city, so yes you can integrate the other ares.
/////////////////////////////////////////////////////////////////////////////////////
QUESTION 10
How many people can be part of a team?
There's no limit to the number of people
/////////////////////////////////////////////////////////////////////////////////////
QUESTION 9
Is it possible to participate with two different team?
No, it's not possible
/////////////////////////////////////////////////////////////////////////////////////
QUESTION 8
Are there any other criteria on the Written Report such as the format of margins? This is because when the margins are modified, it allows more text to fit on the page.
The written report must include max 4000 characters (with space)
/////////////////////////////////////////////////////////////////////////////////////
QUESTION 7
Might the proposal be an abstract and provocative one or you are looking for a real project that can be realized in future?
It's up to you
Should the project be exposed for the first time? or its possible to submit a project that was already submitted to other competitions and that it is already published in internet?
The project proposal has to be original
//////////////////////////////////////////////////////
QUESTION 6
I would like to ask if there are any rules regarding sending multiple/ separate entries by the same group? I am asking as my group has two ideas that we feel have potential for.
You can send just one project per group/person. You cannot send multiple proposals using a name already registered. If you do it you'll be disqualified.
/////////////////////////////////////////////////////////////////////////////////////
QUESTION 5
Which information should we insert in the A4 "participants data"? Just name, profession, address and e-mail of participants (in a schematic way) or we can write short presentations about team's members?
Participants data should include only name, profession, address and e-mail of participants.
/////////////////////////////////////////////////////////////////////////////////////
QUESTION 4
My question about the competition is about the quality of the design. I was wondering if I can draw by hand, perhaps telling pieces of the project in a comics style? And can I represent 3D graphics by hand?
Yes and it's up to you. The competition is free of restrictions.
/////////////////////////////////////////////////////////////////////////////////////
QUESTION 3
Is there a basic documentation (plans, orthographic photos, etc…) from which I can choose my area?
Yes. The competitions' material can be downloaded at the following link
www.cityvision-competition.com/newyork/download
/////////////////////////////////////////////////////////////////////////////////////
QUESTION 2
Where can I download the competitions' material?
www.cityvision-competition.com/newyork/download
/////////////////////////////////////////////////////////////////////////////////////
QUESTION 1
Where can I find the registration form? Is the receipt of payment necessary?
www.cityvision-competition.com/newyork/registration
Receipt is not necessary