RESHAPE 15 | wearable technology competition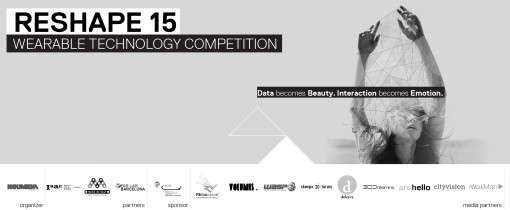 Bando 
Discipline come la programmazione e l'elettronica sono divenute altamente trasversali, combinandosi oggi nella generazione di nuove forme di Sapere. La Moda è da tempo al centro di questo cambiamento radicale: vestiti, scarpe e altri accessori incorporano,sempre più spesso,elementi hardware e software, generando un collegamento singolare tra Moda e Computazione incredibilmente fertile e stimolante. Dati diventano Bellezza, Interazione diventa Emozione. Il risultato è la nascita di una nuova estetica. Reshape si concentra sulla definizione di questo linguaggio, proponendo una nuova sfida per i makers ed i designers:
RESHAPE15 | Wearable technology competition.
I partecipanti al concorso sono invitati ad esplorare le possibili evoluzioni collegate al mondo della wearable technology. Ancora una volta Reshape lascia ai progettisti la libertà e la responsabilità delle proprie scelte, sebbene tutte le proposte debbano riflettere la filosofia di Reshape: combinare idee con processi di fabbricazione e strategie di mercato.
La rete distribuita di fabbricazione di Reshape comprende vari FabLabs e Maker Space, tutti dotati di macchinari per la fabbricazione digitale come taglio laser, stampanti 3D, fresatrici e bracci robotici. I progetti sono tenuti a far riferimento a questi macchinari come strumenti principali per il processo di produzione. Metodi d'assemblaggio e costi di fabbricazione saranno presi in considerazione nel processo di valutazione.
Organizzatori e Partners
RESHAPE15 | Wearable technology competition è organizzato da Noumena in partnership con IaaC, Fab Lab Barcelona e Make in Italy foundation e sponsorizzato da Aspiin e Camera di Commercio di Frosinone.
Il concorso include diversi media partners come Rhinoceros3d, Archello, Cityvision, 3ddreaming, Deleyva, Stampa3d Forum, WASP, The Walkman magazine and Volumes.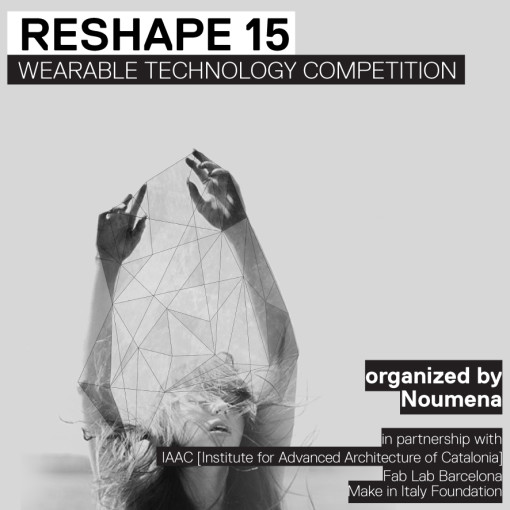 Giuria / Criteri di valutazione
Una serie di esperti provenienti dai campo della moda e della fabbricazione digitale,selezioneranno i tre progetti vincitori.
RESHAPE ha il piacere di presentare la giuria internazionale del concorso:
ANASTASIA PISTOFIDOU
ALESSIO ERIOLI
ELIZABETH FRAGUADA
NICCOLO CASAS
RONEN KADUSHIN
ZOE ROMANO
Tutti i progetti saranno valutati secondo una scala da 1 a 10 in base alle seguenti categorie: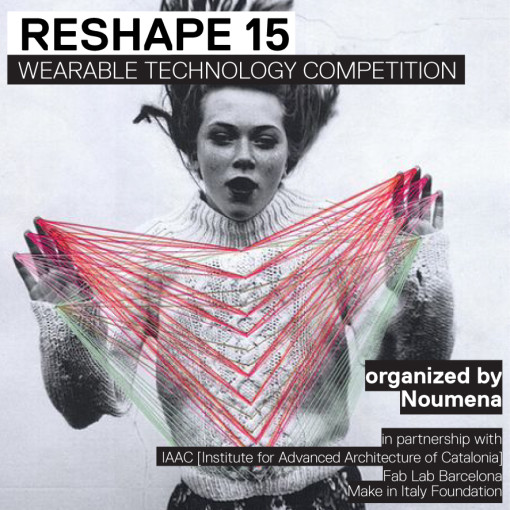 IDEA
Sarà data significativa attenzione a quei progetti che riconsidereranno l'idea dell'abbigliamento convenzionale in un modo sperimentale ed innovativo,riconsiderando le interconnessioni tra Utente, Ambiente e Dati.
FABBRICABILITA' DEL PROTOTIPO
L'approccio del progetto deve presentare una chiara strategia di fabbricazione basata su soluzioni progettuali e strumenti digitali di produzione disponibili in un FabLab o MakerSpace. Reshape si concentra sia sulla progettazione che sulla fabbricazione.
STRATEGIA DI MERCATO
E' fondamentale considerare soluzioni progettuali e di fabbricazione economicamente ragionevoli, fornendo una stima realistica per il progetto nella sua totalità e definendone il potenziale di mercato.
premi / diritti.
La quota di partecipazione al concorso, valida per un solo progetto, è pari a 50 euro ed è necessaria per ricevere il codice identificativo da inserire sulle tavole di progetto.
L'ammontare totale dei premi è di 2700 €, suddivisi come segue:
1°classificato 1500 €*
2° classificato 700 €*
3° classificato 500 €*
Tutti i vincitori saranno inclusi nella piattaforma online di RESHAPE. Nel sito sarà presente un collegamento diretto ad ogni progetto con le informazioni di ogni designer. I vincitori selezionati dalla giuria saranno invitati a prendere parte a laboratori e corsi in diversi FabLabs collegati al concorso. I vincitori saranno esposti in vari eventi internazionali. Reshape mette inoltre a disposizione una speciale piattaforma e-commerce. Per i progetti inseriti nella piattaforma, Reshape offre condizioni speciali, riconoscendo al progettista e al fablab produttore royalties dell' 80% sulla vendita dei prodotti.
TIMELINE
15 Gennaio 2015 _Registrazione online disponibile su www.youreshape.com
15 Gennaio – 31 Maggio 2015_ Periodo di registrazione e chiusura iscrizioni.
15 Gennaio – 30 Aprile 2015_ Domande e Risposte su www.youreshape.com
31 Maggio 2015_ consegna degli elaborati entro e non oltre le ore 23:59 (UTC/GMT +1 hour)
1 Giugno – 30 Giugno 2015_ Valutazione dei progetti.
6 Luglio 2015_ Annuncio dei Vincitori
Da definire : Cerimonia di premiazione ed esibizione finale.
Per ulteriori informazioni visita www.youreshape.com
ENGLISH VERSION
————————————————————————————————–
Brief
Today, disciplines as programming and electronics become highly transversal, blurring old boundaries and merging different fields of knowledge. Fashion has been already highly affected by this radical change. Therefore, clothes, shoes and other accessories can now incorporate elements of hardware and software, generating a peculiar mix between fashion and computation that is incredibly fertile and inspiring. Data becomes Beauty, Interaction becomes Emotion. As a result, a new esthetic is emerging. Reshape focuses on the definition of this language, proposing a new challenge to makers and designers: RESHAPE15 | wearable technology competition.
Proposals can focus on the possibilities of wearable technology without any design limitation.
Once again Reshape leaves to designers freedom and responsibility of their own choices. Participants are required to submit a project that will focus on the mission of Reshape, merging ideas with fabrication processes and market viabilities. The distributed network of fabrication of Reshape includes Fab Labs and Makerspace, all equipped with digital fabrication machines such laser cutters, 3d printers, milling machines and robotic arms. Entries are required to rely on those machines as main tools for the fabrication process. Assembly method and production costs will also be considered in the evaluation process.
Organizer and Partners
RESHAPE15 | wearable technology competition is organized by Noumena in partnership with IaaC, Fab Lab Barcelona and Make in Italy foundation and sponsored by Aspiin and Camera di Commercio Frosinone.
The competition includes several media partners such as Rhinoceros3d, Archello, Cityvision, 3ddreaming, Deleyva, Stampa3d Forum, Wasp, The Walkman magazine and Volumes.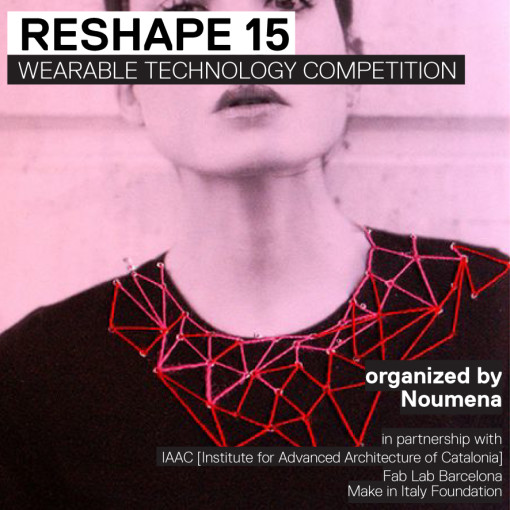 Jury | Evalutation Criteria
A panel of experts from the fields of fashion design, digital fabrication and computation, will select the three winning proposals. RESHAPE is very pleased to introduce the international jury of the competition:
ANASTASIA PISTOFIDOU
ALESSIO ERIOLI
ELIZABETH FRAGUADA
NICCOLO CASAS
RONEN KADUSHIN
ZOE ROMANO
All projects will be evaluated on a scale from 1 to 10 according to the following categories:
CONCEPT IDEA
Will be given significant attention to those projects which reconsider wearables in an inventive and experimental way, re-evaluating interconnections between users, digital fabrication, environment and data.
FABRICABILITY
The design approach must present a clear fabrication strategy, relying design solutions on digital fabrication tools available in a Fab Lab or Makerspace, as Reshape aims to merge both designing and making.
MARKET VIABILITY
It is vital to consider economically feasible design and fabrication solutions, giving a reasonable estimation for the overall design proposal and its market ability.
The registration fee for each submission is 50,00 € and is necessary for receiving the entry identification code.
The total prize is 2700 € and it will be distributed as follows:
1st prize 1500 €*
2nd prize 700 €*
3rd prize 500 €*
All winners will be included in the online platform of RESHAPE. In the website there will be a direct link to each project with information of each designer. Winners selected by the jury will be invited to take part in specific workshops in several Fab Labs connected to the competition. All the proposals will be presented in different exhibitions around the world. Reshape offers as well a unique e-commerce service. For the projects inserted in this platform, following conditions will be respected: for each product sold, royalties of 80% of income of sale will be recognized to designers and makers.
Timeline
15th of January – 31st May 2015_ Online registration and submission.
15th of January – 30th April 2015_ Questions and answers online at www.youreshape.com
31st of May 2015_ submissions deadline 23:59 (UTC/GMT +1 hour)
1st of June – 30th June 2015_ Evaluation of projects
6th of July 2015_ Announcement of prizes
To be scheduled_ Award ceremony and final exhibition (*)
*the exact date and place will be published online.
For more info visit www.youreshape.com or write to competition@youreshape.com
Related Posts :
Time:
30 gennaio 2015
Category:
Article
Views:
7336
Likes:
2
Tags:
cityvision , competition , FABLAB BARCELLONA , IAAC , MAKE IN ITALY FOUNDATION , RESHAPE
Comments:
Info:
Title:
RESHAPE 15 | wearable technology competition
Time:
30 gennaio 2015
Category:
Article
Views:
7336
Likes:
2
Tags:
cityvision , competition , FABLAB BARCELLONA , IAAC , MAKE IN ITALY FOUNDATION , RESHAPE