Info:
Title:
BVC – Beiijng Visionary City -
Code:
6fd5a
Contest:
Beijing / 2014
By:
Patrizia Valle - Sebastiano Giannesini
Views:
3400
Likes:
0
Votes:
Greg Lynn
3
Ai Weiwei
8
Sou Fujimoto
3
Eric de Broches des Combes
9
5.8
BVC – Beiijng Visionary City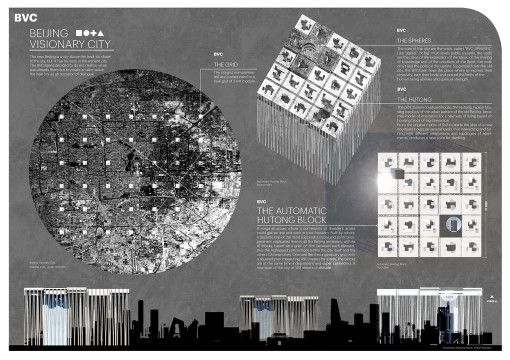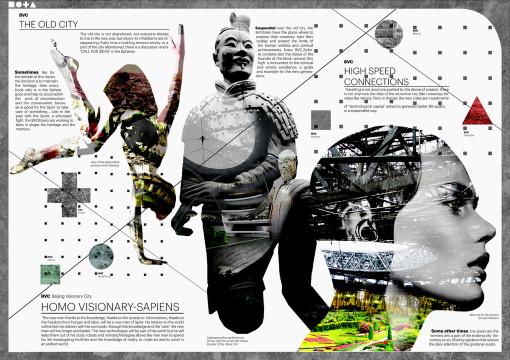 BEIJING VISIONARY CITY (BVC) is a free city. Thanks to the technological and scientific progress, the human being could reach the ultimate freedom: the freedom from the labour. In BVC nobody needs to work to survive: everybody lives to fulfill his/her interest and aspiration, the robots are doing the rest. BVC is a city above the land: it's closer to the sky, but it has its roots in the ancient city. The BVCitizens decided to do not destroy what was already there, the old Beijing, but to create an alternative: the new city as an occasion of dialogue. This was how everything started, from the first "BVC-AUTOMATIC -HUTONG BLOCK", a mega-structure where a community of dissident artists could gather, live and work in total freedom. Built by robots, it became one of the most successful social and political experiment, replicated on the entire territory of Beijing at first, with the 41 BVC-blocks, and in the rest of China later. Oriented like the original city grid, with a square plan of 490 meters of side, the blocks are at the same time independent and super connected. They create a new layer of the city at 140 meters of altitude (where wireless energy transportation, water-from gas collectors and solar panels are working at their best). The pillars of the blocks are also their roots, their gateways, connected with the old city transportation and infrastructural networks. The bigger part of the block is filled with the private and common spaces: every citizen has 100mq of complete privacy. In between there are the social and functional infrastructures. The core of the city are the voids, called "BVC_SPHERES": big, multi-leveled public squares, the voids are the place of the expression of the ideas, of the free sharing of knowledge, the creation of the works of Art and the place for the political discussion. Suspended over the old city, the BVCitizen have here a place where to express their creativity, train their bodies and extend the limits of the human being abilities and spiritual strengths. Every BVC_Sphere contains also the statue of the founder of the block, around 15m high: a monument to the spiritual and artistic excellence, a guide and example for the new generations. The old city is not abandoned: not everyone desires to live in the new way, but slowly its inhabitants are disappearing. Every time a building remains empty, or a part of the city abandoned, there is a discussion and a "CALL FOR IDEAS" in the Spheres. What to do with this abandoned places is then decided with the ideas proposed by the citizens: a sketch, a project, a sculpture, a poetry…..
Info:
Title:
BVC – Beiijng Visionary City
Time:
29 settembre 2014
Category:
Beijing
Views:
3400
Likes:
0
Tags:
-