Info:
Title:
(IN)FORMAL RIO DE JANEIRO -
Code:
73d13
Contest:
Rio de Janeiro / 2013
By:
paoloventurella - Fabrizio Furiassi
Views:
4158
Likes:
4
Votes:
Alejandro Zaera-Polo
6
Jeffrey Inaba
5
Jeroen Koolhaas
2
Hernan Diaz Alonso
1
Cristiano Toraldo di Francia
9
Pedro Rivera
7
5.0
(IN)FORMAL RIO DE JANEIRO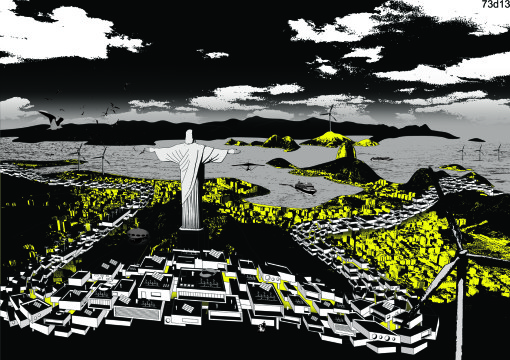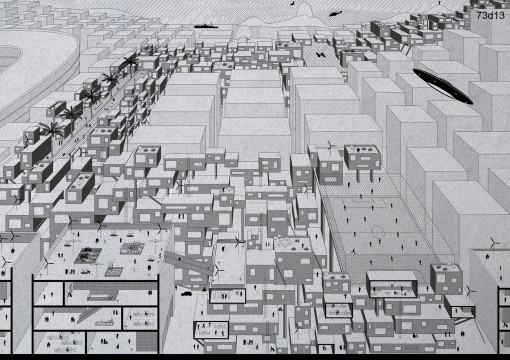 (IN)FORMAL RIO DE JANEIRO Favelas had been considered the evil of society for long time, but they are what inhabitants of the city self-generated along time because of their real needs. This reveals Favelas are the real soul of the city of Rio indeed. People living in the slums are a big percentage of inhabitants and they are increasing more and more due to demographic expansion. So far they have been let into indifference without taking into consideration their strength. In the future of Rio the favela will comes out from their actual sick and dark position going through the coolest places of the city and merging with the old historical context. The self-made boxes will develop with a new rational and ordered shape creating a continuous linear urban scape that connect the most important point of the city: Christ the Redeemer, Sugarloaf Mountain, Copacabana beach, Maracana stadium… This new linear cityscape is accessible for all, it is a long self-made public space that connects the most attractive parts of the city. The role of the architect is almost over, he will only help people providing them a correct way for self-construction leaving to them the choice of where to place and how to build generating an informal into the formal. The new favela is iconic and informal at the same time. It is a shape with no shape, a space for all where residential and services are mixed together. Favela is not a criminal and uncontrolled area anymore but a clean, safe and self-sufficient space where people have everything they need. Their houses, their gardens, their energy systems, their life.. this generates a big community where everybody feel to live together in the same conditions and on the same levels, and the huge dyscrasia between the richest and the poorest does not exist anymore. The favela is not removed from the city, the way of solving the problem is to make their positive aspects coming out and respecting the local constructive methods. Because of its self-realization it includes everything people need and it spreads with no limits everywhere it wants. The city will not be divided, there will not be huge buildings in the center and isolated slums in the outskirts but it will be a unique single identity able to grow with its own proper order..
Info:
Title:
(IN)FORMAL RIO DE JANEIRO
Time:
4 agosto 2013
Category:
Rio de Janeiro
Views:
4158
Likes:
4
Tags:
-