Info:
Title:
Immersible Coral -
Code:
H7T3D1
Contest:
Venice / 2011
By:
A. M. Ying, N. K. Yiu, O. M. Piu, O. Y. Hau Yee
Views:
4530
Likes:
3
Votes:
BJARKE INGELS
4
NERI OXMAN
8
ELENA MANFERDINI
6
MARIA LUDOVICA TRAMONTIN
6
BOSTJAN VUGA
4
5.6
Immersible Coral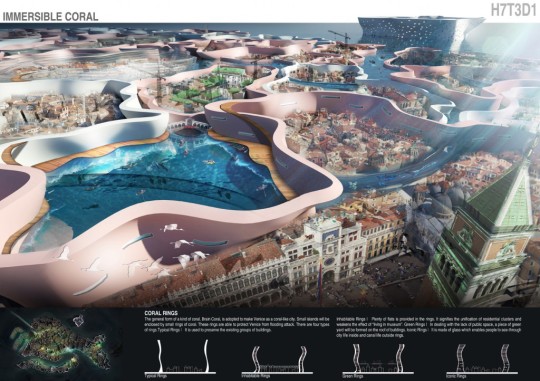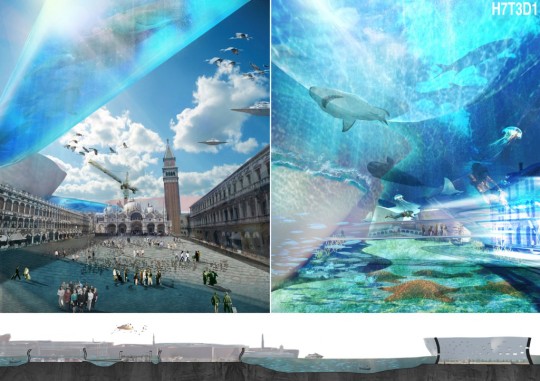 "Undoubtedly the most beautiful city built by man" Luigi Barzini, writing in The New York Times Venice has been known as the "city of Water", "City of Bridges", The Floating City" and "City of Canals" Basic Condition Sinking of Venice | Venice is now sinking. Some scientists prognosticate that Venice will whole disappear under the water, for about 100 years. Eurodisney | Venice is regarded as a "living Museum" and its residents have become a "spectacle" of tourism. This fact may very well be the cause of residential decline. Also, the competition for foreigners to buy homes in Venice has made prices rise so highly that numerous inhabitants are forced to move to more affordable area of Veneto and Italy.
Key Principle
Coral Rings | The general form of a kind of coral, Brain Coral, is adopted to make Venice as a coral=like city. Small island will be enclosed by small rings of coral to form a small community. These rings are able to protect Venice from flooding arrack. Glass tunnels | The so-called name of Venice, "City of Bridge", will not be destroyed as bridges will be protected by glass tubes. Pier Underwater | The problems of inaccessibility in Venice will be improved by wider canals and will be eased by incorporating transport underwater. "pier underwater" will be a side product of this new type of transport which takes great advantage of the increasing water level. Residential Hubs | In the future city planning, some coral rings will be mainly served for inhabitation. This is beneficial to define living cluster in a more unified and private sector. Also, the coral rings will provide plenty of residential units. Glass Coral Rings | The coral rings are made of glass. It becomes an eye-catching one as blooming city life of Venice can be seen through the coral rings. Green Skyline |  A piece of green yard will be formed on the roof of the buildings if some group of buildings are old enough and have to be rebuilt. When Fish is in a labyrinth | The existing problems of orientation will be regarded as a uniqueness of Venice
Typology
Typical Rings | It is the basic idea to resolve the immersible threat in Venice. It aims to preserve the existing group of building. Inhabitable Rings | Plenty of flats is provided in the rings. It signifies the unification of residential clusters and weakens the effect of "living in museum". Green Rings | In dealing with lack of public space, a piece of green yard will be formed on the roof of buildings. Iconic Rings | It is made of glass which enable people to see-through city lift inside and canal life outside rings.
Info:
Title:
Immersible Coral
Time:
7 giugno 2011
Category:
Venice
Views:
4530
Likes:
3
Tags:
-