Info:
Title:
Melanoma -
Code:
b42b7
Contest:
Rio de Janeiro / 2013
By:
Giuliano Pinto - Paolo Tortorelli - Enrico Russo - Gianluigi Maria Masucci
Views:
2829
Likes:
1
Votes:
Alejandro Zaera-Polo
4
Jeffrey Inaba
5
Jeroen Koolhaas
4
Hernan Diaz Alonso
5
Cristiano Toraldo di Francia
8
Pedro Rivera
6
5.3
Melanoma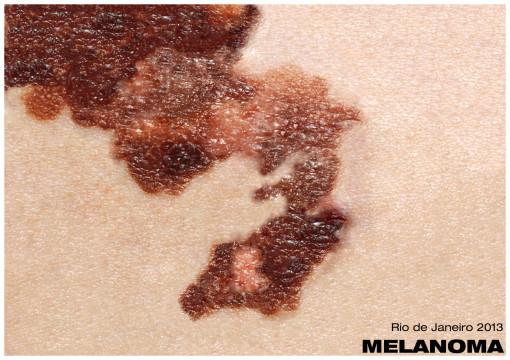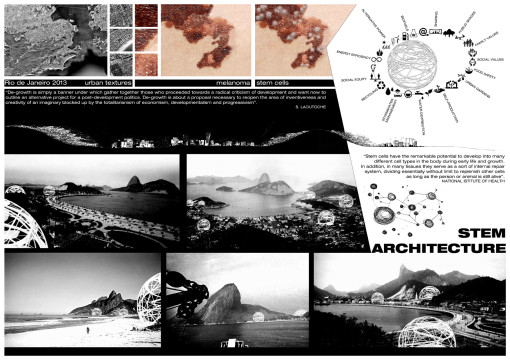 Melanoma is a provocative vision of contemporary and future city of Rio de Janeiro. The unbridled growth and the resulting urban sprawl impacted one of the most beautiful places in the world leading to a dramatic cancer that has begun destroying its rich natural and cultural heritage. The vision establishes a kind of comparison between human and urban body: exactly as the skin reflects all vital processes, architecture is the result of the actions and the attitudes of the community. Urban textures are seen like portions of skin at different cancer gradations: mere urban neoplasias, blobs of tissues overgrowing and disconnected from the healthy ones. Our vision is a criticism to the development model and the economism, while searching for a new model of progress that finds its origin in the real needs, the qualities and the resources of local communities. "Saving the planet and assuring our children a sustainable future require us to mitigate current trends, and get free from development and economism, while saveguarding a productivist agriculture that forms an integral part of it" (S. Latouche). We should reduce the exploitation of land and recover the self-reproductive capacity of the resources of our lands, raising a new awareness and sense of responsibility in the community. All of this is made possible by new forms of architecture: symbols of mind places, of a shared way of perceiving and thinking that turn into new ways of behaving, of building up and experiencing the city just as we experience and inhabit our own body. Stem architectures allowing to go beyond the unconsciousness that nurtures this disconnection between human beings and their territory, between human beings and their bodies: regenerating urban tissues to a pre-development status, where to start back from towards a new model of shaping the city. Collective places, parts of a wide system of points and interconnections, both material and immaterial, that arise and spread away in the neighborhoods and among the citizens. Vital places where the systems of collection and recycling of rain water are gathered, green spaces, urban gardens , centres of production and redistribution of clean and renewable energy sources. Meeting points of new ways of inhabiting, of acting, of adding value; the vital expression of a de-growth that leads territories and the city back to its archetypal and essential shape, into a surreal vision, the starting point for a new way towards progress and civilization based on social justice. No more development nor progress: only a progress that by harmonizing with the processes and rhythms of nature may divert from linearity and head toward a rhizomatic and socially fair idea of the common good.
Info:
Title:
Melanoma
Time:
4 agosto 2013
Category:
Rio de Janeiro
Views:
2829
Likes:
1
Tags:
-