Info:
Title:
New hidrotropolis venice -
Code:
F7Y4R2
Contest:
Venice / 2011
By:
B. Pradono Architects
Views:
2773
Likes:
0
Votes:
BJARKE INGELS
6
NERI OXMAN
8
ELENA MANFERDINI
4
MARIA LUDOVICA TRAMONTIN
4
BOSTJAN VUGA
4
5.2
New hidrotropolis venice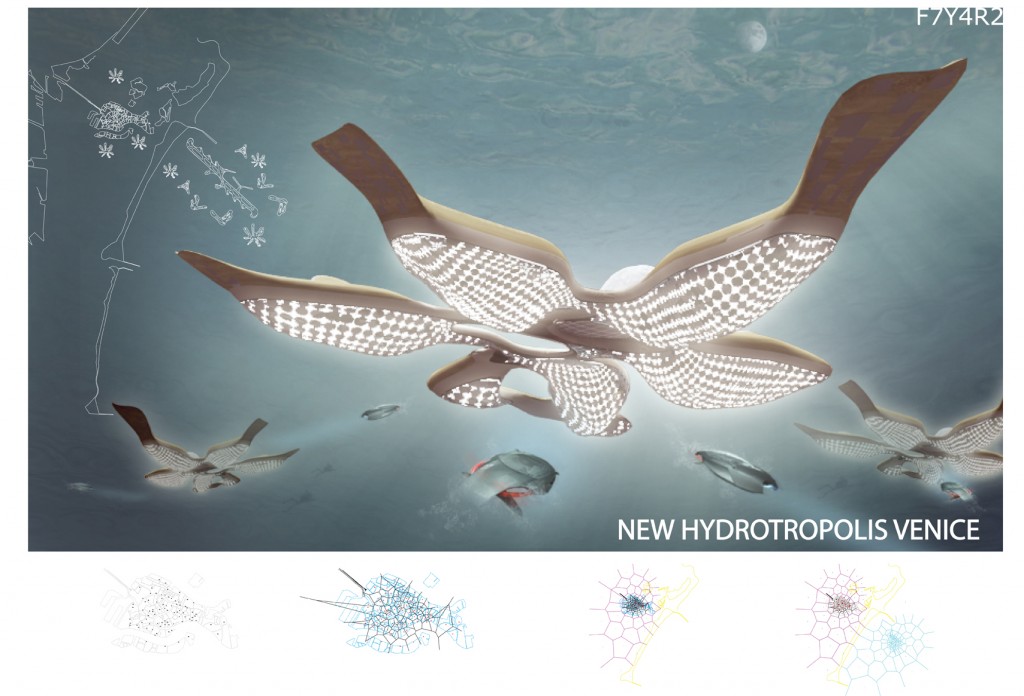 New Hydrotropolis Venice (NHV) Vision In the past Venice is a city of hope. The success of Venice as a center of cultural activities is not aligned with the desire to live in. Venice is becoming archaic among youngster and has a tendency to become a Geriatric city. How to revive Venice, and brought thousands of young people to live in the city of Venice. And Venice became a city of hope for 22 century.
New Hydrotropolis Venice (NHV) is a proposal to inject a new program and create new artificial island, with a variety of innovation in technology to be more sustainable city. Since of the entire islands float, it is very ecologically, it will not damage the environment if we compare with the traditional reclamation system as much done in Dubai. This proposal is to create a new city that relies on water as a source of life and artificial island rely on buoyancy in the Adriatic Ocean, both as a source of energy, as well as the main means of transportation.
How if we build a city based on buoyancy, which relies on water as the main source of energy?
How if we prepare a sustainable housing underwater which more sustainable and extravaganza view at the same time?
How if we could create energy that can supply the old town and new artificial island at the same time?
How if we could create a floating island of agriculture, which can produce tomatoes, lettuces, and potatoes in quantities that sufficient for supplying Europe?
How if in this new town of golf island that can provide opportunities to play golf vacation with 18 holes and floating in the sea then we can go to the Venice old town by using the submarine?
New Hydrotropolis Venice is a new city in Europe that more sustainable than any Aerotropolis in the world compared to city like Memphis, Hyderabad, Amsterdam, Congqing, Detroit or Dubai.
150.000 m2 Under water Casino is a haven for gamblers from around the world and located beneath the agricultural island, while the sports island is a most ideal place to watch a formula 1 race compared to the same event in Monaco and Dubai, the island also provides housing athletes under the water which will speed up their metabolism and health of all athletes.
Master Plan
NVH Masterplan adopted the system of the old city where every region has a church as a center of government and the organizers of the past as residential areas. At NVH using verenoi pattern to generate a new masterplan composition with water at its center. New area in this float imaginary line connecting the San Marco as the old city center in Venice, and create a 4 km long of airport island,
Airport Island
Airport Island as a centre of other islands. Beneath the airport island consists of the underwater Central Business District, shopping centers with underwater Piazza with the shopping centre surrounds it. The hotel has 2 big convention hall and several types of rooms, all rooms in this hotel were built underwater. Guests are expected to experience the underwater life with huge glass façade that could give clues of the sea life.
Agriculture Island
Agriculture Island in New Hydrotropolis Venice adapts the vertical farming. Besides vertical farming is saving space, it also reducing the using of pesticides, in this method, pesticides is no longer need, it leads into an organic fruits and vegetables and it's healthier. We also can Re-use the water; we might just need to add some nutrient.  Some vegetarian that is planted in this system is Strawberry, Lettuce, Cauliflower, Potato, Onion, and tomato. Base on some research, venetians need 0.2436 km2 area of strawberry, 0.2436 km2 area of lettuce, 0.2436 km2 area of cauliflower, 1.344 km2 area of potato, 0.2436 km2 area of onion, and 0.252 km2 area of tomato, and 18732 m3 of water. The crops could be stacked and base on the characteristic from the vegetables and fruits, the best composition from top to the bottom is Strawberry, Lettuce, Cauliflower, Potato, Onion, and Tomato.
Energy Island
Total requested energy per day = 138,600 * 105 KWh = 14,553,000 KWh. Total area for energy production for 1,000,000 inhabitants= 4,003,820.49 sqm.
Total area for energy production for 138,600 inhabitants = 554,929.52 sqm, divided into four: Area for photovoltaic cells (1 sqm each) = 61,261.71 sqm. Area for 44m diameter wind turbine (176m x 176m each) = 207,791.89 sqm. Area for 4m diameter wind turbine (12m x 12m each) = 285,875.91 sqm. Remaining area will be used for producing algae biofuel using photo bioreactor system: 170 KWh per 4,046.86 sqm – 1 KWh per 23.8 sqm.
Seawater Farm Island
Seawater Farm Island will provide alternative energy through a quite natural and low-tech approach. Basically this system requires a pumping system to pump seawater into shrimp ponds. Waste seawater from shrimp pond will be used to fertilized Salicornia crops & mangrove forest. Salicornia seeds and stems then harvested for biofuel. Total biodiesel oil needed for New Hydrotopolis Venice population of 138,600 inhabitants / year = 7,407,094.56 Liter. Seawater farm can provide 2.5 acre for 250 gallons biodiesel oil which equal to 10.7 sqm for 1 litre. Area of seawater farm needed to meet the biodiesel oil requirement per year = 7,407,094.56 * 10.7 sqm = 79,255,911.792 sqm. Area of seawater farm provided to meet at least 1% of biodiesel oil requirement per year = 1% * 79,255,911.792 sqm = 792,559.18 sqm.
University Island
University Island provides services in education, research, library, museum, athlectics, and student housing. The island provides space for undergraduate and graduate programme's activity. It has five undergraduate faculties and six graduate faculties. At the center of the island, there's a lake that could be use in purpose for meeting point, recreation, student's activity, inter-faculty competition, outdoor class, etc. Almost ninety percent activity take place underwater, while the surface level functioned as sport arena
Residential island (star island)
This star island consists of natural greenery and beneath the island is underwater residential unit 3 residential types; studio, 2 bedrooms, and 3 bedrooms. Each type is clustered in two lines of a long double loaded residential bar. This composition allows each residential unit to have view directly to the sea.
The star shape derived from the unity of three different types of residential bars into an island with the encircled point.
Info:
Title:
New hidrotropolis venice
Time:
7 giugno 2011
Category:
Venice
Views:
2773
Likes:
0
Tags:
Agriculture , Central Business District , Dubai , Salicornia , Venice