Info:
Title:
ISLANDS -
Code:
S3W1Q9
Contest:
Venice / 2011
By:
L. Daeho / H. HaeMee / L. Jaeyual
Views:
2420
Likes:
0
Votes:
BJARKE INGELS
10
NERI OXMAN
9
ELENA MANFERDINI
6
MARIA LUDOVICA TRAMONTIN
4
BOSTJAN VUGA
4
6.6
ISLANDS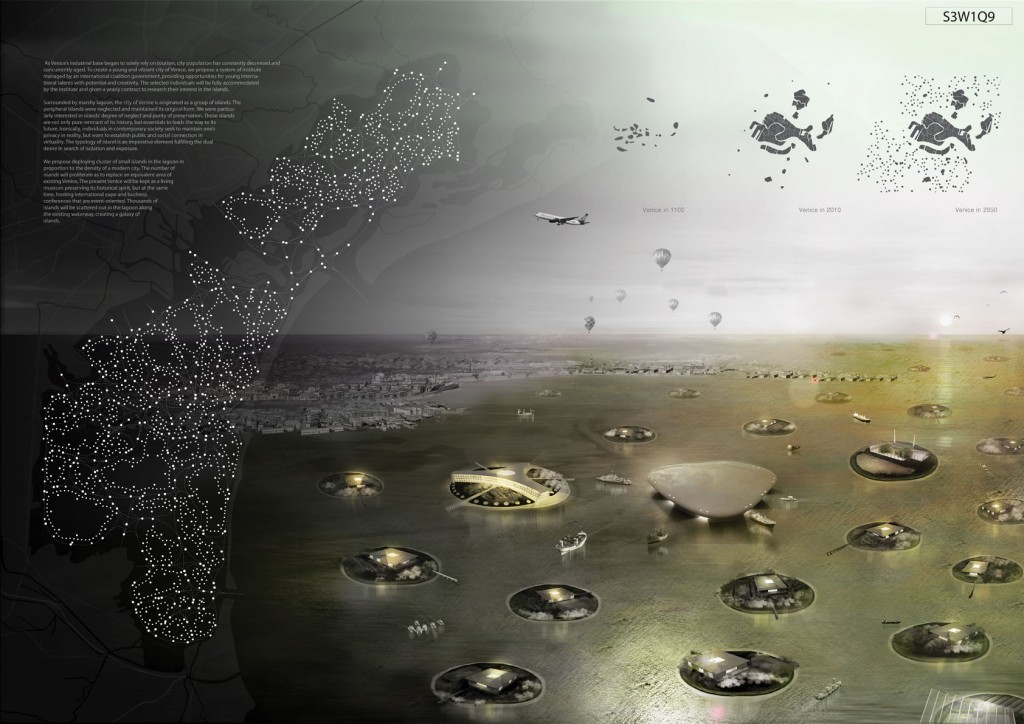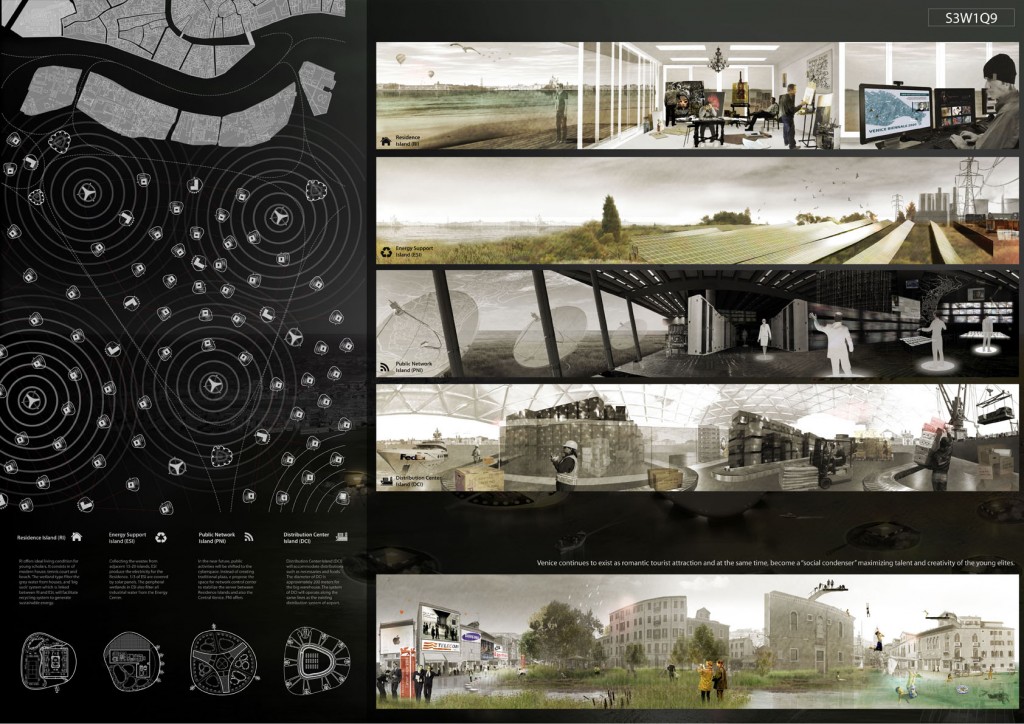 ISLANDS Surrounded by marshy lagoon, the city of Venice is originated as a group of islands. While the city expanded to become an interlocked community through physical connections, the peripheral Islands were neglected and maintained its original form. We were particularly interested in islands' degree of neglect and purity of preservation. Those islands are not only pure remnant of its history, but essentials to leads the way to its future. Ironically, individuals in contemporary society seek to maintain one's privacy in reality, but want to establish public and social connection in virtuality. The typology of island is an imperative element fulfilling the dual desire in search of isolation and exposure.
SYSTEM "What is very important to realize is that Venice is not a stable entity. It's physically threatened but it's also threatened from depopulation." Rem Koolhaas
As Venice's industrial base began to solely rely on tourism, city population has constantly decreased and concurrently aged. To create a young and vibrant city of Venice, we propose a system of institute managed by an international coalition government, providing opportunities for young international talents with potential and creativity. The selected individuals will be fully accommodated by the institute and given a yearly contract to research their interest in the islands.
In addition to its existing venues of arts and architecture, the Venice Biennale will transform to become a multi-disciplinary expo showcasing intellectual properties of participants, and attracting global enterprises in search of recruitment. Venice continues to exist as romantic tourist attraction and at the same time, become a 'social condenser' maximizing talent and creativity of the young elites.
PROLIFERATION
We propose deploying cluster of small islands in the lagoon in proportion to the density of a modern city. The number of islands will proliferate as to replace an equivalent area of existing Venice. While the function of residence is supplanted by the new islands, the present Venice will be kept as a living museum preserving its historical spirit, but at the same time, hosting international expo and business conferences that are event-oriented. Thousands of islands will be scattered out in the lagoon along the existing waterway, creating a galaxy of islands.
TYPOLOGY
Residence Island (RI)
RI offers ideal living condition for young scholars. It consists of modern house, outdoor court and beach. The wetlands in this island type filters the grey water from houses and 'big suck' system, which is linked between RI and ESI, will facilitate recycling system to generate sustainable energy.
Energy Support Island (ESI)
Collecting the wastes from 15-20 adjacent islands, ESI produces the electricity for the residence islands and other infrastructure islands. 1/3 of ESI is covered by solar panels and peripheral wetlands filter internal industrial water.
Public Network Island (PNI)
In the near future, a considerable number of public activities such as social network and communication will be shifted from physical space to the cyberspace. Instead of creating traditional plaza, we propose the space for network control center to stabilize the servers between Residence Islands and also the Central Venice.
Distribution Center Island (DCI)
DCI distributes all necessity items to support life in Residence Island. The diameter of DCI is approximately 200 meters for the big warehouse. The system of DCI will operate along the same line as the existing distribution system of airport.
Info:
Title:
ISLANDS
Time:
6 giugno 2011
Category:
Venice
Views:
2420
Likes:
0
Tags:
Adriatic Sea , American Geophysical Union , Daeho , HaeMee , Jaeyual , La Jolla , Lagoon , Scripps Institution of Oceanography , University of California San Diego , Venetian Lagoon , Venice