Info:
Title:
Venice is sinking! so let it be. Give in to the waves… -
Code:
R5H7E9
Contest:
Venice / 2011
By:
J. J. Zabala Molina / A. Sampath Kumar
Views:
16219
Likes:
2
Votes:
BJARKE INGELS
11
NERI OXMAN
8
ELENA MANFERDINI
3
MARIA LUDOVICA TRAMONTIN
5
BOSTJAN VUGA
4
6.2
Venice is sinking! so let it be. Give in to the waves…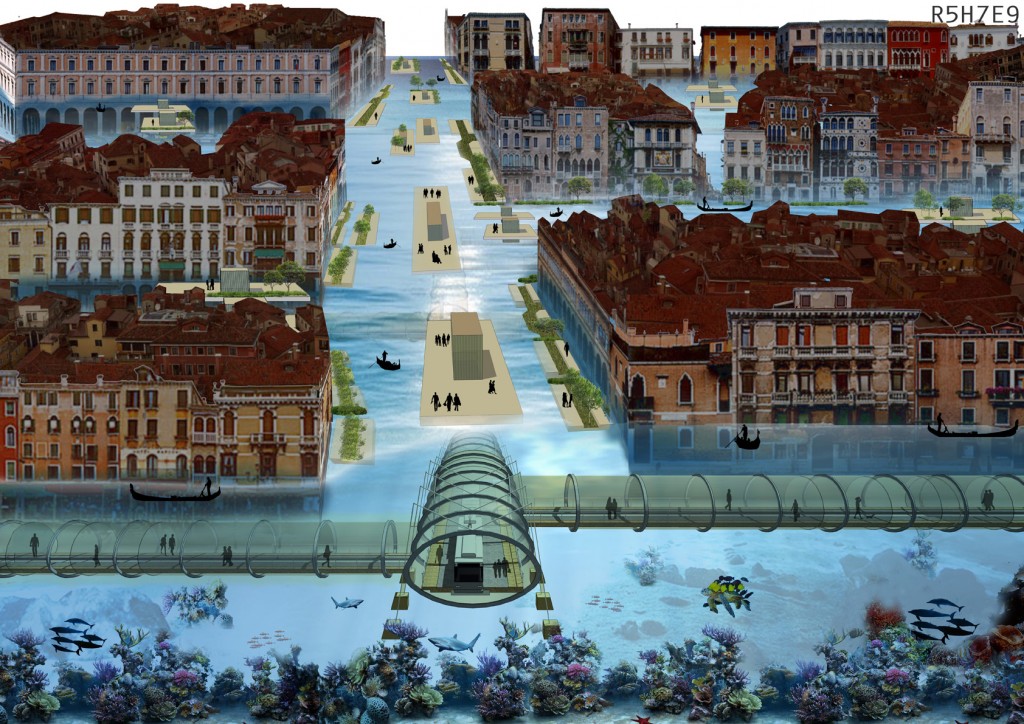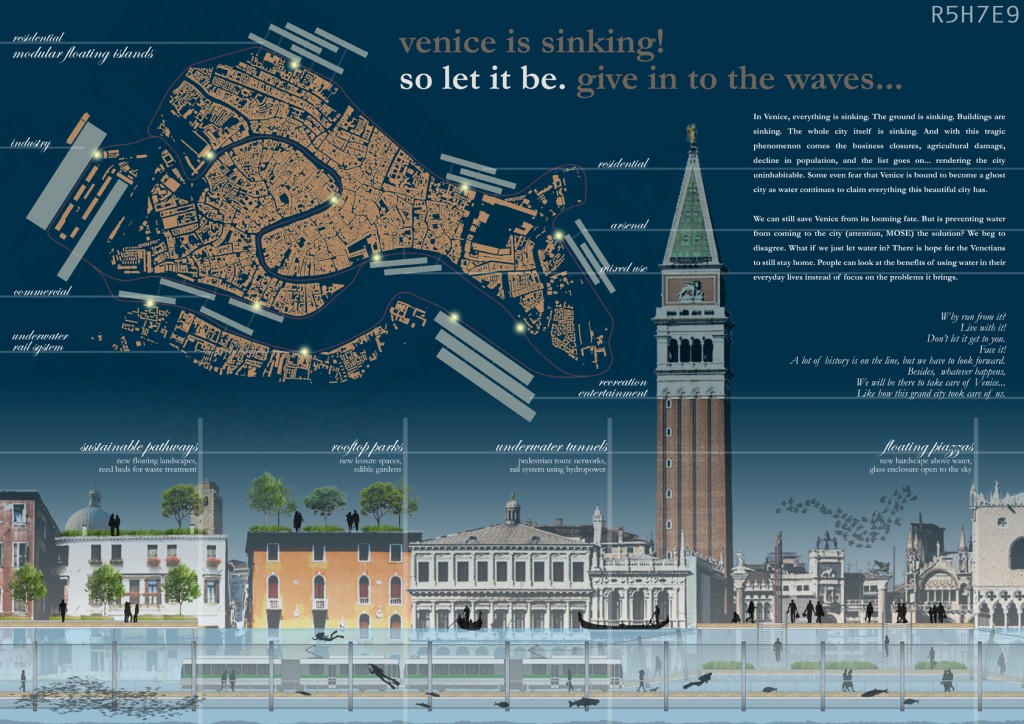 IN VENICE… In Venice, everything is sinking. The ground is sinking. Buildings are sinking. The whole city itself is sinking. And with this tragic phenomenon comes the business closures, agricultural damage, decline in population, and the list goes on… rendering the city uninhabitable. Some even fear that Venice is bound to become a ghost city as water continues to claim everything this beautiful city has.
We can still save Venice from its looming fate. But is preventing water from coming to the city (attention, MOSE) the solution? We beg to disagree. What if we just let water in? There is hope for the Venetians to still stay home. People can look at the benefits of using water in their everyday lives instead of focus on the problems it brings.
In Venice, there are more than a hundred islands next to each other, and serve as the canvas where the city's historical urban fabric is laid. But these islands will go down over time and have to be replaced. We envision modular floating islands roaming around old Venice, pieces sized into squares of 50m x 50m, which can be connected to each other like a puzzle, depending on the size the city needs… these islands also have the capability to move around! They give a new definition to the physical and visual borders of the city, modifies the dynamic of the fabric and help defend old Venice from harsh storm surges. The formation of the islands also create slits to control water current.
Cheaper housing? Check. Concert venues? Check. Open spaces for sports and recreation? Check. They can all be placed on new land. Venice becomes a destination not only for its architecture but also for the activities it caters to. Concerned that these new development would attract more people into the city and create more chaos? Well, they can stay on the new islands and view the old ones they surround… think of the whole city as a museum that they can observe a few meters away. Each historical building is a fantastic piece of artwork anyway.
In Venice, bridges establish the connections between islands. Since Venice is observed mostly by walking (or riding on a water vehicle), pedestrian paths are essential to experience the city. But all the existing routes the Venetians (and tourists) walk on everyday will completely vanish when the sea level rises! What are we to do? We already have floating islands, so they can also be linked by putting up walkways that are also able to float on the sea and rise and lower with the tides… they, along with the second floors of partly submerged buildings become the new ground as the existing goes underneath us.
But these walkways are not your ordinary flat planks people raise from the ground every acqua alta occurrence; they are also capable of functioning as parks and piazzas to replace what the water took from us. Behold, a floating Piazza San Marco might be a good sight! In addition, these floating platforms accommodate not only people, but also the growth of new Venice's natural landscape… and develop a new waste management system that is currently in a problematic state. Sanitary pipes branch out from buildings and connect to the platforms, where there are reed beds that take and filter the city's waste before eventually going back to the water. Aside from reed beds, we also have wetlands that function as habitats for various wildlife.
In Venice, we envision walkways above the water's surface. But what if people can also travel underwater? No, we are not talking about taking submarines or go scuba diving (though it is possible to do them to explore the old ground). Tunnels, or tubes as we call it, are tied to and go underneath the pathways (also anchored to the ground) to give people the choice to experience the city thru land and air, or just water. The tubes serve as our aquarium to view Venice in a different way  and gives us a chance to look back at history and discover how marine life slowly claims the original ground floor of the buildings.
In Venice, water vehicles are a major mode of transportation. We have gondolas, vaporettos and other kinds of boats. It is sad to think that these actually contribute to the decline of our ecosystem for they, especially the motorized ones, disturb life underwater. Hence creating the tubes will also allow us to have an alternative: rail system. A main tube goes around the perimeter of Venice as well as along the Grand Canal that allows people to take trains on different parts of the city and strengthens the bond between the old and the new. No part of Venice is ignored… even the outskirts of the city become new urban centers because of the new infrastructure. Tourism is thus decentralized.
Together, the floating pathways and tubes create a new pedestrian network, a new layer to the city that always has disrupted circulation because of the acqua alta.
In Venice, everything is sinking. But it's not too late. We might not be able to stop the big shift occurring to our natural environment but we can think of a solution for everything it brings.
Venice is sinking! So let it be. Give in to the waves…
Info:
Title:
Venice is sinking! so let it be. Give in to the waves…
Time:
6 giugno 2011
Category:
Venice
Views:
16219
Likes:
2
Tags:
Acqua alta , Grand Canal , MOSE , MOSE Project , Piazza San Marco , Republic of Venice , Sampath Kumar , Venetians , Venice , Zabala Molina