Info:
Title:
BAREFOOTED CRANES -
Code:
Q9T57U
Contest:
Venice / 2011
By:
H. Garam
Views:
3200
Likes:
0
Votes:
BJARKE INGELS
5
NERI OXMAN
8
ELENA MANFERDINI
7
MARIA LUDOVICA TRAMONTIN
3
BOSTJAN VUGA
4
5.4
BAREFOOTED CRANES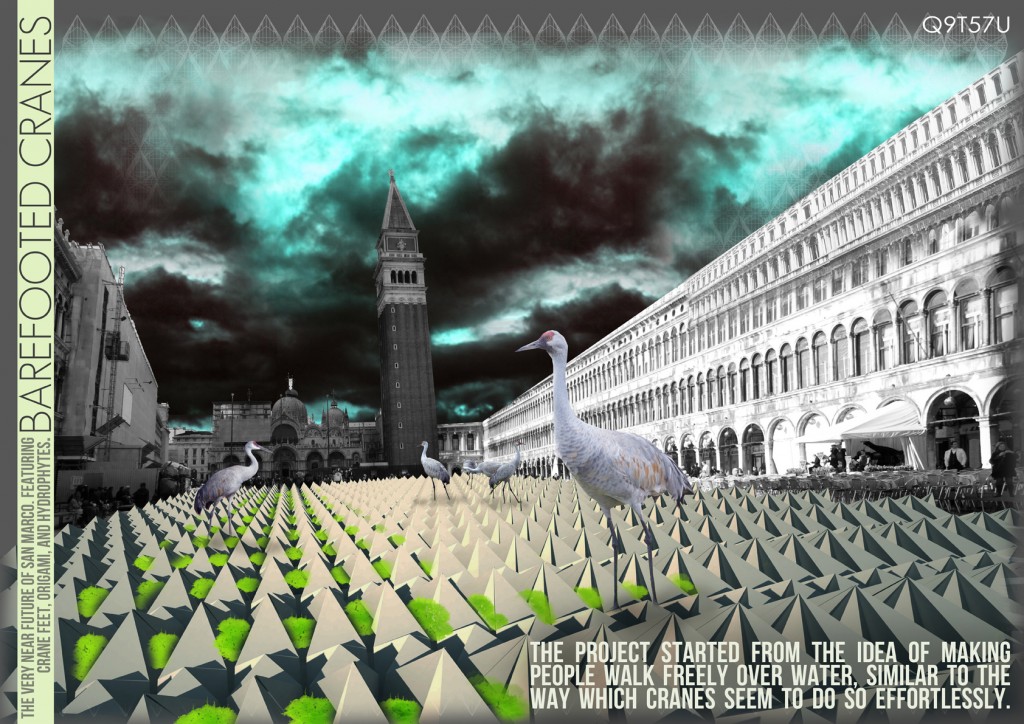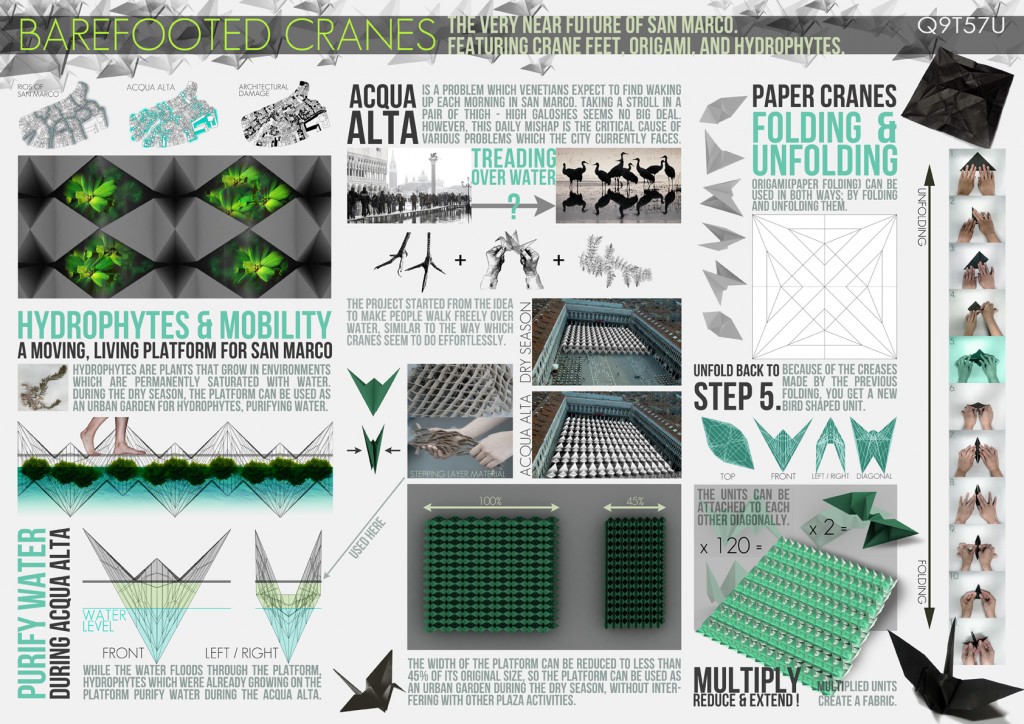 Barefooted Cranes The very near future of San Marco Featuring crane feet, origami, and hydrophytes. "Aqua Alta" is a problem which venetians expect to find waking up each morning in San Marco. Taking a stroll in a pair of thigh-high galoshes seems no big deal. However, this daily mishap is the critical cause of various problems which the city currently faces. Not to mention the deterioration of the buildings, inefficient use of space, but the most annoying problem is that you can't walk around the city without soaking your body.
The project started from the idea to make people walk freely over water, similar to the way which cranes seem to do effortlessly. In order to achieve so, a platform which can be used over water, can be stored in a reasonable way during the dry season was required. These key requirements led to a new solution; origami (paper folding).
Origami (Paper folding) can be used in both ways; by folding and unfolding them. The basic unit of the platform is created by unfolding a paper crane. When you unfold a crane back to the fifth stage of folding, you get a new bird shaped unit because of the creases made by the previous folding. The units can be attached to each other diagonally, and by adding these units you can create a whole new urban fabric. Because it is made of origami units, the width of the platform can be reduced to less than 45% of its original size. Therefore the platform can be used as an urban garden during the dry season, without interfering with other plaza activities. The platform's size can also be altered for other locational uses by just adding more units or reducing them.
Another feature of this platform is that it can grow aquatic plants on them. Aquatic plants, in other words "hydrophytes", are plants that grow in environments which are permanently saturated with water. During the dry season, the platform can be used as an urban garden for hydrophytes.
While the water floods through the platform, hydrophytes which were already growing on the platform purify water.
Info:
Title:
BAREFOOTED CRANES
Time:
6 giugno 2011
Category:
Venice
Views:
3200
Likes:
0
Tags:
Aquatic plant , Art , Crafts , Garam , Japan , Origami , Paper , Thousand origami cranes , Water