Info:
Title:
OLD AGE IS A SHIPWRECK -
Code:
Z6W4E2
Contest:
Venice / 2011
By:
G. Lacasse / J. Collet
Views:
3478
Likes:
1
Votes:
BJARKE INGELS
5
NERI OXMAN
6
ELENA MANFERDINI
2
MARIA LUDOVICA TRAMONTIN
6
BOSTJAN VUGA
9
5.6
OLD AGE IS A SHIPWRECK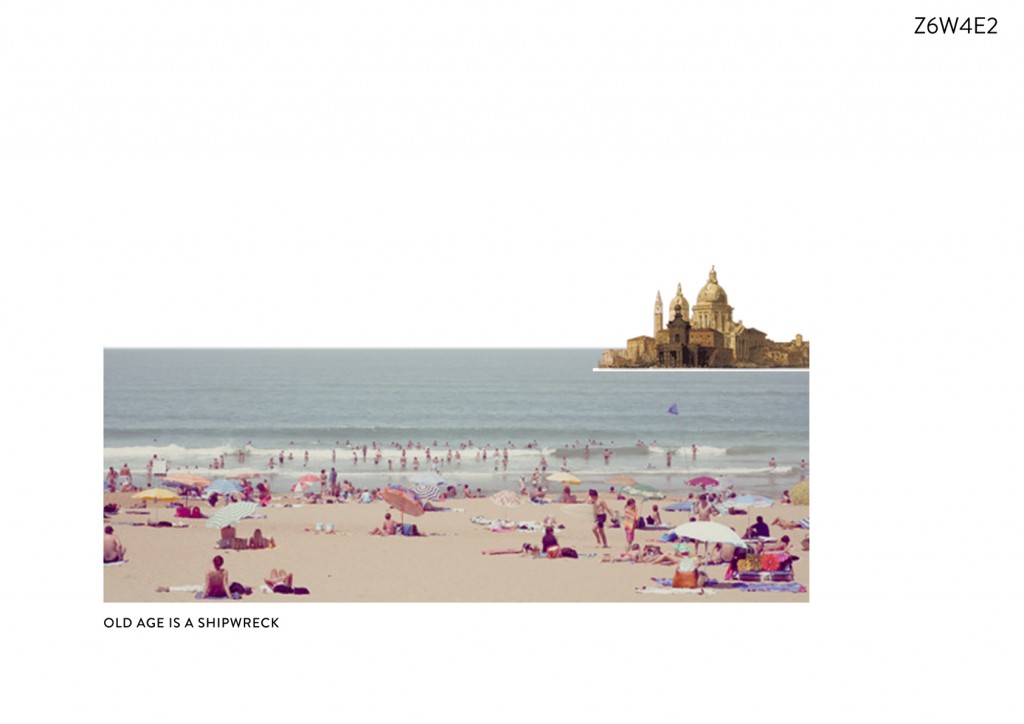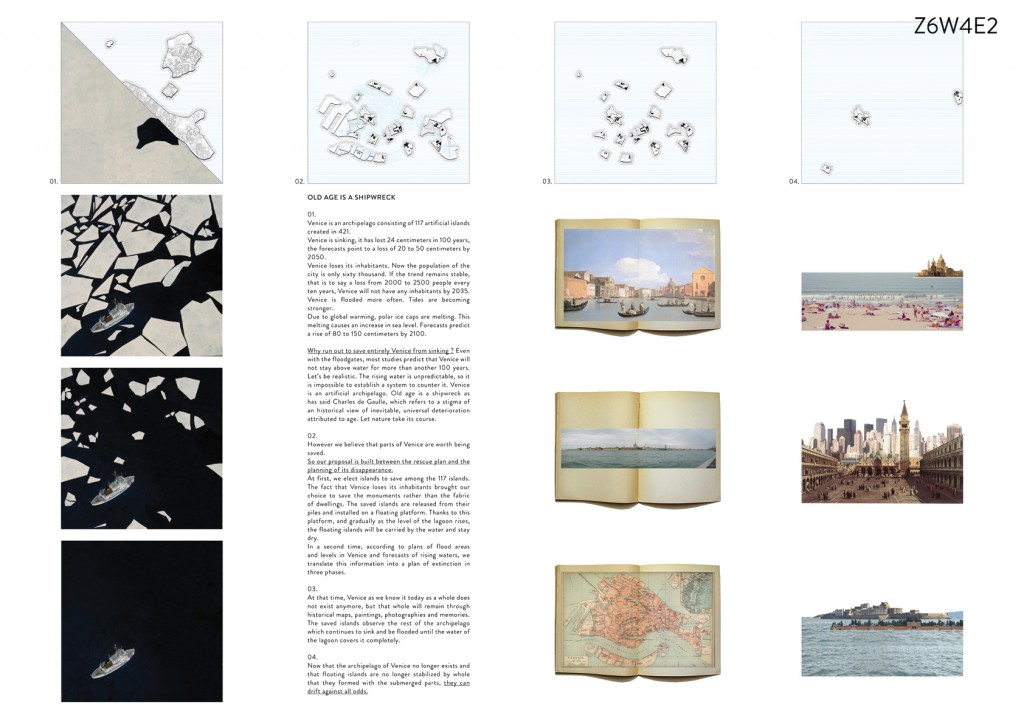 01. Venice is an archipelago consisting of 117 artificial islands created in 421. Venice is sinking, it has lost 24 centimeters in 100 years, the forecasts point to a loss of 20 to 50 centimeters by 2050. Venice loses its inhabitants. Now the population of the city is only sixty thousand. If the trend remains stable, that is to say a loss from 2000 to 2500 people every ten years, Venice will not have any inhabitants by 2035.
Venice is flooded more often. Tides are becoming stronger. Due to global warming, polar ice caps are melting. This melting causes an increase in sea level. Forecasts predict a rise of 80 to 150 centimeters by 2100. Why run out to save entirely Venice from sinking ? Even with the floodgates, most studies predict that Venice will not stay above water for more than another 100 years. Let's be realistic. The rising water is unpredictable, so it is impossible to establish a system to counter it. Venice is an artificial archipelago. Old age is a shipwreck as has said Charles de Gaulle, which refers to a stigma of an historical view of inevitable, universal deterioration attributed to age. Let nature take its course.
02. However we believe that parts of Venice are worth being saved.
So our proposal is built between the rescue plan and the planning of its disappearance. At first, we elect islands to save among the 117 islands. The fact that Venice loses its inhabitants brought our choice to save the monuments rather than the fabric of dwellings. The saved islands are released from their piles and installed on a floating platform. Thanks to this platform, and gradually as the level of the lagoon rises, the floating islands will be carried by the water and stay dry.
In a second time, according to plans of flood areas and levels in Venice and forecasts of rising waters, we translate this information into a plan of extinction in three phases.
03.
At that time, Venice as we know it today as a whole does not exist anymore, but that whole will remain through historical maps, paintings, photographies and memories.
The saved islands observe the rest of the archipelago which continues to sink and be flooded until the water of the lagoon covers it completely.
04.
Now that the archipelago of Venice no longer exists and that floating islands are no longer stabilized by whole that they formed with the submerged parts, they can drift against all odds.
Info:
Title:
OLD AGE IS A SHIPWRECK
Time:
6 giugno 2011
Category:
Venice
Views:
3478
Likes:
1
Tags:
J. Collet , Lacasse