Info:
Title:
SEA CREATURE -
Code:
Z6Y3D0
Contest:
Venice / 2011
By:
I. Milosevic
Views:
2523
Likes:
0
Votes:
BJARKE INGELS
4
NERI OXMAN
7
ELENA MANFERDINI
2
MARIA LUDOVICA TRAMONTIN
3
BOSTJAN VUGA
1
3.4
SEA CREATURE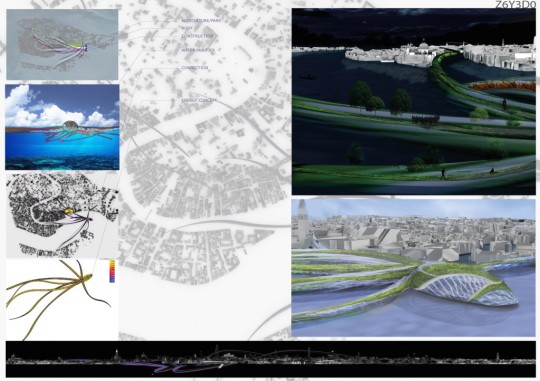 The whole idea of our project is based on the anatomy of the octopus SUPPORTING CONSTRUCTION They have no shell or bones and that make them flexible. Eight tentacles are flexible and they are going below and above water surface, and on that way they give needed support to Venice. WATER PURIFIER It is a fact that water is much polluted, so the suction cups under each tentacle have role as a water purifier. PARKS AND VERTICAL FARM Parks are places for enjoyment and recreation. Eight tentacles are giving not only stability to our floating city, but also green parks and farms. There are green roads, Parks, some Market where you can always find some fresh vegetables and fruits.
Octopus is highly intelligent, and it has a highly complex nervous system, only part of which is localized in its brain. So in the head of the "Sea Creation" there is innovative research centre. All agriculture and parks are controlled by this centre.
So tourists can enjoy wonderful gondola sailing and citizens can enjoy nice long walking through those green tentacles.
THE SOLUTION
I want to make balance between nature and citizens. Venice needs to be supported, greener and more practical. We need green and we need to produce. Beside existing 117 small Venice islands, this is an island of new generation. Tourists are already enjoying but let's make citizens enjoy it too.
Info:
Title:
SEA CREATURE
Time:
6 giugno 2011
Category:
Venice
Views:
2523
Likes:
0
Tags:
I. Milosevic