Info:
Title:
The Sound of New York -
Code:
F2A3F7
Contest:
NY / 2012
By:
F. Distefano - O. Caruso - S. Ventrella
Views:
2262
Likes:
0
Votes:
JOSHUA PRINCE-RAMUS
2
EVA FRANCH I GILABERT
2
ROLAND SNOOKS
3
SHOHEI SHIGEMATSU
1
ALESSANDRO ORSINI
4
MITCHELL JOACHIM
1
2.2
The Sound of New York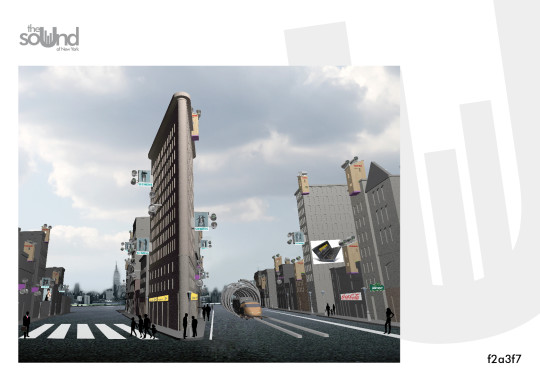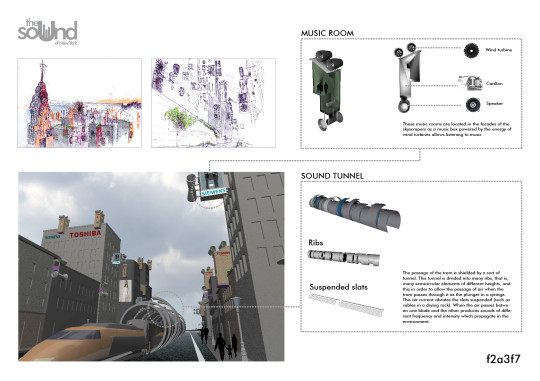 Each corner ofNew Yorkcan be stay only inNew York. Each banana peel, each waste paper, eachpanel seems to characterize the swing of this city that is also a mystery, a dream. The American Dream,  the possibility to find a shelter, the big change of life. So, whenNew York  becomes to provide for energy of nature to survive, also this energy adapts itself, is interpreted by dream and as it became yet in the past, the dream becomes music. A beat that is like the heartbeat  of city.
Each building of Manhattan, that previously vied "to be the higher", now races "who sound better",  uses it's devices of  capture of natural energy, to give out a sound that is also sensorial light of forces constituting New York City.
Now, wakened from the numbness of  capitalism the city comes back to the source of  Mother Nature from which is born and on which rests the foundation.
At each building there are many spaces dedicated to music obtained from this energy, whether the wind or the sun.
On the street the electric trams reject its noise to resound in accordance with their own movement.
The soul of Manhattan, which has always been ethereal but ubiquitous, materializes into notes and melodies.
Info:
Title:
The Sound of New York
Time:
13 giugno 2012
Category:
NY
Views:
2262
Likes:
0
Tags:
-