Info:
Title:
Promise Written on Water -
Code:
Q2N4X9
Contest:
Venice / 2011
By:
M. Kös / A. Eralp
Views:
2585
Likes:
0
Votes:
BJARKE INGELS
7
NERI OXMAN
6
ELENA MANFERDINI
3
MARIA LUDOVICA TRAMONTIN
6
BOSTJAN VUGA
4
5.2
Promise Written on Water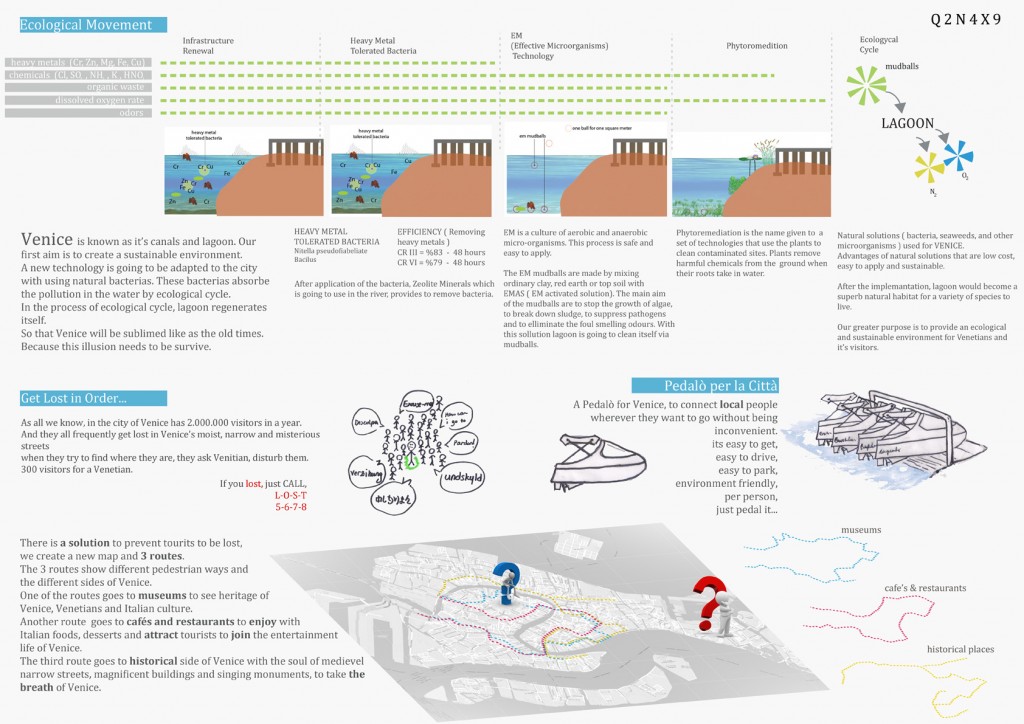 Promises Written on Water
Venice, the most magically city to able to see in the world. Located on the sea with magnificent buildings and this beautiful city is unaffected from the centuries that have passed by. Venice has been known as the "La Dominante", "Serenissima", "Queen of the Adriatic", "City of Water", "City of Masks", "City of Bridges", "The Floating City" and "City of Canals"…
Palaces are ruined, music is not heard any more, those days had gone by and remains only the beauty of this dying glory. In Venice you learn to watch and see the invisible and inaudible, the stones and bricks, the darkness, the water, the light, the things that talk. All that surrounds us is full of nobility, it's a great work and respectable of a human concord force, a magnificent monument not by a sovereign but by a nation, even if the trade strength of Serenissima declines, nevertheless its gorgeous structure and its character won't cease for a moment to appear to the observer worthy of respect.
Not quite land, not quite lagoon, Venice seems to float in its own world. A world that at first look appears immune to the passing of time. The nine-hundred-year-old St. Mark's Basilica presides over a giant public square that's changed little since the days of Casanova and Vivaldi. But in recent years, the illusion that is Venice has begun to crack, and this idyllic city has been showing a darker side. For a millennium, Venice has provided inspiration for artists and writers. This coveted city is made up of 118 islands linked by 453 bridges. Each corner of town exhibits individual architectural magnificence, the city combining as one to form a spectacular theatrical stage set.
Our vision is to create ecological and sustainable Venice with it's historical and natural heritage. Venice is sinking, it had the solution by the municipality, now we need to have another visions for the problems which are Venice whispering. It's important to have solutions for both local and tourists. City has 300 guests for per Venetians and they need help. Venice is famous with streets which is similar to the other, sometimes it's good to get lost and sometimes not.
Venice deserves a Plan B to be a humanbeing heritage even though we do not exist. Venice does not need to float or sink, not to concern about existing anymore. Venice is known as it's canals and lagoon. Our first aim is to create a sustainable environment. A new technology is going to be adapted to the city with using natural bacterias. These bacterias absorbe the pollution in the water by ecological cycle. In the process of ecological cycle, lagoon regenerates itself. So that Venice will be sublimed like as the old times. Because this illusion needs to be survive.
There is a solution to prevent tourists to be lost, we create a new map and 3 routes. The 3 routes show different pedestrian ways and the different sides of Venice. One of the routes goes to museums to see heritage of  Venice, Venetians and Italian culture. Another route  goes to cafés and restaurants to enjoy with Italian foods, desserts and attract tourists to join the entertainment life of Venice. The third route goes to historical side of Venice with the soul of medievel narrow streets, magnificent buildings and singing monuments, to take the breath of Venice.
As all we know, in the city of Venice has 2.000.000 visitors in a year. And they all frequently get lost in Venice's moist, narrow and misterious streets when they try to find where they are, they ask Venitian, disturb them. 300 visitors for a Venetian. We create a Coverage areawith a Call Center, it can see the mobile phone signals' where they come from in Venice map. If somebody get lost, they call LOST with number of phones as 5-6-7-8. The Call Center will help them what they want, where they want to go or what thet want to do.
Pedalò per la Città, A Pedalò for Venice, to connect local people wherever they want to go without being inconvenient. Its easy to get, easy to drive, easy to park, environment friendly, per person, just pedal it…
Info:
Title:
Promise Written on Water
Time:
6 giugno 2011
Category:
Venice
Views:
2585
Likes:
0
Tags:
Adriatic Sea , City of Water , Eralp , Italy , Kös , La Serenissima , Pittsburgh , Republic of Venice , St Mark's Basilica , Venice