Info:
Title:
We imagine -
Code:
S8C3M5
Contest:
NY / 2012
By:
A. Bravo Santos - C. Cristiano - G. Delle Piane - A. Primavera
Views:
2258
Likes:
0
Votes:
JOSHUA PRINCE-RAMUS
2
EVA FRANCH I GILABERT
2
ROLAND SNOOKS
2
SHOHEI SHIGEMATSU
0
ALESSANDRO ORSINI
3
MITCHELL JOACHIM
1
1.7
We imagine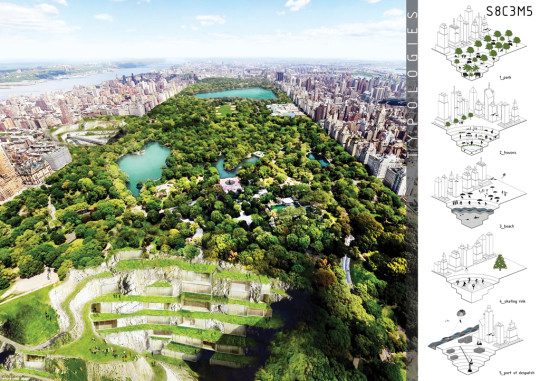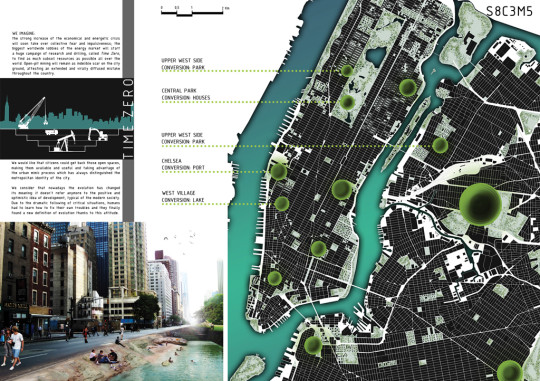 We imagine that the strong increase of the economical and energetic crisis will soon take over collective fear and impulsiveness. We imagine that the biggest worldwide lobbies of the energy market will start a huge campaign of research and drilling, called 'time zero', to find as much subsoil resources as possible all over the world, including metropolitan and ecological areas. Even cities like New York will be partially destroyed during this mad research. Once all the limited resources will be completely run out, a city will look as a shattered territory with a totally different urban structure. Open-pit mining will remain as indelible scar on the city ground, attesting an extended and virally diffused mistake throughout the country.
In the peculiar case of New York, we would like that citizens could get back those open spaces, making them available and useful and taking advantage of the urban mimic process which has always distinguished the metropolitan identity of the city.
We want to reverse the usual negative approach with open-pit mining, to switch it in a pleasant and attracting place.
Depending on the placement in the city area and each district needs, open-pit mining can adopt different functions combining morphological features of it with context aesthetic.
In an urban area, we assume to dig excavation terrace walls, to put underground living units or public and commercial buildings. It allows to recover spaces using the precious heat shield provided by soil.
In the fringe and industrial areas, we imagine reusing the open/pit mining as a stockpiling place or somewhere to host productive activities.
For environmental-valued areas, pits can be turned into an integral part of the park or bathing zones. they will provide refreshment during the summer or alternatively they could be turned into ice skating rinks in the winter.
It's the green what combines the diverse types of pits, just to counterbalance the nature damage caused by human beings: luxuriant vegetation which overflows from the holes into the New York urban fabric, filling the neighbouring streets and avenues, creating different perspective points of view opened in the urban structure of the city.
We consider that nowadays the evolution has changed its meaning: it doesn't refer anymore to the positive and optimistic idea of development, typical of the modern society.
Due to the dramatic following of critical situations, humans had to learn how to fix their own troubles and they finally found a new definition of evolution thanks to this attitude.
Info:
Title:
We imagine
Time:
13 giugno 2012
Category:
NY
Views:
2258
Likes:
0
Tags:
-