Info:
Title:
Hour Venice -
Code:
P6G3S8
Contest:
Venice / 2011
By:
S. WITTMEYER / N. GREENBERG
Views:
3643
Likes:
2
Votes:
BJARKE INGELS
9
NERI OXMAN
7
ELENA MANFERDINI
6
MARIA LUDOVICA TRAMONTIN
6
BOSTJAN VUGA
4
6.4
Hour Venice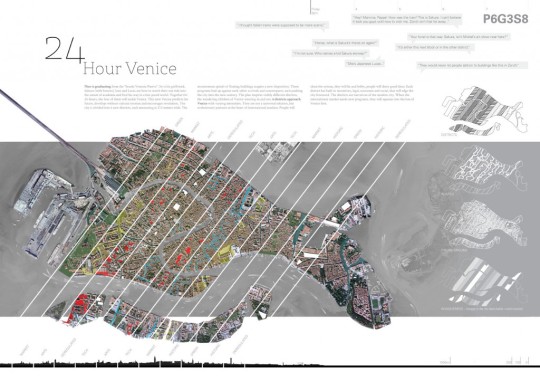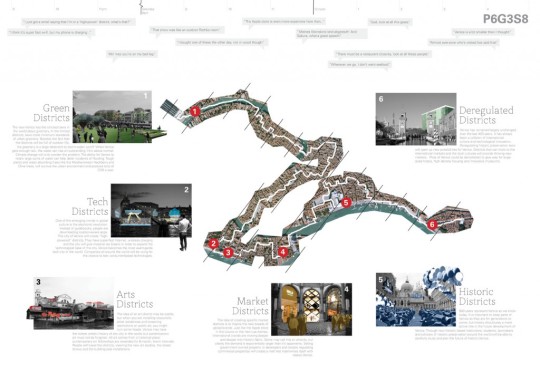 24 HOUR VENICE The world is changing at an incredible rate. The lifespans of buildings are shortening and new cities are growing exponentially. Venice is a shrine to history, but has always been the birthplace of new ideas. To bring Venice back to life, we need to push it's limits. Though the city has significant historic value, we cannot forget today. Venice once again can become a capital for technological innovation, art and architecture. This plan proposes a revolution. Leaving the city in the hands of capitalism, tourism and economics endows it with the youthfulness of competing cities.
This new Venice predicts the future, develops without cultural erosion and encourages revolution. The city is divided into 6 new districts. The monotonous spirals of floating buildings acquire a new disposition. The Venice is constructed out of paths, nodes, landmarks and edges. The actual districts are lost to the novel visitor. Installing new districts is a way of giving Venice the power to distinguish. Each district will be given a set of programs, laws and institutions governing it. The programs bud up against each-other as rivals and counterparts, each pushing the city into the new century. The plan inspires visibly different districts, the wandering children of Venice weaving in and out.
6 districts approach Venice with varying intensities: Green, Arts, Historical, Deregulated, Markets and technology. Each district accesses one of the dualisms of Venice. They are not a universal solution, but evolutionary partners at the heart of international markets. People will cheat the system, they will lie and lobby, people will deter good ideas. Each district has built in incentives, legal, economic and social, that will edge the city foreword. The districts are narratives of the modern city. When the international market needs new programs, they will squeeze into the lots of Venice first.
Info:
Title:
Hour Venice
Time:
7 giugno 2011
Category:
Venice
Views:
3643
Likes:
2
Tags:
-