Info:
Title:
Venice -
Code:
V6F8S1
Contest:
Venice / 2011
By:
A. Pennis / A. Omodeo / G. Longhi
Views:
2932
Likes:
0
Votes:
BJARKE INGELS
7
NERI OXMAN
7
ELENA MANFERDINI
3
MARIA LUDOVICA TRAMONTIN
5
BOSTJAN VUGA
4
5.2
Venice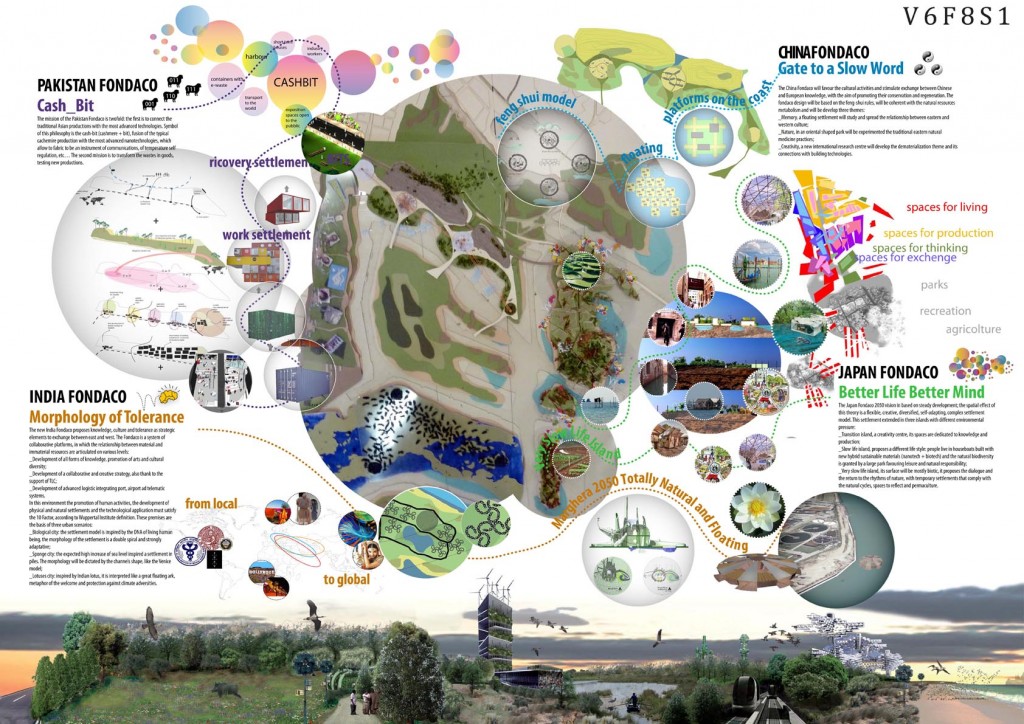 Venice city vision Would be Venice an excellent node in the "ubiquitous cities" net? Will be Venice able to transform its historical inability to adapt itself to technological progress into a beautiful handling of physical space, once a time? The huge polluted Portomarghera spaces, full of "Hard Architectures" frames composed of sheds, big machineries, negative environmental and social externalities, are evidences of the Venice industrial history; a very different history from the well-known pre-industrial one. According to Nicholas Negroponte, Portomarghera is an historical monument of a hard development irreparably beaten by the new rules of "Soft architecture machines".
These "Soft Architecture Machine", at first complete the traditional physical and local instruments, and after replace them by means of immaterial, global, and interactive technologies; in a sequence where bits support atoms, starting a relentless run toward the dematerialization.
Today, cynic speculators, politics without scruple and accommodating archistarlet wish the '"rehabilitation" of this monument, in a melting-pot of greed, cultural poverty and social irresponsibility.
Our group propose a design strategy for Portomarghera rehabilitation oriented to responsible and sustainable development, based on the knowledge implementation and natural resources revaluation.
Knowledge implementation aims to increase human resources capability and wellbeing, by means of an internalization strategy of the exogenous forces shaking global world. It's important to propose an inclusive design vision, based on the Venice connection with the new Euro-Asian cultural and economic fluxes, renewed thank to the re-opening of new silk road by rail, ship and high capability TLC, to reach this aim. The new role of Portmarghera historical territorial system is to become a metropolitan node of these new Euro-Asian relations. The rehabilitation process of these areas is a foundational moment of a new "Ubiquitous Venice", connected in real time with any site all over the world. The social and physical model of the "Ubiquitous Venice" is inspired to the "Fondaco" historical typology, thought as a multidisciplinary and multifunctional platform, connected with the "cloud". The fondaco organizational model is a non-hierarchical relation ecosystem, defined by:
_Hospitality, a model based on courtesy and capability to absorb and appropriate/assimilate the alien cultures, with the aim design potential innovation;
_Improvisation, relations based on feedback, adapting to the changes and easing the world exchanges;
_Bricolage, capability to observe and to reorganize people, knowledge, resources;
_Large scale, capability to work with great data base, to increase knowledge level, and with meta-filters, improving design quality.
Natural resources rehabilitation: handling natural resources aims to reduce design ecological footprint and to increase biodiversity, improving production of natural goods, and services, on land surface different from the present one: the one left over after raising of the sea level because of the Climate Change.
Driving forces of 2050 scenario are:
_New environmental conditions (clime, biodiversity, vegetal and animal species,.) produced by climate changes;
_The International Conventions about environment and human resources long time targets (2030-2050).
Venice-Portomarghera New "Fondaci"
Following these assumptions we propose four strategic designs about "Fondaci" of Japan, India, Pakistan, China. The design driving lines are inspired to the transformation of a derelict platform of "hard architecture" era into a soft and ubiquitous platform, thanks to architectures founded on dematerialization, connectivity and natural resources supremacy.
JAPAN Fondaco
The Japan Fondaco 2050 vision in based on steady development; the spatial effect of this theory is a flexible, creative, diversified, self-adapting, complex settlement model. This settlement extended in three islands with different environmental pressure:
_Transition island, a creativity centre, its spaces are dedicated to knowledge and production;
_Slow life island, proposes a different life style: people live in houseboats built with new hybrid sustainable materials (nanotech + biotech) and the natural biodiversity is granted by a large park favouring leisure and natural responsibility;
_Very slow life island, its surface will be mostly biotic, it proposes the dialogue and the return to the rhythms of nature, with temporary settlements that comply with the natural cycles, spaces to reflect and permaculture.
INDIA Fondaco
The new India Fondaco proposes knowledge, culture and tolerance as strategic elements to exchange between east and west. The Fondaco is a system of collaborative platforms, in which the relationship between material and immaterial resources are articulated on various levels:
_Development of all forms of knowledge, promotion of arts and cultural diversity;
_Development of a collaborative and creative strategy, also thank to the support of TLC;
_Development of advanced logistic integrating port, airport ad telematic systems.
In this environment the promotion of human activities, the development of physical and natural settlements and the technological application must satisfy the 10 Factor, according to Wuppertal Institute definition. These premises are the basis of three urban scenarios:
_Biological city: the settlement model is inspired by the DNA of living human being, the morphology of the settlement is a double spiral and strongly adaptative;
_Sponge city: the expected high increase of sea level inspired a settlement in piles. The morphology will be dictated by the channels shape, like the Venice model;
_Lotuses city: inspired by Indian lotus, it is interpreted like a great floating ark, metaphor of the welcome and protection against climate adversities.
PAKISTAN Fondaco
The mission of the Pakistan Fondaco is twofold: the first is to connect the traditional Asian productions with the most advanced technologies. Symbol of this philosophy is the cash-bit (cashmere + bit), fusion of the typical cachemire production with the most advanced nanotechnologies, which allow to fabric to be an instrument of communications, of temperature self regulation, etc… The second mission is to transform the wastes in goods, testing new productions.
CHINA Fondaco
The China Fondaco will favour the cultural activities and stimulate exchange between Chinese and European knowledge, with the aim of promoting their conservation and regeneration. The fondaco design will be based on the feng-shui rules, will be coherent with the natural resources metabolism and will be develop three themes:
_Memory, a floating settlement will study and spread the relationship between eastern and western culture;
_Nature, in an oriental shaped park will be experimented the traditional eastern natural medicine practices;
_Creativity, a new international research centre will develop the dematerialization theme and its connections with building technologies.
Info:
Title:
Venice
Time:
6 giugno 2011
Category:
Venice
Views:
2932
Likes:
0
Tags:
China , Climate Change , INDIA , Japan , Longhi , Nicholas Negroponte , Omodeo , PAKISTAN , Pennis , Sustainable development , Venice