Info:
Title:
VENICE SOCIAL NETWORK -
Code:
V7F8M1
Contest:
Venice / 2011
By:
M. Arciero / M. Benedetti / V. Gori / V. Leporace / P. Palmisano
Views:
2876
Likes:
1
Votes:
BJARKE INGELS
6
NERI OXMAN
7
ELENA MANFERDINI
1
MARIA LUDOVICA TRAMONTIN
2
BOSTJAN VUGA
1
3.4
VENICE SOCIAL NETWORK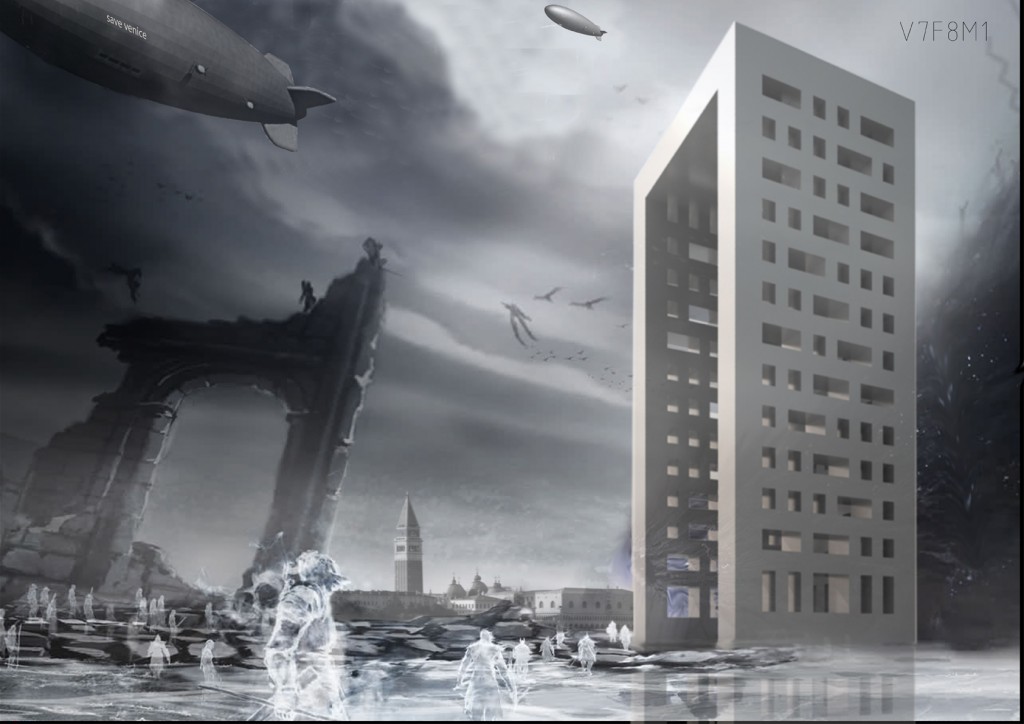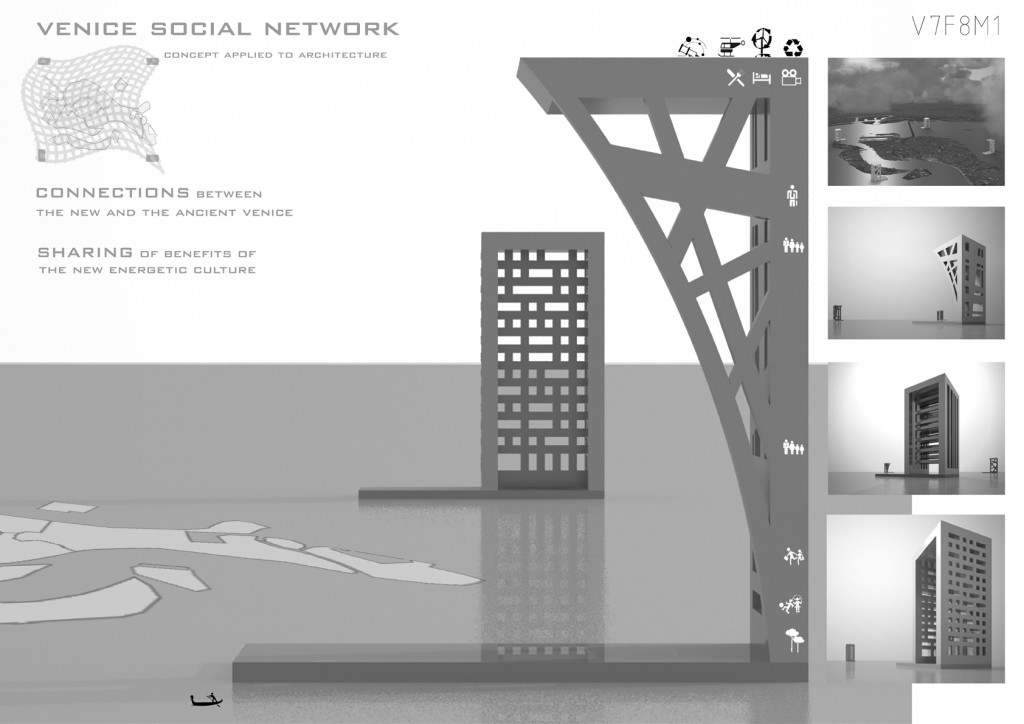 Why live packed into increasingly busy and polluted city if you could find alternative solutions? Why do not consider available places, close to Venice where, in the not-too remote future, climate changes will make inhospitable large portions of land and an increasing number of people will contend the limited space in which to live? A response to this is the project developed by us, completely self-sufficient and ecologically sustainable, that, on an urban scale, uses the concept of network based on two milestones, connection and sharing.
Program
- Development of four architectural models that represent the floating new access points required to Venice and will host all the activities necessary to ensure welness.
Each building will be energetically self-sufficient and produces more clean energy to share with the historical Venice.
- Development of connections between the new sand pattern and the entire urban network.
Objective
To offer to the inhabitants of the city of Venice new project instances and operational perspectives, new urban visions and new cultural approaches to mark a route of evolution of contemporary architectural production.
To redefine the term "skyscraper" with the use of new materials, new technologies, new programs and space organizations.
Globalization, atmospheric warming, flexibility, adaptability and the digital revolution are just some of the factors considered in the design of a vertical space. Not just sculptural objects, not just signatures on the ground, these advanced "rafts" are cultural spaces, social and urban structures, and technological researches between bio-genetics and engineering. The project aims to create a new Biosphere, open and vital space for the city of Venice.
To achieve the goal for zero emission, due to integration of all sources of renewable energy; to generate enough energy proportionately to the use; to produce independently electricity and oxygen; to recycle CO2 and garbage.
Proposal
VENICE SOCIAL NETWORK is the name of this self-sustaining and eco-architecture project.
Four floating towers that exploit energy generated by a mix of renewable sources like wind, sun, water. There are farms and vertical parks dedicated to the plants-growing to provide the food required to live in this sort of floating raft.
The building is divided in three main areas, depending on the height: in the upper zone is placed a wind energy converter, an observation terrace, restaurants and a system of gathering and purification of the rainwater; the intermediate zone is for to the Community, with residential and commercial areas, public parks, amphitheaters, gardens, swimming pools and fountains. These areas are surrounded by trees and open spaces for other leisure activities; in the lower areas there are the mechanical systems.
In the near future, one solution for those who deemed to live in a city ruled by floating green technologies.
A prototype of eco-architecture that combines sources of energy and housing, living on the water and from the water draws the power for himself and for the whole city of Venice.
Each floating tower will provide a unique perspective on the historical Venice and it will be an urban network efficient and bio-effective productive.
Info:
Title:
VENICE SOCIAL NETWORK
Time:
6 giugno 2011
Category:
Venice
Views:
2876
Likes:
1
Tags:
Architecture , Arciero , Benedetti , Energy , Energy development , Gori , Leporace , Palmisano , Renewable energy , Scripps Institution of Oceanography , Social network , Venice , Wind power