Info:
Title:
TRANSITION -
Code:
S9I4R7
Contest:
Venice / 2011
By:
studiotamassociati & alterstudio partners & metricubi
Views:
2539
Likes:
0
Votes:
BJARKE INGELS
6
NERI OXMAN
8
ELENA MANFERDINI
5
MARIA LUDOVICA TRAMONTIN
5
BOSTJAN VUGA
9
6.6
TRANSITION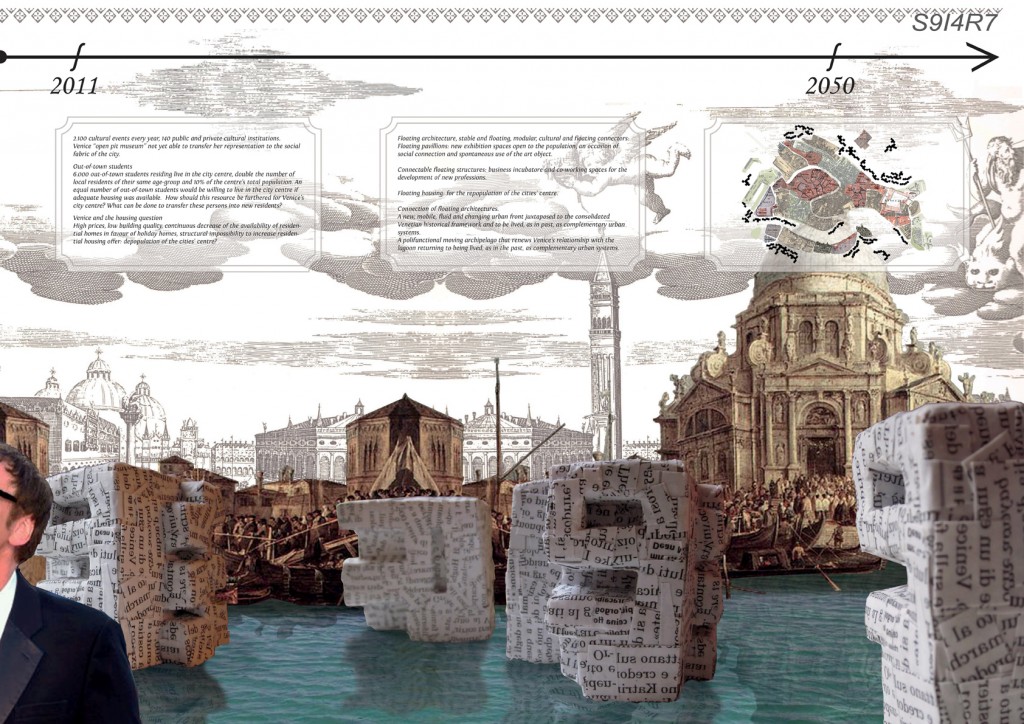 TRANSITION 1 From an ephemeral to a permanent tourism Venice, tourism and mass consuption A  – "Do you want to go back to St.Mark's Square?" B – "No. There's nothing there. No. There's not much to do there. You could sit and watch a million tourists" (tourists dialogue, S.Vidal square, Venice)
Venice and death, a city that has always flirted with death assumes the unrelenting number of inhabitants as confirmation of its' destiny.
You can finally stay in Venice eternally!
Venice, funeral world capital.
Funeral ashes can now be legally scattered in the Venetian lagoon or, alternatively, at sea at 700 metres from the coast.
Residents must always be favoured.
Lagoon funeral ash scattering fees:
Venetians, 100,00€
Non Venetians 227,29€
TRANSITION 2
From a permanent to an ephemeral architecture
2.100 cultural events every year, 140 public and private cultural institutions.
Venice "open pit museum" not yet able to transfer her representation to the social fabric of the city.
Out-of-town students
6.000 out-of-town students residing live in the city centre, double the number of local residents of their same age-group and 10% of the centre's total population. An equal number of out-of.town students would be willing to live in the city centre if adequate housing was available.
How should this resource be furthered for Venice's city centre ?
What can be done to transfer these persons into new residents ?
Venice and the housing question
High prices, low building quality, continuous decrease of the availability of residential homes in favour of holiday homes, structural impossibility to increase residential housing offer:
Depopulation of the cities' centre ?
Floating architecture, stable and floating, modular, cultural and floating connectors:
Floating pavillions New exhibition spaces open to the population, an occasion of social connection and spontaneous use of the art object.
Connectable floating structures Business incubatore and co-working spaces for the development of new professions.
Floating housing For the repopulation of the cities' centre.
Connection of floating architectures A new, mobile, fluid and changing urban front juxtaposed to the consolidated Venetian historical framework and to be lived, as in past, as complementary urban systems.
A polifunctional moving archipelago that renews Venice's relationship with the lagoon returning to being lived, as in the past, as complementary urban systems.
Info:
Title:
TRANSITION
Time:
6 giugno 2011
Category:
Venice
Views:
2539
Likes:
0
Tags:
Adriatic Sea , alterstudio partners &amp , Italy , Mark , metricubi , Piazza San Marco , Republic of Venice , Scripps Institution of Oceanography , studiotamassociati &amp , Venetian Lagoon , Venice