Info:
Title:
MANUAL CONTEXT -
Code:
Q7Y5R2
Contest:
Venice / 2011
By:
S. K. Jung / J. G. Kim / J. Kim / Y. H. Yu
Views:
2419
Likes:
9
Votes:
BJARKE INGELS
11
NERI OXMAN
6
ELENA MANFERDINI
2
MARIA LUDOVICA TRAMONTIN
6
BOSTJAN VUGA
9
6.8
MANUAL CONTEXT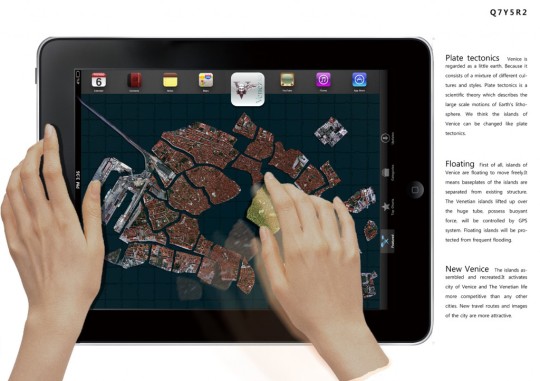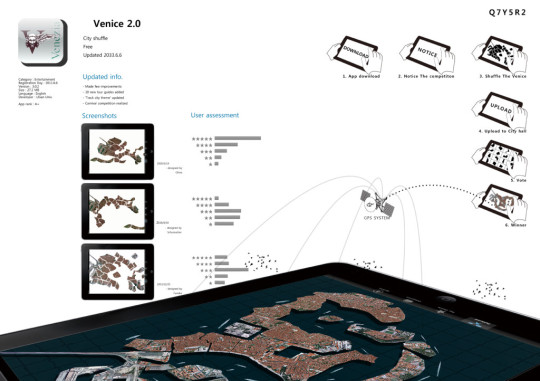 Manual Context  1. Download App, 2. Notice : The competition, 3. Shuffle the Venice, 4. Upload 5. Vote,  6. Select the Idea,  7. Transform the Venice 1. Download App. If you visit the City of Venice homepage, You can find banner of Venice 2.0. Click the banner, you can download app. 2. Notice Install the app. You can catch the competition theme, related to Venice's event, every month.. (ex) carnival, La Sensa, The Vogalonga, The Biennale, Festa del Redentore, Venice film Festival
3. Shuffle the Venice Now you become GOD and you can control whole of Venice .
Drag and Drop , rotate , move are possible.  Imagine and Make the new Venice.
4. Upload If all of them are finished, you have to upload your Idea to Venice city hall homepage. Registration is not necessary. Just your phone number is need for special prize.
5. Vote You can vote to various ideas. but can't vote more than twice for same idea.
6. Select the Idea. During the voting period , opinion is gained and select the best idea.
7. Transform the Venice Information from selected idea, send to satellite and that send to a unit island, use the GPS.
So a unit island reacts from GPS, Moving Rotate etc… Finally New Venice is created.
Info:
Title:
MANUAL CONTEXT
Time:
6 giugno 2011
Category:
Venice
Views:
2419
Likes:
9
Tags:
City of Water , Current sea level rise , Festa del Redentore , Italy , J. G. Kim , J. Kim , S. K. Jung , Scripps Institution of Oceanography , Veneto , Venice , Vogalonga , Y. H. Yu