Info:
Title:
VENICE – THE CITY OF BRIDGES -
Code:
V7Y4R7
Contest:
Venice / 2011
By:
J. Young Song
Views:
5116
Likes:
2
Votes:
BJARKE INGELS
14
NERI OXMAN
4
ELENA MANFERDINI
7
MARIA LUDOVICA TRAMONTIN
4
BOSTJAN VUGA
7
7.2
VENICE – THE CITY OF BRIDGES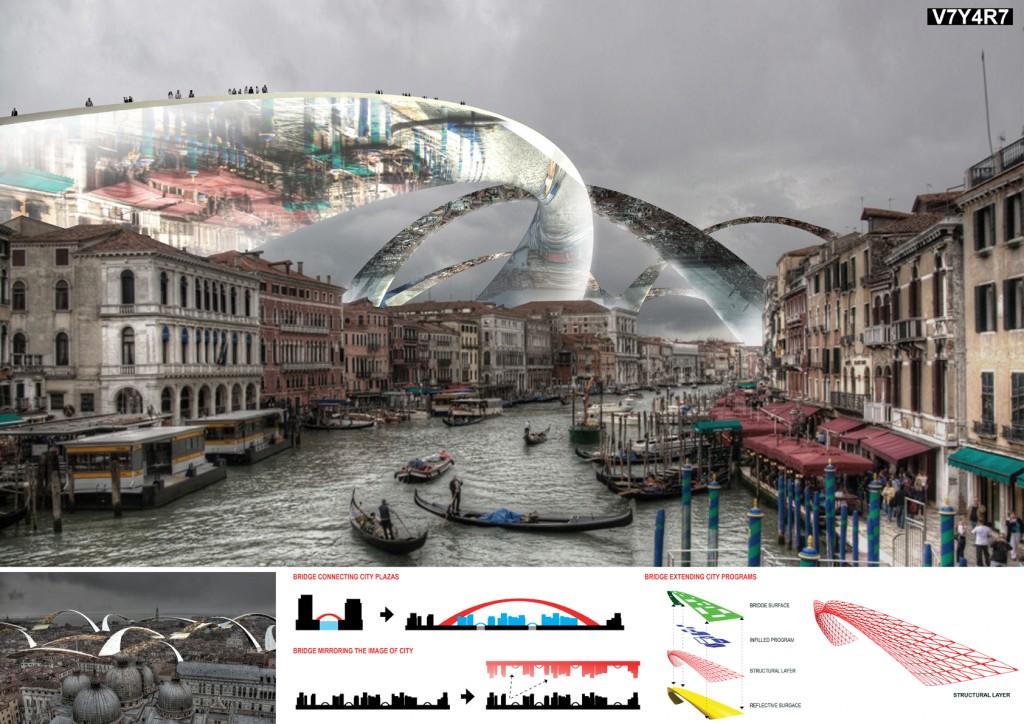 VENICE, THE CITY OF BRIDGES Venice is a nearly perfect pedestrian city. It is almost too beautiful to consider for modification, improvement or alternation. However, it is intriguing to consider that the beautiful scenes of Venice are always based on pedestrian height or from gondolas. They are beautiful but flat memories accumulated over time. Therefore, in re-configuring the beauty of this city, I suggest transforming the city's flat experience into a more multi layered one by re-scaling and re-materializing the bridge.
The city of water' also implies 'the city of bridges'. The bridge in the typical scene is for crossing canals, but I suggest bridges for connecting open spaces such as plazas and squares. Historic plazas are connected by mega bridges to complete the notion of perfect pedestrian city. The top of the bridge will introduce a view above the flatness and provide a magnificent new perspective of the city. The bridge itself accommodates programs such as café, hotel and parks to extend the city's amenities and also to link plazas. Mirroring the city image by use of the bridge surface displays Venice as a mere representation, trying to recreate the cityscape in candid but unusual way. It provides very unique downward looking reflection of the city.
Finally, transforming the symbolic bridge into different scale and material provides three different layers to the city. The bottom surface reflects and represents the city to the original city. The inside of bridge extends the city programs above the city and the top surface recreates the scenes and radical pedestrian connection between plazas.
Info:
Title:
VENICE – THE CITY OF BRIDGES
Time:
6 giugno 2011
Category:
Venice
Views:
5116
Likes:
2
Tags:
Bridge , Historic Bridges , History , Pedestrian , Santiago Calatrava , Structural engineering , Technology , Venice , Young Song