Info:
Title:
TOURISM AND ENDANGERED SPECIES -
Code:
X8U5G3
Contest:
Venice / 2011
By:
A. Lessan / J. Bracco / T. Méndez / C. Sframeli
Views:
2931
Likes:
0
Votes:
BJARKE INGELS
11
NERI OXMAN
6
ELENA MANFERDINI
2
MARIA LUDOVICA TRAMONTIN
5
BOSTJAN VUGA
10
6.8
TOURISM AND ENDANGERED SPECIES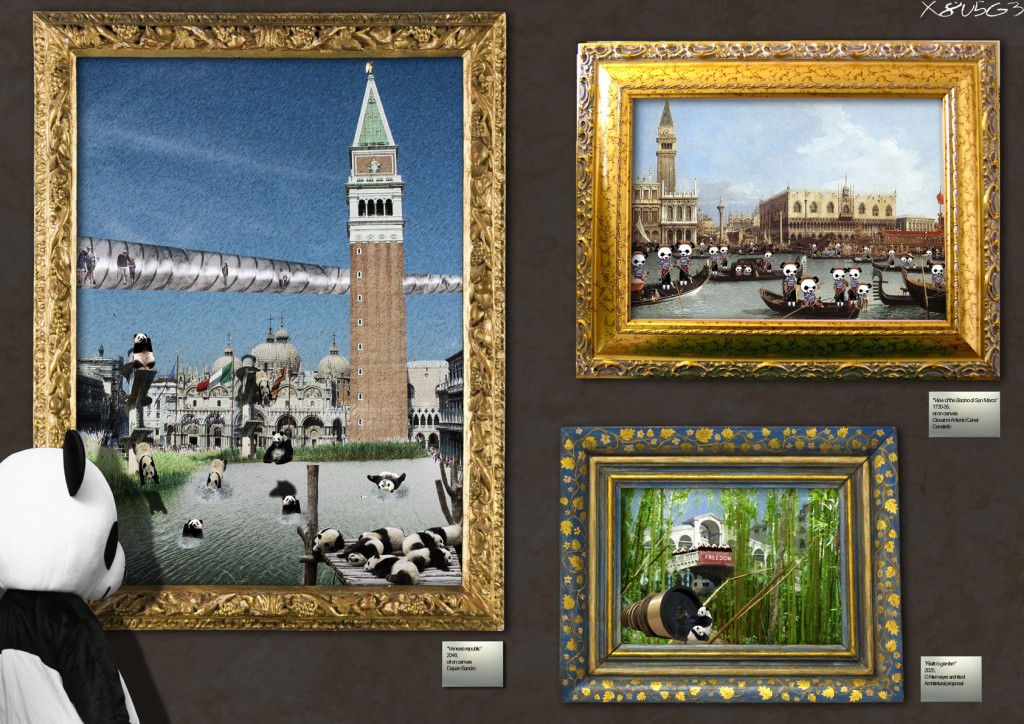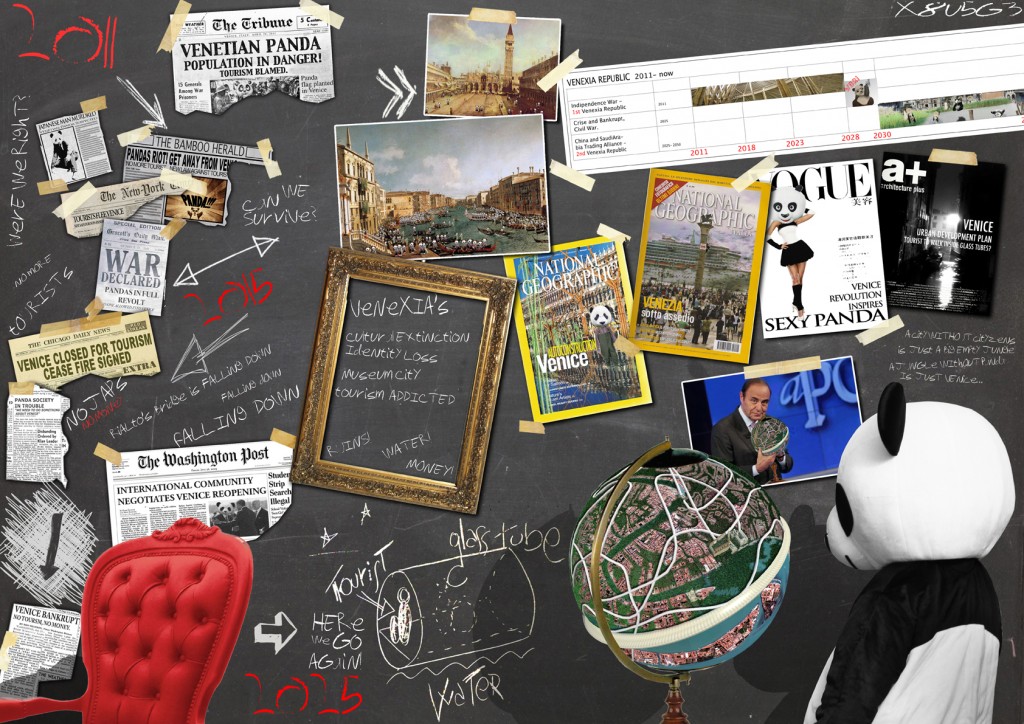 TOURISM AND ENDANGERED SPECIES If we think of Venice as a natural environment, then we can safely say that its inhabitants are an endangered species. Venetians are in Extinction Venice's cultural heritage and particular urban landscape have made it a tourism destination that attracts 50.000 people a day, 2.927 million in 2006. The city's economy is now almost completely dependent on tourists, and there is virtually no more local production or even locals. Venice's former inhabitants now rent their properties in venice and chose to live in neighboring Mestre, Venice is not for Venetians anymore, economical priorities have shifted the focus of the city. Venetians in Venice are like Pandas in the wild, there are fewer and fewer every day, their environment is no longer livable and therefore their life is no longer natural, they are no longer Venetians.
Venetians are Pandas. SUSTAINABLE TOURISM We can only imagine a time when people went to Venice to get to now its culture, its inhabitants, and their customs, if such a time even exited. Now a days, tourist seem to only want to walk around the city as if they were in a cold museum, where monuments, buildings and artworks are not to be touched or played with, they are only there to be viewed and photographed. Local food and wine is a mere curiosity, tourists have no real intention of getting to know anything new from their experience in Venice, they want the same comforts and conveniences they enjoy at home, no danger, no change,  just some good pictures for the album.
Venice is in fact dying, but that is not a problem for the tourism industry. There are  plenty of dead cities in the world that are filled with tourists, Machu Picchu for example. The difference here is, that Machu Picchu was dead when the tourist got there, Venice's life is disappearing because of tourists. That brings out the issue of sustainability in this industry. Whats the point of going to Venice when we can build replicas of it in Las Vegas or Dubai? Isn't it better for a tourist to go to Las Vegas that has air conditioning as opposed to an old city that stinks like a sewer? The perceived difference between Venice and Las Vegas, is the illusion of truth, of being in front of the real thing. But, how real is  the version of Venice we see today? How real can it ever be without venetians, local production or its own economy? So whats the point in keeping a museum city? Why not change it into something else? something more, not less. Venice without tourists could sustain itself with his internal economics? Saving the Identity of Venice means to save its Historical Value or its cultural meaning?
Info:
Title:
TOURISM AND ENDANGERED SPECIES
Time:
6 giugno 2011
Category:
Venice
Views:
2931
Likes:
0
Tags:
A. Lessan , C. Sframeli , J. Bracco , T. Méndez