Info:
Title:
House of Culture and Movement Rio de Janeiro -
Code:
120fa
Contest:
Rio de Janeiro / 2013
By:
stevenschachtschneider
Views:
4559
Likes:
1
Votes:
Alejandro Zaera-Polo
5
Jeffrey Inaba
4
Jeroen Koolhaas
3
Hernan Diaz Alonso
1
Cristiano Toraldo di Francia
7
Pedro Rivera
8
4.7
House of Culture and Movement Rio de Janeiro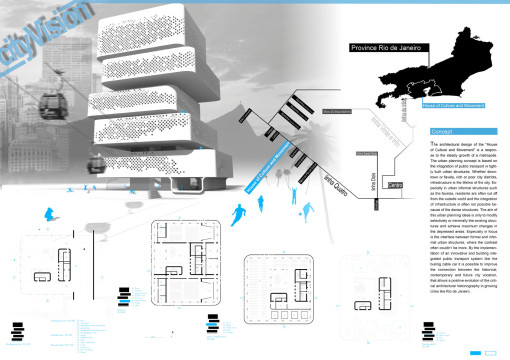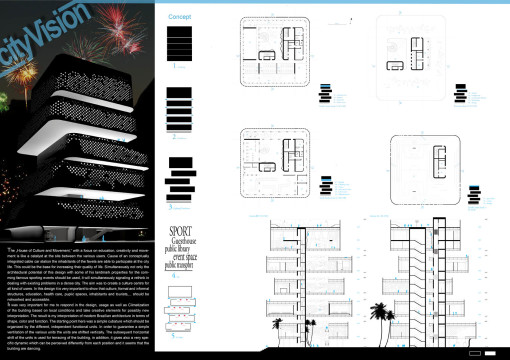 The architectural design of the "House of Culture and Movement" is a response to the steady growth of a metropolis. The urban planning concept is based on the integration of public transport in tightly built urban structures. Whether downtown or favela, rich or poor city districts, infrastructure is the lifeline of the city. Especially in urban informal structures such as the favelas, residents are often cut off from the outside world and the integration of infrastructure is often not possible because of the dense structures. The aim of this urban planning ideas is only to modify selectively or minimally the existing structures and achieve maximum changes in the depressed areas. Especially in focus is the interface between formal and informal urban structures, where the contrast often couldn't be more. By the implementation of an innovative and building integrated public transport system like the builing cable car it is possible to improve the connection between the historical, contemporary and future city vocation, that allows a positive evolution of the critical architectural historiography in growing cities like Rio de Janeiro. The "House of Culture and Movement", with a focus on education, creativity and movement is like a catalyst at the site between the various users. Cause of an conceptually integrated cable car station the inhabitants of the favela are able to participate at the city life. This could be the base for increasing their quality of life. Simultaneously not only the architectural potential of this design with some of his landmark properties for the comming famous sporting events should be used, it will simultaneously signaling a rethink in dealing with existing problems in a dense city. The aim was to create a culture centre for all kind of users. In this design it is very important to show that culture, formal and informal structures, education, health care, puplic spaces, inhabitants and tourists,… should be networked and accessible. It was very important for me to respond in the design, usage as well as Climatization of the building based on local conditions and take creative elements for possibly new interpretation. The result is my interpretation of modern Brazilian architecture in terms of shape, color and function. The starting point here was a simple cubature which should be organized by the different, independent functional units. In order to guarantee a simple ventilation of the various units the units are shifted vertically. The subsequent horizontal shift of the units is used for terracing of the building, in addition, it gives also a very specific dynamic which can be perceived differently from each position and it seems that the building are dancing.
Info:
Title:
House of Culture and Movement Rio de Janeiro
Time:
4 agosto 2013
Category:
Rio de Janeiro
Views:
4559
Likes:
1
Tags:
-