Info:
Title:
North and South Rome -
Code:
00647
Contest:
Rome / 2010
By:
A. Bartolomeoli / R.B. Chialastri
Views:
1470
Likes:
0
Votes:
JUERGEN MAYER H.
0
FRANCESCO LIPARI
2
FELIPE ESCUDERO
4
FRANCESCO GATTI
4
MICHAEL CATON
6
3.2
North and South Rome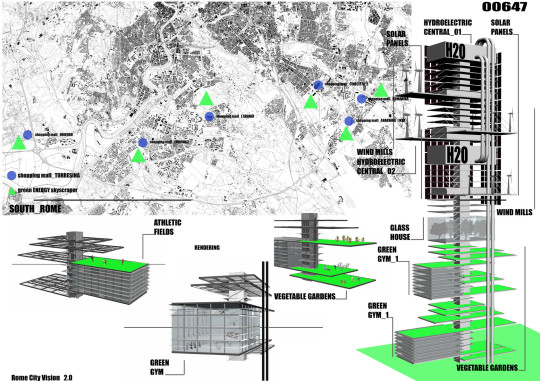 Description
A vertical visionary project, a skyscraper that bridges the physical and conceptual emptiness that grips the city ofRomeand seeks to clash nicely with the reverential apathy towards history.
At this point, however, after noting that the Fair has already been achieved and that maybe in the future will be impossible to match the aesthetic qualities of classical Rome and even more of the Baroque, we can not resign ourselves to pure speculation, to copy-paste or to the laws of market that provide only for significant business in the short term.
Following this logic, like mushrooms appear everywhere oven-blocks in summer and freezer-blocks in winter, warehouses and department stores, called sanctuaries contemporaries, whose beauty is hidden behind the excessive consumption, or as is more correct to call it, the waste.
We read on sites not totally reliable that the annual average energy consumption of a shopping mall is 650 kW per square meter, a consumption 26 times bigger than a house.
It is unjustified when one considers that it lasts for all time opening even when there are inside a few early risers retirees or some schoolchildren particularly listless.
And it continues even at night, huge quantities of frozen food to be kept refrigerated in a large number of fully open freezers, lights like for a party, and so on.
The idea of Green Energy Skyscraper (G.E.S) is born as a reaction to the mall: no one lives in it but is itself that produces
If in the mall you waste in the G.E.S. you generate, if there escalators and moving walkways welcome a chronic laziness, like a slumber, here physical work and movement are a vital engine.
In the Green Energy Skyscraper (G.E.S) the sun, the wind, the water power and the man strength are the means by which nature reasserts its power even within the urban context and at the same time working side by side to the shopping malls of Rome (and not only of Rome) becomes a positive factor in a unusual energy's equation in which the result is greater than zero.
But someone could counter with the assumption that the technology and modern architecture should make life easier, to facilitate at least physically, but we wonder:
«under what conditions?»
Green Energy Skyscrapers (G.E.S) could arise in various urban voids that have been already created between the urban and outer in those areas we call wastage areas.
G.E.S is a steel construction with a strong visual impact, however, are completely recyclable, probably will have a limited life cycle but unlike all the contemporary building activity their destiny is already written in the project: being removed resulting in something else.
So we want to end even the concept of architecture ad eternum so strong inRome, to turn the page and break the rules that oblige us to be static and bored.
We are not doing a competition with the story but we're just doing something new.
Info:
Title:
North and South Rome
Time:
16 marzo 2010
Category:
Rome
Views:
1470
Likes:
0
Tags:
-