Info:
Title:
GRID -
Code:
B7M3Z9
Contest:
NY / 2012
By:
S. Phongkitkaroon
Views:
2697
Likes:
0
Votes:
JOSHUA PRINCE-RAMUS
3
EVA FRANCH I GILABERT
4
ROLAND SNOOKS
1
SHOHEI SHIGEMATSU
1
ALESSANDRO ORSINI
1
MITCHELL JOACHIM
1
1.8
GRID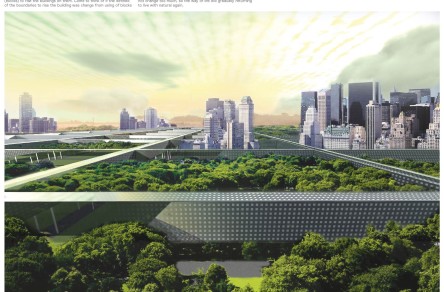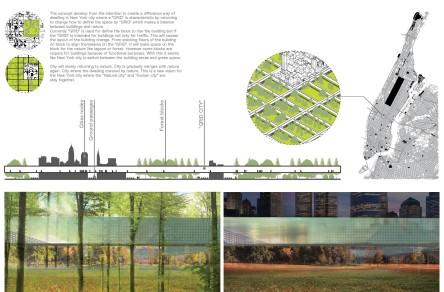 The street "GRID" is the single most important characteristic that defines New York city and make it unique. They create the boundaries(Blocks) to rise the buildings on them. Come to think of if the defined of the boundaries to rise the building was change from using of blocks within the land that set up by the "GRID" to use that "GRID" as the origin to create building on the land. It will give the land not change too much, so the way of life will gradually returning to live with nature again. The concept develop from the intention to create a difference way of dwelling in New York city where a "GRID" is characteristic by returning to change how to define the space by "GRID" which makes a balance between buildings and nature.
 Currently "GRID" is used for define the block to rise the building but if the "GRID" is intended for buildings not only for traffic. This will causes the layout of the building change. From stacking floors of the building on block to align themselves on the "GRID". It will make space on the blocks for the nature like lagoon or forest. However some blocks are require for buildings because of functional purposes. With this it seems like New York city is switch between the building areas and green space.
City that will slowly returning to nature. City is gradually merges with nature again. City where the dwelling covered by nature. This is a new vision for the New York city where the "Natural city" and "Human city" are stay together
Info:
Title:
GRID
Time:
13 giugno 2012
Category:
NY
Views:
2697
Likes:
0
Tags:
-