Info:
Title:
Aurora Walk -
Code:
D7A3E4
Contest:
NY / 2012
By:
H. Kim
Views:
2178
Likes:
0
Votes:
JOSHUA PRINCE-RAMUS
6
EVA FRANCH I GILABERT
3
ROLAND SNOOKS
1
SHOHEI SHIGEMATSU
1
ALESSANDRO ORSINI
1
MITCHELL JOACHIM
2
2.3
Aurora Walk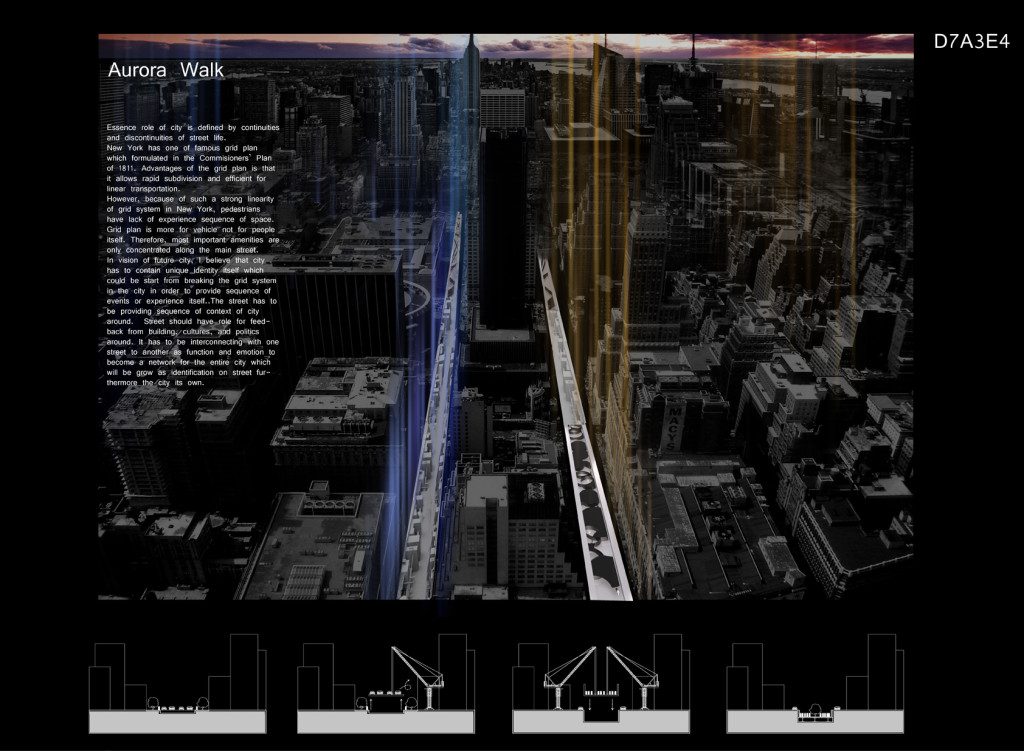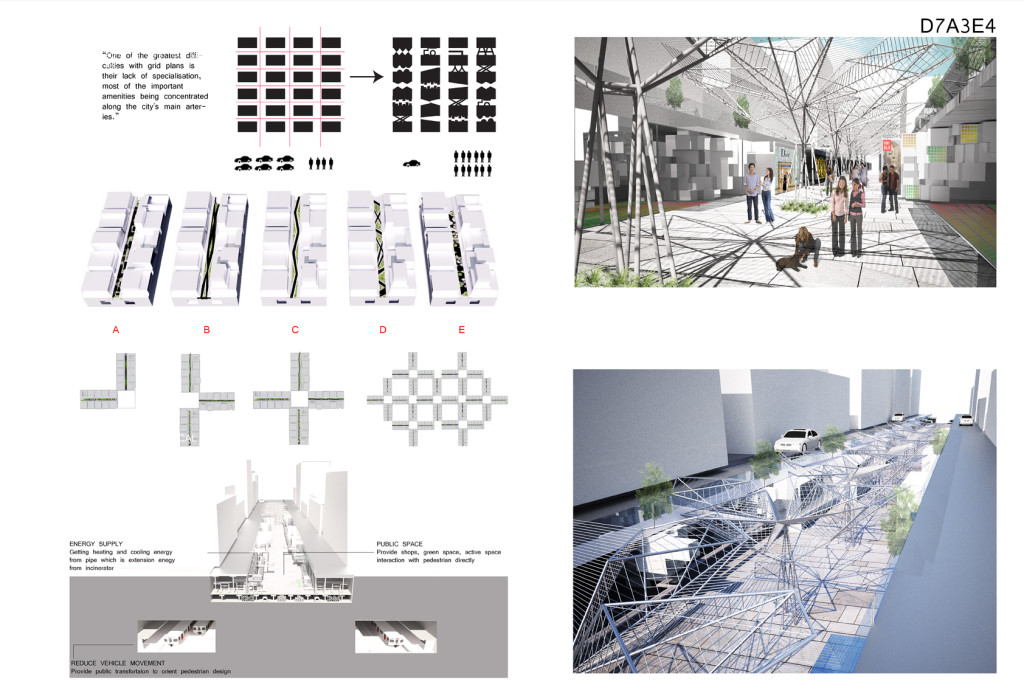 Aurora Walk Essence role of city is defined by continuities and discontinuities of street life. New Yorkhas one of famous grid plan which formulated in the Commisioners' Plan of 1811. Advantages of the grid plan is that it allows rapid subdivision and efficient for linear transportation. However, because of such a strong linearity of grid system inNew York, pedestrians have lack of experiencing sequence of space. Grid plan is more for vehicle not for people. Therefore, most important amenities are only concentrated along the main street which occur lack of continuities in city. In future vision of city, I believe that city has to contain unique identity itself which could be start from breaking the grid system in the city in order to provide sequence of events or experience itself. The street has to be providing sequence of context of city around. It should be reacting from politics, social, economic and cultural event. Street has to be interconnecting with one street to another as function and emotion to become a network for the entire city which will be grow as identification on street furthermore the city its own.
 Perceiving design strategy, I provide the way to develop street life for the future vision of city. I switch the pedestrian road and vehicle road to provide pedestrian oriented street. There will be main public trains provided to reduce vehicle. It allows more space for the people on the street and activities. The space will be bring down to the 4m down to divide traffic vehicle and pedestrian circulation. Bring the idea of plug in from metabolism movement; the street could be constantly changed depend on their program or users. It will keep able to spread whole city to connect one street to another. The street has ecological idea that it could be able to control infrastructure from below ground. Most of energy will be supplied from incinerator generator system. During process of incinerator, it will provide heating and cooling energy which could connect to the street to provide water for green and heating during winter. At night these energy source could turn into electricity to bright on the street asAuroraeffect inNewYorkCity.
 I realized the problem of metabolism movement failure of scale, I re=approached the apply plug in idea in the street as grow in city. This manipulating street will react from culture, people's life and emotion in each city.
Info:
Title:
Aurora Walk
Time:
13 giugno 2012
Category:
NY
Views:
2178
Likes:
0
Tags:
-