Info:
Title:
City of the lagoon -
Code:
F5T9O3
Contest:
Venice / 2011
By:
L. Comerlati / P. Luciani
Views:
2776
Likes:
0
Votes:
BJARKE INGELS
6
NERI OXMAN
5
ELENA MANFERDINI
4
MARIA LUDOVICA TRAMONTIN
3
BOSTJAN VUGA
1
3.8
City of the lagoon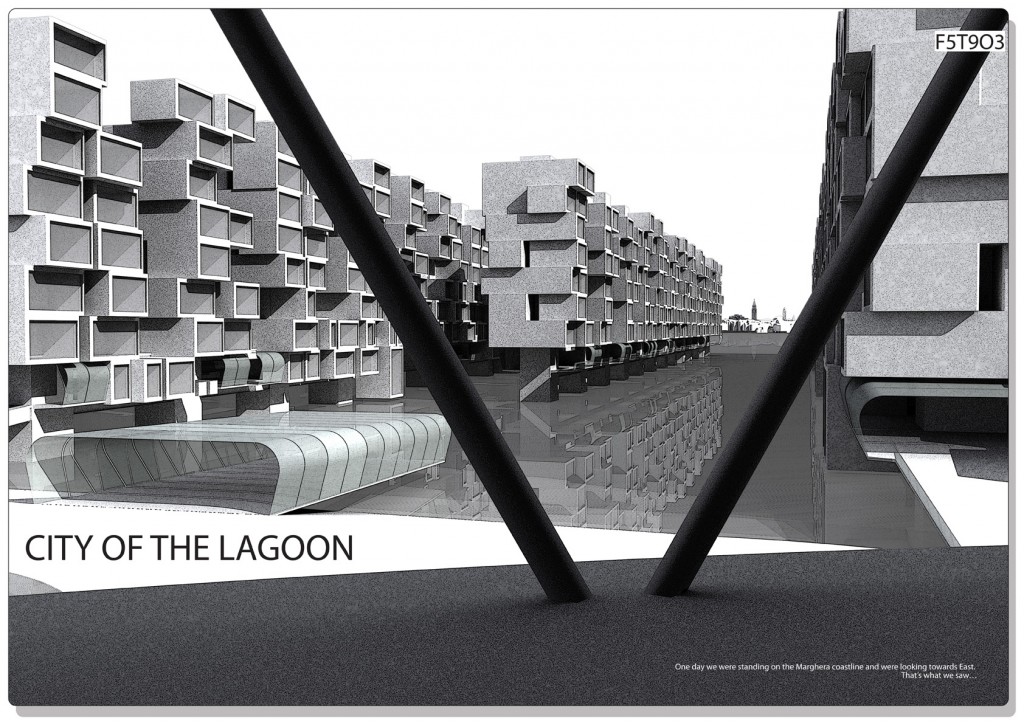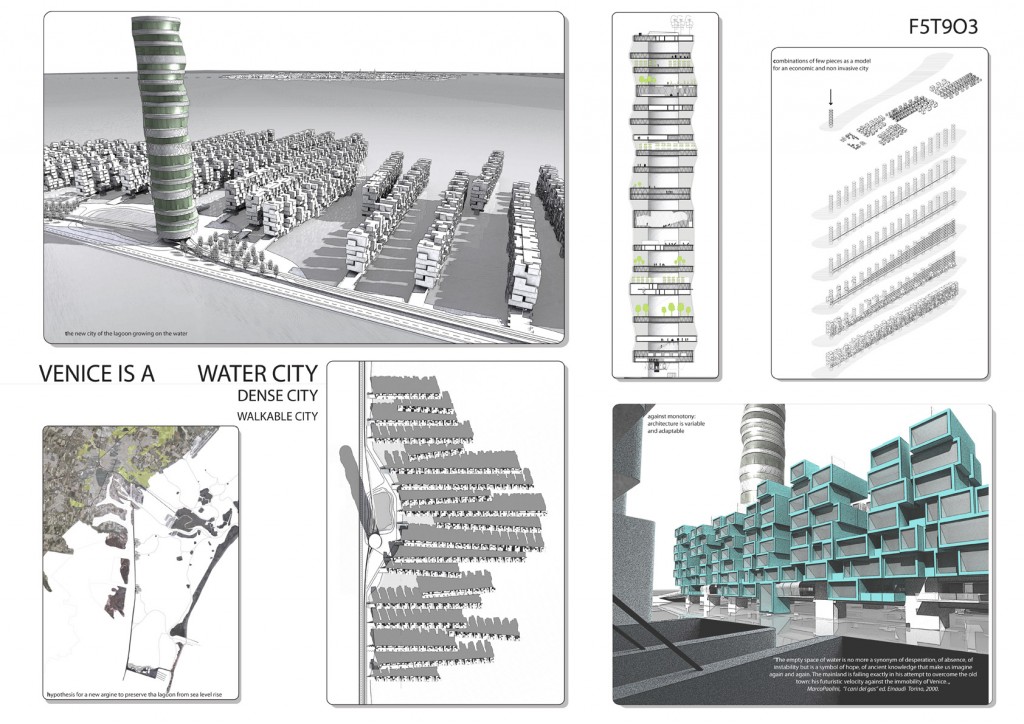 New York, Kennedy Airport, at the check-in queue. August:  "Where are you from?" Piero:  "I come from Venice!" August:  "Really? Do you live in the island? And what about rising water?" Piero:  "Actually I live in Mogliano, 15 km from Venice" Where does Venice finish? We know that it begins whit the main island, but where is the entrance of the city? Somebody talks about 'Veneto city', someone else about 'Pa-Tre-Ve' (Padova-Treviso-Venezia), we would like to start talking about the 'city of the lagoon'. Venice is not only what's inside the lagoon, but also what insists on it. Mestre and Marghera could be part of the 'city of the lagoon', but they have an extremely serious lack of relation with water! One day we were standing on the Marghera coastline and were looking towards East. That's what we saw…
VENICE IS A WATER CITY
We think that the kind of the relation that Venice has with the water is reproducible, and this is the main feature we want to give to the new part of the city which will grow on the boundaries of the lagoon, defining the exact dimension of our Venice. The water will become the open space of the whole city.
The new bank which divides the lagoon comes from a theory of some venetian hydrologists: they say that the south part of the lagoon is too damaged to be saved, and must be sacrificed in order the save the rest. It becomes our start point to define the shape of the new Venice.
VENICE IS A DENSE CITY
Venice has an incredibly high density, which, for us, is the first requirement for a sustainable city. Our effort is to design the new parts with the same density, with a particular focus on the solar exposition. The high density allows to free most of the venetian mainland from the sprawl. A modular construction system fits  the needs of a flexible city and can be modified very quickly in order to get the best solar exposition.
VENICE IS A WALKABLE CITY
Pedestrians and boats never intersect each other: two systems that work together on different levels. We keep this amazing peculiarity creating a suspended pedestrian/bicycle city, which touches the water in several points but never interrupts it.
"The empty space of water is no more a synonym of desperation, of absence, of instability but is a symbol of hope, of ancient knowledge that make us imagine again and again. The mainland is failing exactly in his attempt to overcome the old town: his futuristic velocity against the immobility of Venice. "
MarcoPaolini,  "I cani del gas" ed. Einaudi  Torino, 2000.
Info:
Title:
City of the lagoon
Time:
7 giugno 2011
Category:
Venice
Views:
2776
Likes:
0
Tags:
Italy , Lagoon , Marghera , Mogliano , New York , Veneto , Venice , Water