Info:
Title:
THE F's PAVILION -
Code:
Q9O5F3
Contest:
PFFF / 2012
By:
C. PAULINELLI , S. ROSSI , B. SEVESTRE, M. SIGISCAR
Views:
1971
Likes:
1
Votes:
ITALO ROTA
0
BENJAMIN BALL
1
MARCO CANEVACCI
3
VANESSA TODARO
1
ANDREA BARTOLI
7
2.8
THE F's PAVILION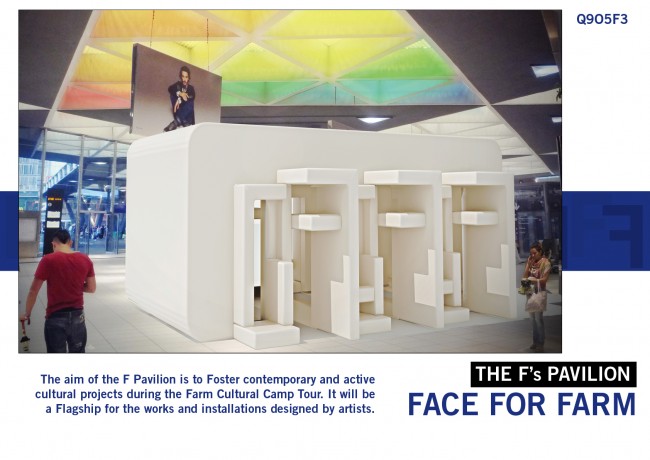 The F Pavilion, a Face For Farm Cultural Park
The aim of the F Pavilion is to Foster contemporary and active cultural projects during the Farm Cultural Camp Tour. It will be a Flagship for the works and installations designed by artists.
The volume of this inFlatable pavilion is simple : a rectangular box.
This volume will Fit in the differents tour's stops.
The Framework off the longitudinal Faces are composed of letters : roman F and etruscan V or W.
This creates Filters between the public space where the pavilion is installed and the inside of the volume.
Filters more intricate than the inside rectangular volume for lectures lead to Friendly spaces to discover the Facility and to experiment the inner tube material.
These intermediate spaces can be modulate by closing or opening the overtures with transparent plastic curtain.
Fantastic artists will expose inside this Factory of Art !
Info:
Title:
THE F's PAVILION
Time:
25 gennaio 2012
Category:
PFFF
Views:
1971
Likes:
1
Tags:
-