Info:
Title:
Pfff PAVILION -
Code:
P917H4
Contest:
PFFF / 2012
By:
S. A. Tang
Views:
4619
Likes:
0
Votes:
ITALO ROTA
0
BENJAMIN BALL
1
MARCO CANEVACCI
6
VANESSA TODARO
5
ANDREA BARTOLI
5
3.0
Pfff PAVILION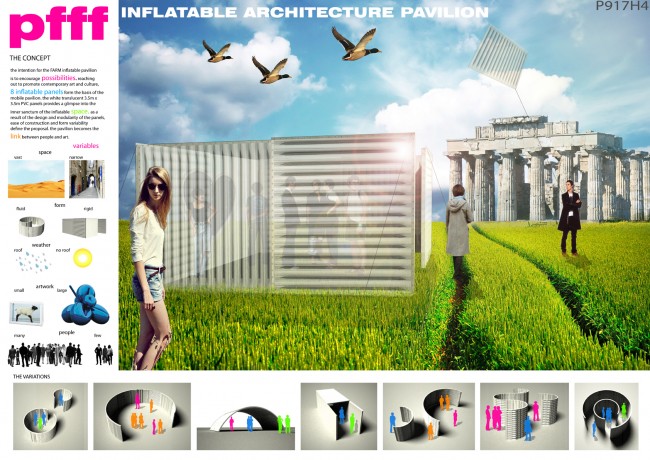 The pfff inflatable pavilion is designed with the intention of maximum flexibility, portability, ease of construction and assembly, and to encapsulate the FARM mandate. With eight modular inflatable panels, the form of the pavilion can transform to promote contemporary art and culture anywhere! Factors such as site, weather, artwork, and capacity are accommodated in the variations the pavilion.
The pavilion is constructed out of translucent PVC tarpaulin material, which is waterproof, UV resistant, and durable. With cable tension members, the rectilinear panel can become curvilinear. The panels becomes roof and wall. The tension members also enable structural stability to resist again wind, rain, and snow loads. The stainless steel grommets allow the panels to affix together and provide the connection to the tension members. Grommets were chosen as the connection method as a result of its ease of use and existing PVC fabricating methods. The grommets also provide a potential connection to hang artwork.
The white translucent PVC allows exterior visual access to the pavilion, natural light into the pavilion, and provides a neutral backdrop for the artwork. The pavilion not only becomes a facilitator of contemporary art and culture, but it can be a social hub.
As a result of the pavilion's ability to integrate within fluctuating circumstances, sites, and environments, it is possible to have the cultural art park to suit all needs!
Info:
Title:
Pfff PAVILION
Time:
25 gennaio 2012
Category:
PFFF
Views:
4619
Likes:
0
Tags:
-