Info:
Title:
Pfff PAVILION -
Code:
P9U572
Contest:
PFFF / 2012
By:
P. Piazza, C. V. Venezia, V. De Luca, F. Lucia, A. Giglia
Views:
2425
Likes:
0
Votes:
ITALO ROTA
2
BENJAMIN BALL
1
MARCO CANEVACCI
4
VANESSA TODARO
3
ANDREA BARTOLI
8
2.8
Pfff PAVILION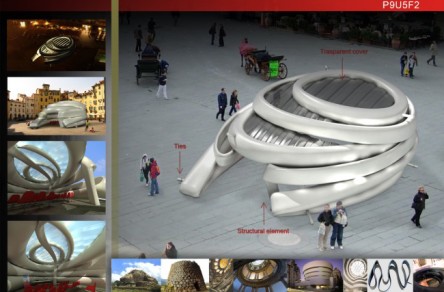 For the Cultural Farm project inflatble stand, we have taken the spatial volumetric concept from the architectural tradition of striking elongated domes, in the specific case, Tholos and Sardinian Nuraghi were built by a series of stacked stone rings with a diameter decreasing upwards to form an arched vertical section. We strongly consider the emotional and spiritual exaltation that has been expressed in numerous formal and typological variants demonstrated in all cultures over the centuries to be, Anthropological.
In the proposed solution, the interpretation of the dome is obtained by the desecrating superposition of a series of elliptical rings arranged horizontally ( so as to facilitate static stress) that ironically recall the appearance of the tire air chamber equipped with the inflation valves to represent the start of the technological manifestation of trapped air tires.
The " deflatable" ( sgonfiabile ) as we like to call it, comes with the air chamber only partially inflated and stacked in a seemingly random way, in the awareness that within a soft body, the loading and unloading of weight takes place spontaneously, in a natural way. Kant wrote in the Critique of Jugdment that the word "ingenium" has a double meaning of "intelligence and nature" to define that the intelligent person always looks at nature, otherwise he cannot consider himself intelligent. The result is a functional installation, recreational and expressive that by aligning some Art expressions of this time, among them Radical Art, revaluating the observed physical properties of the tire as an industrial product, not only in its capacity as utilitarian, but aesthetic, imaginative and stimulating.
Externally, the bulges recall the inflation valves that characterize the entire composition by becoming braced , mounted on the base thanks also to the weights that are placed at the end.
The entrance to the pavilion is obtained through the gap left by the refolding onto the same ring at the base and the abrupt change in orthogonal direction to the plane of the end of the second ring, that by becoming a vertical element contributes to the static function. Once inside, you find yourself in a fascinating environment, from the floor plan which is almost organically developed, given the overlapping of the elements in a dynamic and ascending vision, addressed to the evocation of a place of rest and meditation, always sought after and expressed by scared and monumental architecture, which we have made reference to.
The project has been tested in the preliminary phase with feasibility study. The company expected is the Spanish Techno Dimension which specializes in welded thermo technology suitable to realize elements for trapped air chambers.
Info:
Title:
Pfff PAVILION
Time:
25 gennaio 2012
Category:
PFFF
Views:
2425
Likes:
0
Tags:
A. Giglia , Business , C. V. Venezia , Dome , F. Lucia , F.B.C. Unione Venezia , FabSugar , Italy , P. Piazza , Perfume , Rome , V. De Luca , Venice